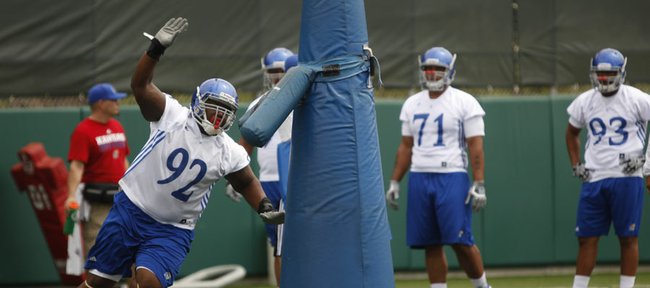 Because of a broken foot that had kept him out of action since Aug. 17, defensive tackle Patrick Dorsey was forced to watch Georgia Tech dismantle his Kansas University football team from a television set in Lawrence.
One day after the loss, with a bye week staring the Jayhawks in the face, Dorsey decided it was time to do something.
With the help of head trainer Murphy Grant, who carefully monitored Dorsey's progress during his down time, the senior from Houston entered KU's off week determined to get back to work. With his own mind primed for a return, Dorsey's next step was to make sure that his teammates were on board as well.
"I came in with (senior center Jeremiah) Hatch (the day after the Georgia Tech loss), and they still had the bios of the Georgia Tech players up on the board," Dorsey said. "So I just flipped it over and wrote, 'Georgia Tech is over. Let's move on to Texas Tech. Let's beat 'em.'"
For Dorsey, moving on to Texas Tech is as much about bouncing back personally as it is as a team. After starting 11 games a season ago and proving to be one of the KU defense's most valuable interior linemen, Dorsey entered the offseason focused on making his senior season different from 2010. He put in time last winter to get bigger, faster and stronger. He worked all spring to become a leader and turned it up a notch during summer workouts when the Kansas heat provided the ultimate test for the entire KU roster. And then — boom! — just like that, all the hard work was wiped out and Dorsey was on crutches.
"It's been hard watching my team go through everything without me," Dorsey said. "It's been hard just watching because you've been there through the two-a-days and the summer workouts. But to be able to comeback now feels good."
Dorsey, 6-foot, 273 pounds, is not the only Jayhawk excited about his return. KU coach Turner Gill said he gladly would add Dorsey's 12 career starts and 20 career appearances to a defense that features 15 guys with one year or less of starting experience on its two-deep depth chart.
"I think it'll help us," Gill said. "He's an experienced player and has some skills (and) can make plays for us. At the D-line, you have to be able to get off blocks and make plays, and I think Dorsey will help us in that phase."
Senior co-captain Steven Johnson said Dorsey's return would help the team's mentality as much as anything and added that the timing was great considering the Jayhawks (2-1) were forced to play their last game without junior John Williams, a starter who picked up a lot of the slack during Dorsey's absence.
"It's gonna be a big lift for us," Johnson said. "It's gonna provide some good run support for us. It's gonna provide some good pressure on the quarterback. I know we lost big John, but it's kind of like we made a trade or something like that."
While the Jayhawks moved on without him, Dorsey worked hard to get back onto the field as quickly as possible. Initially expected to miss six to eight weeks, Dorsey jumped back in five weeks after being injured. He shed the crutches three weeks ago and went through his fifth practice of the season Tuesday.
"I knew we needed the help because we were dropping D-tackles like flies," he said. "So I pushed rehab even harder to come back now."
Asked where he stood physically with his season opener just four days away, Dorsey sounded like a man ready to play 70 snaps.
"It's good to go," he said of his injured foot. "I've been practicing, I've been planting on it, I've been rehabbing with Murphy Grant, and he's got me ready to go, ready to move. I'm healthy."
Surely Dorsey's conditioning won't be up to speed just yet, right? Wrong, according to him.
"I'm good," he reiterated. "I've also been doing cardio with (Grant) every day since I've been off crutches so he's been helping me get right."
Dorsey said he injured his foot during a freak accident in practice. One minute he was digging in for leverage and leaning on an offensive lineman, and the next he was down on the ground.
"Working a little too hard, man," said Dorsey when asked how it happened. "At first I didn't (think it was that bad). I thought I kind of tweaked it a little bit. But I was very concerned. At the same time, Murphy sat me down and told me it wasn't over and that I'd have another chance. At that point in time, I got my mind right to just do whatever I had to do to rehab and get back on the field."
While he was out, Dorsey said he saw the game in a completely different way. He focused more on technique than ever and even got to try out his chops as a coach while watching his fellow defensive linemen do work.
"Yeah, he's always in our ears, telling us to pick it up," senior defensive tackle Richard Johnson Jr. said of Dorsey. "If he sees we're not doing something right, he lets us know. We'd definitely rather have Big Pat playing. He's a big factor in our defense this year, and he was last year, so another piece to the defense is always good to have back."
Now that's he's close to 100 percent again, Dorsey said he's ready to put the injury behind him and focus on the future.
"My goal is just to help the team in any way I can," he said. "It's up to coach however he wants to play me. Whenever he puts me in, whenever my number's called, I'm just ready to help the team. As far as what I learned, just being grateful for everything and every day because you never know what could happen."
Cornerback questionable for Tech
Gill said senior cornerback Isiah Barfield was listed as questionable for Saturday's game against Texas Tech. Barfield, who opened the season as a starter in KU's secondary, left the loss to Georgia Tech early because of injury and did not return. Red-shirt freshman Dexter McDonald picked up extra snaps in Barfield's absence, and defensive coordinator Vic Shealy said McDonald was in line for more playing time this weekend because of the way he performed against the Yellow Jackets.
As for the rest of the Jayhawks who were battling injuries, Gill said he expected all of them to be ready for Saturday's 11 a.m. kickoff vs. Texas Tech.
Bakare ready to rumble
One of those players who missed most of the Georgia Tech game was junior linebacker Tunde Bakare, who suffered a neck injury during KU's victory over Northern Illinois in Week 2. Shealy said Bakare was back to 100 percent and, more importantly, was dying to get back onto the field.
"He's had two great weeks of practice, and he's pretty fired up right now," Shealy said of the 5-10, 215-pound outside linebacker. "If you talked to him, he may run right through your camera. You ask him about football, you'll see that twinkle in his eye pretty quick. He's pretty fired up. Had he not had some injuries, I think some of his numbers would've spoken up. But Tunde's obviously a fast-forward guy. Keeping him healthy is hopefully something we're able to do because we're a different defense when he's in there."
KU-Texas Tech by the numbers
The Jayhawks are 1-11 all-time against Texas Tech, including an 0-6 mark in games played in Lawrence. KU's lone victory against Tech came in 2001, when the Jayhawks won, 34-31, in overtime in Lubbock, Texas. This week's match-up with the Red Raiders will mark the 2011 Big 12 opener for both teams. KU is 6-9 all-time in Big 12 openers, and Texas Tech is 9-6. The Red Raiders have opened conference play on the road during five of the past six seasons and also have lost their past two conference openers. Texas Tech opened as a 12-point favorite in this one, but, by Tuesday night, the line had dropped to Tech -6.5.
O-Lineman dismissed
Gill also announced that freshman offensive lineman Cooper Kerns, 6-4, 315, of Rockhurst High, had been dismissed from the team due to a violation of team rules. Kerns, a walk-on, was arrested Sept. 3 on charges of possessing a fake ID and misdemeanor battery on a law-enforcement officer because police said he was accused of striking the officer in the face with his arm as he pulled away and ran. Kerns' attorney entered a not-guilty plea on Sept. 19.