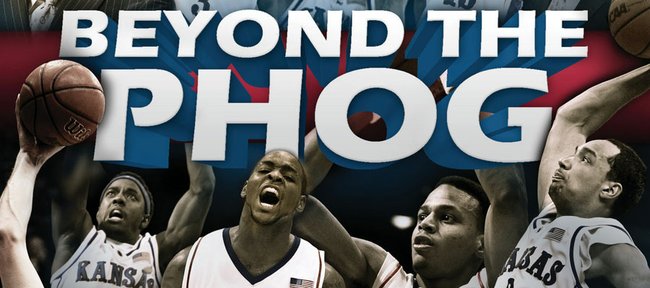 The following is an excerpt from "Beyond the Phog - Untold Stories from Kansas Basketball's Most Dominant Decade." Compiled by Jason King of Yahoo! Sports and Lawrence Journal-World sportswriter Jesse Newell, the 400-page book includes interviews with 40 players and coaches from the most successful era in Jayhawks history. "Beyond the Phog" will be available in stores Friday. For more information on ordering the book or upcoming book signings, check out kubook.net.
In J.R. Giddens' words ...
DREAMS DASHED?
Any thoughts I had about leaving (school early) for the NBA ended when I got stabbed. After that I knew I wasn't going anywhere. If anything, I was trying to figure out if I was ever going to play basketball again.
I think that's why they made me leave Kansas. The doctor said I would walk with a limp for the rest of my life. He said I was going to come back 50% and I wasn't going to be able to play basketball anymore.
I'm not saying Kansas threw me out like a battery. But they get McDonald's All-Americans every day. They weren't going to let me stay around campus and be Moulaye Niang.
Micah Downs was coming in. Bill Self used to always tell me, "Micah is coming in and he's better than you." He would just say little stuff like that and I was like, "Dang, man, you're not even for me, are you?" I wanted to stay at Kansas but I felt like they just pushed me out the door, especially after getting stabbed. I was like, "I'm sitting here worrying if I'm ever play basketball again and you guys are over here talking to me in an inappropriate manner? I'm 19 years old. You guys are supposed to my college coaches. Instead, at the first sign of trouble, you guys are turning your back on me?" I felt like it was everyone from the coaching staff to the people up there in the offices. As a 19-year-old who was immature and didn't understand life, I took that really hard. I left the office in tears when I knew I was leaving.
I remember that day really well. I walked out of there on crutches, crying. I'd been interrogated for about seven hours for three days straight. Then those guys did that to me? A few weeks before that, I had to move out of my dorm at the Towers. I was staying with Josi Lima, my girlfriend at the time who played volleyball. Bill Self was telling my teammates not to have any contact with me. Darnell Jackson and Jeremy Case were two of my best friends, and they weren't even allowed to talk to me. Aaron Miles was done playing so he came over. He was the only person who came and saw me. I was like, "Dang, I'm 30 feet from where I used to stay and you guys can't even come over here and see me?" I'm stabbed and laid up and don't even know if I'm going to play basketball again. That was very kind of Kansas basketball and Bill Self, to tell people to stay away from me like I was a team cancer.
• A previous version of this excerpt was updated.