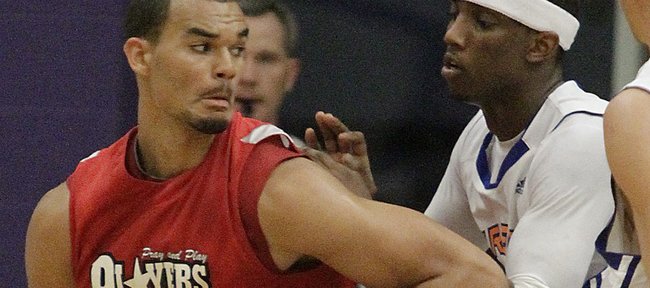 Wichita Heights senior sensation Perry Ellis, who has emerged as one of the top players in Kansas high school basketball history, Wednesday will orally commit to either Kansas University, Kansas State, Wichita State or Kentucky at 2:45 p.m., at the Heights gym.
"It is an exciting time," said Ellis' mom, Fonda, who has graciously kept media members informed of recruiting details the past five years — since Perry was first scouted in eighth grade.
"If you are there, you will hear it (decision) like the rest of us," she added of the suspense ending at 2:45. "It will be televised live and on radio. Metro Sports of Kansas City is coming and three Wichita TV stations and three radio stations. It's going to be pretty big," she added.
Metro Sports (channel 37) indicated on Twitter that the station would indeed be showing the decision live at 2:45. Check Jesse Newell's blog at KUsports.com for the decision as it is announced.
Three-time state Gatorade Player of the Year Ellis, who is Rivals.com's No. 24-rated player in the Class of 2012, averaged 22.1 points, 7.9 rebounds and 1.8 assists a game in leading Heights to a 25-0 record and third straight Class 6A state title his junior season.
Led by the 6-foot-8, 220-pound Ellis, Heights has won a Class 6A-record 44 consecutive games over the past two seasons.
"In my opinion, he's having the greatest career in the history of large-class basketball in Kansas. The data pretty much makes that almost an irrefutable point," Heights coach Joe Auer told the Wichita Eagle, which recently tapped Ellis all-state for the third straight year.
"He plays the toughest competition in the state and he absorbs so much defensive focus and pressure from the other team," Auer added.
Here are some of the accomplishments of blue-chip college prospect Ellis.
• Hit a school-record 74.9 percent of his floor shots, 33.3 percent of his threes and 71.7 percent of his free throws in 2010-11.
• Scored a career-high 38 points against Wichita Northwest. Also scored 25 points in the 2011 state semifinals over Olathe East and averaged 18.0 points and 8.0 boards overall in the state tourney despite being double- and triple-teamed at times.
• Is Heights' career rebounding leader (753 boards) after passing former Wichita State standout Antoine Carr this past season.
• Is Heights' career No. 2 scorer (1,585 points) after passing Carr and former KU standout Darnell Valentine last season. Should pass Aubrey Sherrod (1,739 points) this season.
• Averaged 22.2 points, 10.4 rebounds, 1.6 assists, 1.2 blocks and 1.1 steals as a junior. Averaged 19.2 points and 11.7 rebounds as a freshman.
• Has perfect 4.0 grade point average and ranks No. 1 in his graduating class at Heights, where he also works as a tutor for fellow students.
• Volunteers as youth basketball instructor as well as multiple youth literacy-outreach initiatives ... serves as motivational speaker for youngsters and gives time to the Wichita Children's Home.
As far as being perhaps the best prep player in state history ... McDonald's All-Americans from the state of Kansas since 1977 include Valentine, Danny Manning, Greg Dreiling and Wayne Simien. Manning played at Lawrence High for just one season.
Of course, there are a great number of Kansans who excelled throughout history in decades prior to the start of the McDonald's game.