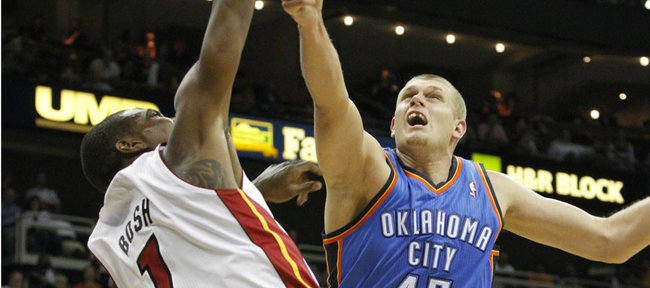 Oklahoma City Thunder rookie Cole Aldrich, whose NBA season ended Wednesday, packed up his belongings, hopped in his car and hit the highway Thursday afternoon.
His destination?
"I'm on my way to Lawrence right now. I'm going to be in Lawrence most of the summer," former Kansas University center Aldrich revealed in a cell-phone interview.
Aldrich is making good on a vow he made to himself and his parents after electing to leave KU after his junior year — not to rest until he earns his college degree in communication studies.
Aldrich, the 2010 ESPN The Magazine/College Sports Information Directors Association of America Academic All-American of the Year, said he's enrolled in two summer-school classes, which run June 7-29 on KU's campus.
"I want to say I'm 15 or 18 hours short, about a semester's work," Aldrich said. "It's not going to be terribly hard. It's just going to take some time. I'm chipping away at my degree."
The 6-foot-11, 245-pound native of Bloomington, Minn., who played in 18 games his rookie season after being selected No. 11 overall in the 2010 Draft, is fired up about spending more quality time in his college town.
"Oh, I do, I do," Aldrich said of loving KU. "Being from Minnesota, I've been in the Midwest all my life. Coming to KU ... everybody taking me under their arms and supporting me throughout my career means a lot."
Lawrence natives will be sure to see Aldrich out and about, perhaps well into next fall and winter if there's a lockout that will delay the start of the 2011-12 season.
"You might see me throw a strike or two down the lanes," bowling fan Aldrich said of Royal Crest Lanes. "I know the gym will see me for sure.
"It's tough because we don't quite know if there will be a lockout or not on June 30 at midnight when the collective-bargaining agreement ends. Right now it's looking toward we are going to have a lockout, but if there is one, you never know how long it's going to last."
Aldrich is looking to expand his game after scoring 18 points, grabbing 35 rebounds and blocking 18 shots in the regular season. He wasn't activated for the Thunder's playoff series against Denver, Memphis and Dallas. He also averaged 10.3 points and 8.6 boards in 21 games for the Thunder's Developmental League team in Tulsa.
He's eager to play meaningful NBA minutes.
"I'm definitely ready," Aldrich said. "It's night and day," he noted of his improvement since starting his pro career. "When I left Kansas, I thought I was a pretty good player. Once you get to the NBA, you quickly realize everybody is just as good as you if not better. You are playing against guys who have played in the league eight, 10, 12 years and really know the little things that you pick up on through the course of your rookie season."
He's sure to receive some additional pointers from his mentor — KU assistant coach/KU big-man coach Danny Manning, who had a long NBA career — in coming months.
"I'm just going to continue to work hard this summer, work offensively, but also just work on quickness and agility because those things really help guard the pick and roll and guarding those guys that are so good," said Aldrich, who earned $2,126,520 last season with three years left on his first NBA deal.
He indicated he learned a lot watching former KU player Nick Collison of the Thunder in the playoffs. Collison, who stands an inch shorter and is 10 pounds heavier than Aldrich, excelled while guarding Memphis' Zach Randolph in a seven-game, second-round playoff series and Dallas' Dirk Nowitzki in the conference finals, which OKC lost, four games to one.
"Dirk is a Hall of Famer, it's plain and simple," Aldrich said. "He's one of the only guys that can average 20 (points) and 10 (rebounds) in all the playoff games he's ever played.
"He's tough to guard because he's 7-foot. He can shoot the three. He can go in the post. He can do so many things. I think Nick made it real tough on him to get shots up. Even though he made some really tough shots, Nick did a heck of a job guarding him.
"The playoffs really set Nick into the public eye," Aldrich added of Collison, who averaged 6.7 points and 5.8 boards while logging 24.3 minutes a game in 17 playoff games. "It (his performance) shows a guy that doesn't average double figure points every game or anything like that can still really affect the game."
Aldrich plans to spread his own knowledge of the game to area youths this summer. He will hold a basketball camp for boys and girls kindergarten through eighth grade June 27-30 at Olathe Northwest High. Aldrich will be assisted by former KU players Jeff Gueldner, Tyrel Reed and Mark Randall.
"The main thing is trying to give back to the community," the 22-year-old Aldrich said. "Mario (Chalmers) had a camp last year. I always felt once you get to the NBA, you realize all the people that really helped you get to where you are now. You want to give back, have the kids learn a little basketball and have fun with us. Everybody gets to interact with guys who played at KU or in the league or are currently in the league. It's in the Kansas City area, not too far from Lawrence obviously and not terribly far from Topeka. I hope kids come out and really just have fun."
For more details email colealdrichbasketballcamp@gmail.com.
Registration forms are available at colealdrich.com/camp_2011.pdf.
More like this story on KUsports.com