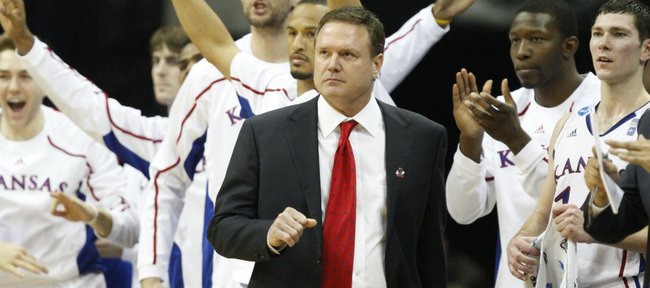 Podcast episode
JayhawkSlant.com's Shay Wildeboor joins Jesse Newell to discuss a potentially huge recruiting day for KU on Wednesday. Where do the Jayhawks stand with DeAndre Daniels (No. 10 according to Rivals.com), Trevor Lacey (No. 24 according to Rivals.com) and Jamari Traylor (No. 141 Rivals.com)? Shay gives the latest on each ...
The 2011 college basketball spring signing period concludes Wednesday with Kansas University hoping to add a whopping three players to the roster.
The Jayhawks are awaiting word from: No. 10-ranked DeAndre Daniels, a 6-8, 180-pound small forward/power forward from IMG Academies in Bradenton, Fla.; No. 24 Trevor Lacey, a 6-3, 190-pound combo guard from Butler High in Huntsville, Ala., and No. 141 Jamari Traylor, a 6-7, 230-pound power forward, who is a teammate of Daniels at IMG.
Daniels and Traylor are slated to enter the office of IMG director of basketball Andy Borman sometime Wednesday, call the coaches of the finalists on their list with their decisions, then speak to the media. Lacey has a 2 p.m. news conference slated at his high school.
Here's a look at the three players and how their recruitment stands entering Decision Day.
Daniels: Daniels, who Borman said has a final list of KU, Texas and Oregon — Duke is apparently no longer an option — attended the KU-UCLA game as part of his official campus visit to KU on Dec. 2.
Then a junior at Taft High in Woodland Hills, Calif., Daniels committed to Texas on July 3, 2009. He decommitted in August of 2010.
Daniels last January was believed to be KU-bound for the second semester of the 2010-11 school year with his IMG teammate, Christian Garrett.
Garrett did join the KU program as a walk-on. However Daniels returned to IMG to complete his senior year. He's said very little during the recruiting process.
Others, however, have gushed about his game.
"DeAndre Daniels can fill it up from the outside and with his size, can also score down low," Rivals.com analyst Shay Wildeboor said Tuesday. "He is a proven three-point shooter, who has aspirations of playing the 3 (small forward), but he's a 3-4 (power forward) right now. He'd be a huge addition — an immediate impact player at KU."
Lacey: Lacey, who has a final list of KU, Kentucky, Alabama and Auburn, made a campus visit to KU on May 7-9.
The long-range bomber, who averaged 31 points a game his senior season, was considered a heavy Alabama lean, until his stock soared second semester.
Lacey's dad, William Pride, told the Huntsville Times on Tuesday that his son is "just confused. He got to see these universities with big-time basketball, and it just kind of blew him away. This is life-changing, and he's just really confused."
On Tuesday night, Pride said his son was in good spirits while working on his homework and said the news conference would be held as scheduled.
Lacey would provide instant offense to KU's team.
"We have him listed as the No. 5 shooter in high school basketball," Wildeboor said. "He can fill it up. He can stretch a defense and score in a lot of ways."
Traylor: Traylor, who has a final list of KU, Oklahoma State, Indiana and Texas Tech, visited KU on April 22-24, a week after visiting OSU.
Traylor, who attended Chicago's Julian High until his senior year, would add some depth to KU's front line.
"He rebounds the ball extremely well," Wildeboor said. "He is a hustle guy. He reminds me of Darnell Jackson in that he has a motor that never stops. He'll fight for rebounds and loose balls and steal you extra possessions."
The Jayhawks, who have four scholarships left to give, have already inked guards Ben McLemore and Naadir Tharpe and forward Braeden Anderson.
More like this story on KUsports.com