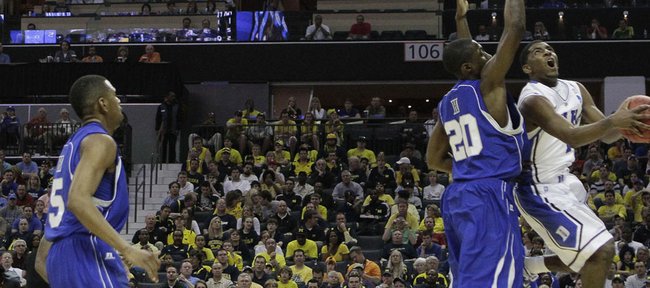 Charlotte, N.C. — In less a half-minute Friday afternoon, freshman guard Kyrie Irving sent a shudder through teams in the NCAA tournament who suddenly face an even larger obstacle in Duke.
In his first game back from a toe injury that kept him out 3 ½ months, Irving got aggressive in the closing minutes with an 87-45 win over Hampton already wrapped up for No. 1 seed Duke at Time Warner Cable Arena.
Irving swished a three-pointer from the wing in front of the Duke bench with 1 minute, 43 seconds remaining. Twenty-nine seconds later, after stealing the ball, Irving pulled up off the dribble for another three-pointer from the opposite wing.
After hitting four field goals in the final six minutes, Irving wound up leading Duke with 14 points.
"In the second half, when I hit those two threes back to back, I felt like I was back in December again, or November, playing those big-time games," Irving said.
Thanks to balanced scoring and strong defense, Duke advanced easily to its next big game Sunday against No. 8 seed Michigan (21-13). The addition of Irving to the rotation allowed Nolan Smith and the rest of Duke's guards to pressure the ball with increased intensity.
No. 16 seed Hampton (24-9) wilted. Its starters combined for 14 turnovers and zero assists. The Pirates committed 17 turnovers and shot just 34.5 percent from the field.
"It makes everybody more active defensively when you see the ball being attacked the way Nolan and then Kyrie was doing, but also Tyler (Thornton) was doing it," said Duke coach Mike Krzyzewski.
Another reserve guard, Andre Dawkins, added 13 points for the Blue Devils (31-4). ACC player of the year Smith was held to nine points, 12 below his average, as he concentrated on getting the ball to Duke's big men.
Smith handed out seven assists as starting forwards Mason and Miles Plumlee made a significant impact. Against a much smaller front line, Mason Plumlee scored 12 points. His older brother, Miles, grabbed 13 rebounds, one short of his career high.
"When you're playing with good guards, they're going to find you and hit you in the right spots," Mason Plumlee said. "We just have to be ready and finish strong."
With Irving back, Duke appears to be a threat to finish strong in this tournament. The Blue Devils were the overwhelming favorite to win the national title after the highly recruited Irving joined seniors Smith and Kyle Singler following last season's NCAA championship.
Duke was 8-0 when Irving was injured against Butler, and went 22-4 the rest of the way. The Blue Devils appeared significantly improved when they won all three of their ACC tournament games by margins of at least 14 points.
Now, with Irving back, Duke seems to be taking another step forward at the perfect time. Irving played 20 minutes Sunday, 13 in the second half as Krzyzewski subbed five players at a time after halftime, allowing the entire second team to finish the game.
"With Kyrie coming back. . .Coach is able to do certain things differently," Singler said. "We were able to pressure the ball a lot more, get guys in and out, help them be fresh. Kyrie helps our team in many different ways. And it's nice to have that."
More like this story on KUsports.com