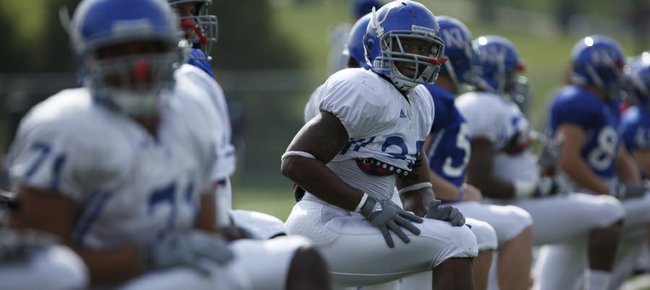 Two years ago, Kansas University's Toben Opurum finished the season at the top of the football team's depth chart at running back.
Opurum, then a freshman from Plano, Texas, who had been recruited by Notre Dame and was the No. 3-rated fullback in the country according to Rivals.com, led the team in yards and touchdowns and, without question, was in position to be a four-year starter and KU's running back of the future.
That all changed when the coach who recruited Opurum to KU departed and in to replace him came Turner Gill. Gill gave Opurum a crack at running back but decided to move him to defense, first to linebacker and then defensive end.
Twenty-four wild and wacky months later, Opurum finds himself back at the top of KU's depth chart and sits unanimously atop the Journal-World and KUSports.com's rankings of this team's defensive ends. Players were ranked based on how they fit into the 4-3 defensive scheme that the Jayhawks played last season.
Moving guys to different positions has a way of evening itself out. Sometimes the move is a home run and a player becomes a stud at his new spot. Other times, the gamble flames out and thoughts of what could have been are all that remain.
While it's too early to say for sure how the Toben Opurum Story will end, Gill and the rest of his coaching staff seem to think Opurum is destined for great things at D-End.
"I think Toben's definitely a guy that's going to be reckoned with in the Big 12," Gill said after KU's spring game in April. "I think he's a guy that people are going to be talking about as time goes along, throughout the season and the rest of his career."
While Opurum seems to have solidified one of KU's defensive-end spots, a big-time question lingers: Who will handle the other side? The Jayhawks have no shortage of options, but very few of those players have proven much during their time — short or long — at KU.
Still, Opurum does not seem to be worried about the depth behind him.
"My teammates help me out every day," Opurum said. "We watch film on every snap we take. My preparation has been really good, and my technique has improved a lot."
Here's a look at our list of top candidates to fill the role as KU's "other defensive end" this season.
Matt Tait's list
Toben Opurum: These coaches usually say what they mean, and they keep calling Opurum a star in the making.
Keba Agostinho: Has as good a chance as anyone to hold down starting spot opposite Opurum. Needs to bring great energy every play to earn it.
Michael Reynolds: Explosive, energetic and a little angry. If he can make the transition from high school to college quickly, he could be a stud right away.
Pat Lewandowski: Just seems to have a nose for finding the ball.
Ben Goodman: Don't sleep on this freshman's skills. He's an animal who flies around the field and loves to hit.
Tom Keegan's list
Toben Opurum: Totally committed to position switch and improved by the minute during spring.
Michael Reynolds: Wichita recruit just might have explosiveness KU has lacked for years.
Keba Agostinho: Smart guys tend to get most out of ability.
Pat Lewandowski: Has good motor, but is he quick enough?
D.J. Marshall: Stood out in spring game.
Jesse Newell's list
Toben Opurum: Might be the best player on the team right now.
Keba Agostinho: Showed promise, but not consistency, in 2010.
Pat Lewandowski: Not sure why he moved back to defensive end after a productive spring at defensive tackle.
D.J. Marshall: Had solid spring game (two tackles-for-loss) and should be in D-Line rotation.
Tyrone Sellers: Hard to know which of the newcomers will emerge, so Sellers gets the No. 5 spot until someone outplays him.
Journal-World Consensus Top 5 Defensive Ends
Five points awarded for first, four points for second, three points for third, two points for fourth and one point for fifth.
Toben Opurum (15)
Keba Agostinho (11)
Michael Reynolds (7)
Pat Lewandowski (7)
D.J. Marshall (3)
Others receiving votes: Tyrone Sellers (1); Ben Goodman (1).
More like this story on KUsports.com