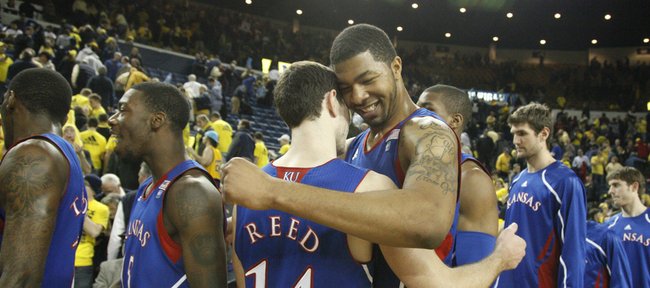 Ann Arbor, Mich. — Warts and all, Kansas University's basketball team enters Big 12 Conference play undefeated for the first time since the 2007-08 national championship season.
"We are definitely not the national-title team, but we have some good pieces," KU junior forward Marcus Morris said after the No. 3-ranked Jayhawks' ugly 67-60 overtime victory over unranked Michigan on Sunday at Crisler Arena.
"We definitely are going to try to be that team. We'll have to see how it goes," Morris added after scoring a game-high 22 points and grabbing 10 rebounds.
Record-wise, the 2010-11 non-con campaign couldn't have gone any better for the Jayhawks, who take a 15-0 mark into Wednesday's 8 p.m. conference opener at Iowa State.
Same story back in '07-08, when KU went 15-0 en route to a 37-3 season.
Does Kansas coach Bill Self see any other similarities between this team (that hit four of 24 threes against Michigan's 1-3-1 zone and 35.7 percent from the field overall) and the 2008 champs?
"Not today," Self said with a smile. "That wasn't a good team. That was a great team. I think this team we have is a good team with a chance to become really good. But that team had so much experience and knew how to finish games. This team is still learning how to do that. I've also got to be careful comparing this team to that team because that's not fair to these guys, too."
This KU team, which also had scares in a one-point victory over UCLA and two-point victory over USC, survived some maddening developments Sunday.
KU led by 15 points (25-10) with four minutes left in the first half and 13 (41-28) with 11 to go. The Wolverines (11-5) finally caught KU, 51-all, on a drive to the goal by Darius Morris with :35 left.
Marcus Morris had a chance to win it, but his three-pointer from the corner clanged with :04 left.
"Bad," Self said of KU's final possession of regulation. "You've got to drive it there. We didn't have a timeout (to discuss options). Hopefully we'll get some experience through that. That was an opportunity to drive it. They're not going to foul. We bailed 'em out by shooting a jumper there. I didn't think that was very good, but Marcus played well. He did."
For what it's worth, Marcus — he and brother Markieff combined for eight straight points following a Zack Novak three that opened OT — figured his three from the corner was money.
"I didn't think it was good, I knew it was good. I knew for sure I made it," Marcus stated. "The shot was short. I would shoot it again."
Is that because he considers himself the team's "go-to guy" who has to make something happen in crunch time?
"No. Any of us can be the go-to guy," he said, pointing to his brother (13 points, 11 boards) as an example.
"Kieff's shot was the game-changer tonight," he added of Markieff's three that gave KU a 56-54 lead with 3:41 left in OT.
No doubt Markieff's trey was huge.
"Kieff makes the biggest shot of the game for us," Self said.
After the three, Markieff Morris then fed Marcus for a basket and ensuing foul shot.
Tyrel Reed (10 points, 2-of-9 three-point shooting) answered a Tim Hardaway layup with a three to give KU a 62-56 lead at 2:37. The Wolverines crept no closer than four after that.
Self didn't like the way the Jayhawks played overall — "We attacked their zone miserably, that was a miserable display of shooting," he said — but was fired-up about their play in OT.
He tried to steady the ship during the huddle prior to the extra-session tipoff.
"I said, 'We just played a bad 40 (minutes). Let's play a good five," Self said of his message to the troops. "That's exactly what we did I thought we competed and played pretty well in overtime."
KU survived an off night by Josh Selby, who hit one of 10 shots and scored five points. The Morris' hit 12 of 25 shots; the rest of the team hit eight of 31.
"Last year we played the exact same game the exact same way in Tennessee, but we got beat," Self said of KU's nonconference finale — a loss to UT in Knoxville. "I'd rather teach lessons through winning than not winning."
Of course, he's pleased his team survived the nonconference slate unscathed.
"I'm happy we won today, don't get me wrong. I am happy we're undefeated," he said. "I don't think we played to that level, obviously, today. It's all preparation for your league, and league is far more important than nonconference. People get hung up on records, and I think records are important, but your conference record weighs so much more than this."