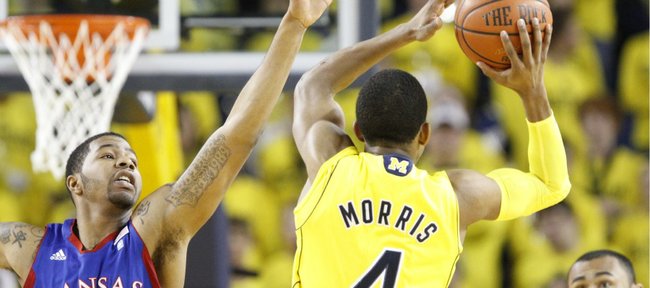 Ann Arbor, Mich. — Michigan basketball coach John Beilein says there was more that went into Michigan's poor offensive effort Sunday than simply bad shooting.
"Kansas is really known as being a good defensive team," Beilein said after his team's 67-60 loss to Kansas University, "and they played us really tough."
Michigan especially struggled in the first half, posting a season-low 18 points on 6-for-23 shooting. The Wolverines also had nine first-half turnovers, with Beilein commenting that KU's players were "blowing up" Michigan's plays with their defensive pressure.
"They guarded the heck out of us in the first half, and we did not get many clean looks," Beilein said. "They're so long and athletic — that challenges us right now."
Overall, UM went just 4-for-28 from three-point range (14.3 percent) — its worst three-point shooting percentage in a game since the 2006-07 season.
The Wolverines' top long-range shooters — Stu Douglass, Evan Smotrycz and Matt Vogrich — went a combined 0-for-7 from three.
"I'm going to be beating myself up until the Ohio State game (Wednesday)," said Douglass, who went 0-for-5 from three after entering as a 42.2 percent three-point shooter. "I know I shouldn't be. But if one or two of those drop, it's a different game."
KU also forced 15 Michigan turnovers, which was above the Wolverines' season average (11.3).
"We're not going to play better defensive teams than that," Beilein said.
Defensively, Michigan had success by switching to a 1-3-1 zone in the second half.
The Wolverines hadn't had much luck this season with the zone until Sunday, but Beilein said he wanted to try it after it bothered the Jayhawks in last year's 75-64 KU victory.
"We did want to change defenses on them over and over again, just because of their sheer talent," Beilein said. "You've got to keep giving them different looks.
"I think that while their guard play is really solid, you really test your guards' play when you do have those angles they have to read all the time."
Beilein said he felt good about his team's chances after taking a three-point lead in overtime.
"I really thought that I wouldn't be standing here in this situation," Beilein said. "We played well enough to hang in there on defense. Just their defense is difficult. They're really long. There's a reason why they're such a good team."
More like this story on KUsports.com