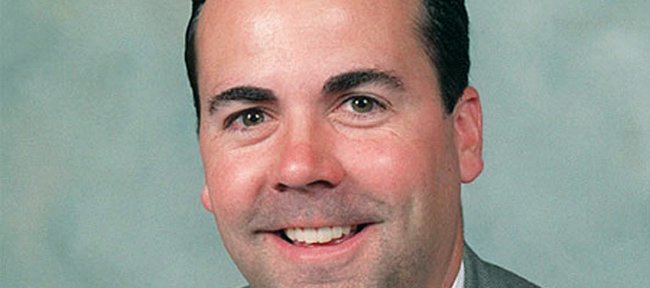 Kansas University chose a man with deep local roots to be its next athletic director when it announced Sunday that Illinois State's Sheahon Zenger has been hired and will be introduced today at a 1:30 p.m. press conference.
Zenger, born in Salina on April 13, 1966, received his undergraduate (1987, English and secondary education) and master's (1992, journalism and mass communications) degrees from Kansas State and his Ph.D. from KU (1996, educational policy and leadership). Zenger's father, Weldon, also received a Ph.D. in education from KU while the family lived in Lawrence from 1968 to 1970.
"We lived in the little yellow house on 21st Street Terrace, with a wrought-iron fence on the little porch, and a big, old oak tree in the front," Zenger said by phone Sunday night. "Those are my earliest memories. The house is still there and it's still yellow. I drive by it every time I'm in Lawrence."
Zenger said that he's wearing a Gale Sayers jersey in his fourth-grade picture and that he wore the No. 10, in honor of Bobby Douglass, "everywhere I went until I got to junior high."
"The first basketball game I ever saw was at Allen Fieldhouse and the first football game I ever saw, I saw from the hill (at Memorial Stadium)," Zenger said. "My dad and brother got in for a dollar apiece, and my mom (then teaching at South Junior High), my sister and I sat on the hill. My parents were watching their money in those days."
After that, the family moved to Hays, where the parents taught and Sheahon "listened to Bob Davis calling games on the radio" there.
A 'home run'
Zenger was KU's second choice — Bubba Cunningham was offered the job but turned it down and signed a contract extension to stay at Tulsa — but those who know Zenger best describe him as first-rate.
"I will say that it is a home run for the people of Kansas," said Illinois State basketball coach Tim Jankovich, a former assistant at KU to Bill Self. "He was a real special A.D. and even a better person."
Dr. Sheahon (pronounced SHAY-un) Zenger is in his sixth season at Illinois State, the same school from which the late Dr. Bob Frederick came to Kansas to serve as A.D.
"I think he is a perfect fit for KU," Jankovich said. "When I look at this, I feel he's been preparing for this position his whole life. Look at him being a football coach on the college level, to having a Ph.D, connecting with faculty, being a fundraiser and athletic director himself already. Every step of the way, he's marked the box. Everyone will love him there. He is home-grown. He has no ego and has tremendous character."
Zenger succeeds Lew Perkins, who significantly upgraded the school's athletic facilities and enhanced fundraising, but resigned in September in the wake of a ticket scandal that resulted in the indictment of five employees of KU Athletics and questions about exercise equipment delivered to his house.
Sean Lester will continue in his role as interim athletic director until Zenger starts his new job Feb. 1, 2011.
Moving forward
Zenger said he had been in contact with the search committee "months ago," but did not talk with Chancellor Bernadette Gray-Little until after Cunningham turned down the job.
"When I thought about what it was that struck me about the chancellor it was that she's a warm, gracious and sincere person," Zenger said.
He said the scandal did not make him think twice about pursuing and accepting the position.
"Nah," he said. "We're moving forward. The history and the tradition of KU, to me, just overrides everything."
Before going to ISU, Zenger was associate athletic director for development at K-State (2002-2005).
Zenger has an extensive football background. He coached the sport at Manhattan High in 1987, then spent a year at Drake University as a graduate assistant and then, at age 23, served as assistant recruiting coordinator and director of football operations for KSU coach Bill Snyder.
From 1993-95, Zenger was editor of American Football Quarterly — a magazine for football coaches. In 1996, he became recruiting coordinator for South Florida before accepting the same position with the University of Wyoming the following year. In 1998, Zenger was promoted to assistant head coach at Wyoming.
At ISU, Zenger served on numerous NCAA committees, including the NCAA Division I Committee on Student-Athlete Reinstatement.
Zenger and his wife, Pam, have three children: Luke, Abby and Jake.
"This is a guy who lived in a house you can see from Allen Fieldhouse when he was a kid," Jankovich said. "If there's not beauty in that, I don't know beauty anymore."
Dr. Jerry Bailey, KU's faculty athletic rep, sat on Zenger's dissertation committee.
"He is the kind of man you'd like your son to grow up to be," Bailey said. "He is smart as hell. He is generous. He remembers his roots. He is respectful."
— Journal-World assistant sports editor Gary Bedore contributed to this report.