Photo Gallery
KU hires Sheahon Zenger to be next athletic director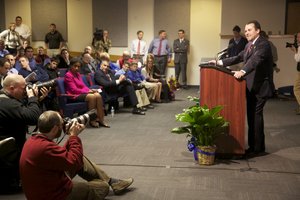 Sheahon Zenger was hired Jan. 3, 2011, as the next athletic director at KU. He succeeds Lew Perkins, who resigned in September. He'll begin work Feb. 1, 2011.
Kansas University chose a man with deep local roots to be its next athletic director when it announced Sunday that Illinois State's Sheahon Zenger had been hired.
The KU and K-State grad was born in Salina and lived in Hays and Lawrence, as well as Manhattan, among his various stops on his way to the athletic director job at KU.
In introducing Zenger today, KU also made available his employment agreement. Zenger's contract will run from Feb. 2, 2011 to June 30, 2015.
Among the perks that Zenger will receive:
• Membership at one of Lawrence's country clubs.
• The use of two automobiles.
• A scholarship suite at Memorial Stadium.
• A host of home and away football, men's basketball and women's basketball tickets.
But, in addition the perks, the the contract also outlines restrictions that seem to be an effort to combat some of the controversies that surrounded Zenger's predecessor, Lew Perkins, in recent years.
Zenger will be prohibited from using university planes for personal purposes. He's allowed to use the fitness equipment at KU, but his family is not. He's expected to know all of the restrictions and regulations regarding ethics of state employees.
Zenger's contract also includes a buyout should he choose to leave or if KU should terminate him without cause. If KU terminates the agreement without cause, KU owes Zenger up to two years of his salary. If Zenger terminates the contract, he'll be required to pay a sum equivalent to half of his annual salary.
Zenger was born in Salina on April 13, 1966, received his undergraduate (1987, English and secondary education) and master's (1992, journalism and mass communications) degrees from Kansas State and his doctorate from KU (1996, educational policy and leadership). Zenger's father, Weldon, also received a Ph.D. in education from KU while the family lived in Lawrence from 1968 to 1970.