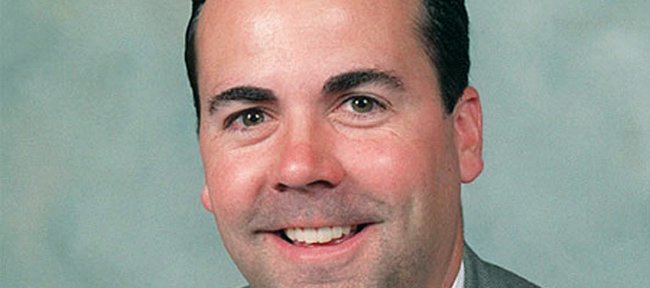 Sheahon Zenger Timeline
• 1987 — Graduated from Kansas State with bachelor's degree in English and secondary education
• 1987 — Accepted first football coaching gig, working with freshmen at Manhattan High School
• 1988 — Accepted position with Drake football team as graduate assistant
• 1989 — Served as assistant recruiting coordinator/director of football operations at Kansas State
• 1992 — Earned master's in journalism and mass communication from Kansas State
• 1993-95 — Became editor of American Football Quarterly magazine
• 1996 — Earned Ph.D. in educational policy and leadership from Kansas University
• 1996 — Accepted position as recruiting coordinator for South Florida football team
• 1997 — Became recruiting coordinator for Wyoming football team
• 1998 — Promoted to assistant head coach at Wyoming
• 2000 — Worked in Kansas State College of Business as director of development
• 2001-02 — Became assistant athletics director for major gifts at Kansas State
• 2002-05 — Promoted to associate athletics director for development at Kansas State
• 2005-10 — Served as athletic director for Illinois State
• 2010 — Accepted athletic director position at Kansas University, replacing Lew Perkins
Kansas University has named Sheahon Zenger its next athletic director.
Zenger is currently the athletic director at Illinois State University and is a Kansas native and KU graduate.
"With his experience and leadership skills, Sheahon Zenger is the best choice to lead Kansas Athletics into the future. He is exactly who we need as athletics director, working to ensure that every Jayhawk team succeeds on the field and in the classroom, as well as making sure our programs operate with the utmost integrity," said Chancellor Bernadette Gray-Little in a statement.
Zenger will be officially introduced at a news conference at 1:30 p.m. Monday. He will start at KU on February 1, 2011.
Dr. Sheahon (pronounced SHAY-un) Zenger comes to KU after spending six years as athletic director for Illinois State.
A native of Hays, Zenger helped Illinois State capture the Missouri Valley's All-Sports Trophy in both 2008 and 2010. ISU also has had a 65-percent growth in its scholarship fund memberships since his arrival, while the athletic department has posted record-high grade-point averages in each of the last four years.
Prior to joining ISU, Zenger was the associate athletics director for development at Kansas State from 2002-05. Before that, he spent two years as KSU's assistant athletics director for major gifts and also spent a year with the KSU College of Business as director of development. He graduated from KSU in 1987 with a bachelor's degree in English and secondary education. He later earned his master's in journalism and mass communication from KSU in 1992 before earning a Ph.D. in educational policy and leadership from KU in 1996.
Before moving to administration, Zenger was a football coach. His first coaching gig was with Manhattan High School in 1987, and he moved on to Drake as a graduate assistant for a year before accepting a football position with KSU in 1989.
At age 23, Zenger was one of the nation's youngest full-time football staff members, serving as assistant recruiting coordinator and director of football operations for KSU coach Bill Snyder.
From 1993-95, Zenger was editor of American Football Quarterly — a magazine for football coaches. In 1996, he became recruiting coordinator for South Florida before accepting the same position with the University of Wyoming the following year.
In 1998, Zenger was promoted to assistant head coach at Wyoming.
At ISU, Zenger served on numerous NCAA committees, including the NCAA Div. I Committee on Student-Athlete Reinstatement.
Zenger and his wife, Pam, have three children: Luke, Abby and Jake.