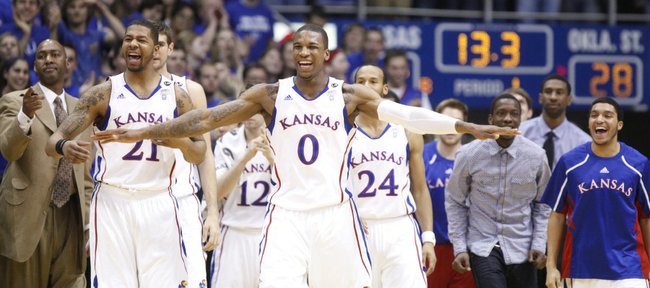 Videos
Bill Self weekly press conference, Feb. 24, 2011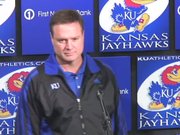 Kansas head coach Bill Self addressed the media at his weekly press conference Thursday, Feb. 24, 2011 at Allen Fieldhouse.
Donations
To contribute to the Lisa Robinson Scholarship Fund, send donations to c/o SNR Denton, 1301 K Street NW, Suite 600, East Tower, Washington, DC 20005-3364.
No matter how busy he is on a given day, Kansas University sophomore power forward Thomas Robinson makes time for the most special person in his life — his 7-year-old sister, Jayla Paris.
"I talk to her every day," Robinson said Thursday. "She is my biggest fan right now."
Happy and healthy, Jayla has been living with her dad in Washington, D.C., since the death of Lisa Robinson, Jayla and Thomas' mom, on Jan. 21.
"I'll get to see her when the season is over," D.C. native Thomas Robinson said, breaking into a wide smile before relating a cute story about a recent cell-phone call to his sis.
"She told me she had a Valentine. I don't know if I like that," ever-protective big brother Thomas said.
Who's his Valentine?
"I don't have one," he said.
He does have plenty of friends who have supported him the past several weeks.
Robinson's mailbox at the KU basketball office overflows with letters and postcards every day.
He's also received posters from schools and businesses — full of personal messages from fans designed to boost Thomas' spirits.
Perhaps most importantly, fans of KU and other schools have been generous in supporting the Lisa Robinson Scholarship Fund — one that will pay for Jayla's education.
No figures are yet available, but sources close to the situation have told the Journal-World the fund — which has the NCAA's blessing — is off to a great start.
"It makes me feel great. The people care so much for me and my family. It's beyond words," Robinson said.
The 6-foot-9, 237-pounder is happy to report he's doing well both mentally and physically.
Recent surgery to repair a torn meniscus in his right knee had him out just 10 days total. He missed three games in that span, returning to score six points and grab six boards while playing 10 minutes Monday against Oklahoma State.
"It's 'Cheddar,' all 'Cheddar'," Robinson said, crediting trainer Bill "Cheddar" Cowgill. "He got me back quick with rehab every day. What he told me to do ... it worked. I didn't want to sit out too long. That probably had a lot to do with it, too."
KU coach Bill Self has been thrilled at Robinson's quick recovery.
"He's doing great. He's an amazing guy," Self said. "Mentally he's close to 100 percent believing he's healthy. Knee-wise, he's 90 percent. There's another week he can go through some things where he'll feel he has the same explosion as before."
Self has referred to Robinson as "a stud" and "the best kid" — all sorts of superlatives — since mom's death.
"I always want him (Self) to feel that way about me. It's a good thing," said Robinson, who has also emerged as a media favorite with some quick, colorful one-liners of late.
"You cannot break me, man," he said, practicing just eight days after surgery.
"Most of them are music quotes," Robinson explained. "I record them and remember them."
Asked for another favorite saying, he responded: "Minor setback for a major comeback."
Finally, the Morris twins' adopted team motto, "Family Over Everything."
"We're family here, just like brothers," Robinson said.
Robinson, at 3 p.m. Saturday in Norman, Okla., will play against somebody who is almost as close as a blood brother — Oklahoma's Andrew Fitzgerald, who was a teammate of Robinson's at Brewster Academy in Wolfeboro, N.H.
"He's one of my closest friends," Robinson said of the 6-8 sophomore from Baltimore who averages a team-leading 13.3 points for OU (12-15 overall, 4-9 Big 12).
"He's on a young team that's hanging in there, still trying to get used to each other as a team. I tell him to keep playing hard and things will fall into place."
Fitzgerald, who speaks to Robinson regularly, is just as supportive of his buddy.
"I try to be really positive with him," Fitzgerald said Thursday. "He is a great kid. I told my mother (about Thomas' mom), and she was heartbroken. My mother actually will be at the game Saturday. I'm going to try to make sure she says hi to Thomas."
The two players form a mutual-admiration society.
"He's so athletic and versatile. In high school, I saw him dunk on 7-footers," Fitzgerald said. "He's always adding things to his game."
"He's a very good mid-range shooter, one of the best at it," Robinson added of Fitzgerald. "He has a great work ethic. Of course I'd like to get bragging rights, but it's not a personal thing."
Noted Fitzgerald: "It's not personal at all. We'll both play as hard as we can in the game."