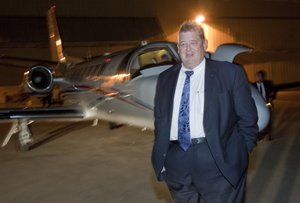 When Kansas University athletic director Sheahon Zenger left town on Nov. 30 in search of a replacement for former KU football coach Turner Gill, he vowed not to return to Lawrence until he had his guy.
Thursday, just before 8:45 p.m., Zenger hopped off the university plane at the Lawrence airport and set foot on Lawrence soil for the first time since leaving. A couple of steps behind him was new KU coach Charlie Weis.
"Great to see you all out here this late," said Weis to a group of seven members of the media awaiting his arrival. "That's good for us."
In all, KU's coaching search spanned 11 days, multiple states and wasn't finalized until Thursday. Through it all, Zenger, who said he went about the search in a unique way from the start, landed a coach with the kind of résumé that measures up to just about anyone.
"It's good to be home," Zenger told the Journal-World less than an hour after stepping off the plane. "And it's great to bring a man like Charlie Weis with me."
In Weis, Zenger delivers to Lawrence a coach with 16 years of experience as an NFL assistant — with four Super Bowl rings — and five seasons as the head coach at Notre Dame.
After serving as the offensive coordinator with the Kansas City Chiefs in 2010, Weis spent the 2011 season as the offensive coordinator at Florida. Prior to that, he coached at Notre Dame from 2005-09, where he led the Irish to a 35-27 record and three bowl appearances, and made stops in the NFL with the New York Giants, New York Jets and New England Patriots.
While coaching under Bill Parcells in the early 1990s, Weis helped the Giants win Super Bowl XXV in 1991. A decade later, he teamed with New England coach Bill Belichick to lead the Patriots to Super Bowl titles in 2002, 2004 and 2005.
Zenger was not the only member of the KU community excited by Weis' hiring. As word began to spread across campus and reaction poured in from current and former Jayhawks across the country, KU men's basketball coach Bill Self applauded the beginning of a new era of Kansas football.
"I think Kansas fans should be excited about Sheahon's football hire today," Self said. "We hired a guy that has an unbelievable résumé and has experienced success at the highest levels. In his first two years at Notre Dame, he coached in BCS bowls. With the Patriots, he won three Super Bowls. With the Giants, he won one Super Bowl and has participated in another Super Bowl. He's been a coach for a long time and obviously has a great mind. I think this is one that will definitely ripple waters in our league."
Weis will be officially announced as the 37th football coach in KU history at a news conference set for 5 p.m. today.
More like this story on KUsports.com