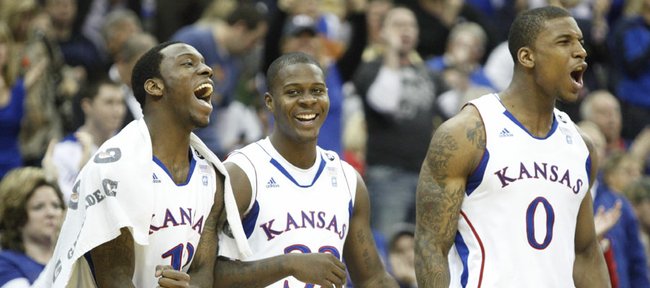 Thomas Robinson, who was considered a possible first-round pick in the 2011 NBA Draft, and Tyshawn Taylor, a second-rounder at best according to various websites, have decided to return to Kansas University for the 2011-12 school year.
Robinson, a 6-foot-9 junior-to-be from Washington, D.C., and Taylor, a 6-3 senior-to-be from Hoboken, N.J., made their intentions known Wednesday afternoon.
"This is certainly not any new news to us, but I felt it was unfair for us to make a statement until I got back from the Final Four and visited with them individually," KU coach Bill Self said.
He was given no reason to believe either player was seriously considering turning pro.
"To be quite candid, we're still smarting over the fact that we lost in the Elite Eight and were so close to putting ourselves in a position to win another (national) championship. We're disappointed, but one thing about it, the season is officially over for everybody. Even if we played in the championship and even if we played in the Final Four, the season would be over now.
"With that, it's a new team, a new season and a fresh start. I'm real excited about these two commitments to putting us in a situation to having great success again," Self added.
KU now is assured of returning its starting point guard in Taylor, who averaged 9.3 points and dished 4.6 assists per game for the Jayhawks, who went 35-3 and won the Big 12 regular-season and postseason tourney titles before falling to VCU in the NCAA Tournament Elite Eight.
"We had a great year," Taylor said. "But since the season ended disappointingly, there has been a lot of speculation with fans and on the Internet on what we were going to do. The bottom line is, we're going to work very hard this offseason and put ourselves in a position to play in that game again and come out with a different result.
"The year was up and down for me, but I feel like I finished on a strong note, and I am ready to carry that momentum into the summer and next year try to have a better season than we had this year," added Taylor, a Bob Cousy Award finalist who scored in double figures in five of his last six games.
Robinson averaged 7.6 points (off 60.1 percent shooting) and 6.4 rebounds a game his sophomore season.
"This was the most trying year of my life," said Robinson, whose mom, grandmother and grandfather died during the season. "I want to thank everybody, and I can't wait to run up and down the court in a packed Allen Fieldhouse next year. I plan on busting my butt this summer to improve my game. I want to take more of a leadership role in us moving forward and winning another league championship and getting to the Final Four."
The 237-pound Robinson actually plans on adding bulk.
"I don't know how much bigger I can get, but I'm going to try in the offseason to get bigger. I wouldn't call it perfect," he said of his frame. "LeBron (James) is my height, and he's, like, 250.
"I can add some more weight," added Robinson, who recorded four double-doubles, including 12 points and 14 rebounds in the Sweet 16 against Richmond.
Self believes Robinson has a tremendous upside.
"I think Thomas has to improve just as much as anybody, because when he plays well, he's terrific. He can be very inconsistent. He needs to take a step like Markieff (Morris) took this year," Self said. "His skill set is going to continue to improve. It's amazing to me the type of year he had considering all of the stuff he went through, just amazing. Hopefully he can play with a free mind and be able to just play as opposed to think and have so many different things going on in his head. He had a great year and will continue to get better."
'A great decision'
Jason Smith, who coached Robinson at Brewster Academy in Wolfeboro, N.H., is pleased Robinson will be at KU a third season.
"I think it's a great decision," Smith said. "Thomas needs to be in position where he earns more minutes and contributes more playing time in college."
Smith thinks Robinson may have been a first-round pick this year.
"No question Thomas has NBA upside. It all depends on how he fared in workouts," Smith said of individual workouts with NBA teams.
Smith said he has been contacted by various "agents and runners and NBA people who do background checks" concerning his former pupil.
"More than I would care," Smith said. "Absolutely it is crazy what is going on in our game. They may call and say, 'Do you still have a relationship with Thomas? Is he thinking about entering the draft?' I direct all questions to his current coaches."
Smith said Robinson never really seemed all that interested in leaving KU after just two seasons.
"I spoke briefly with him Monday. It was more that his mind was made up, but had a few questions. He wanted to hear from as many people as possible that he was making the right decision. He wants to compete for, and win, a national championship and have a chance to hopefully earn a bigger role next year. He absolutely loves Kansas," Smith said.
Buddies to be reunited
Robinson is now assured of playing on the same college team with his former Brewster teammate, Naadir Tharpe. The 6-foot Tharpe averaged 14.5 points and 6.0 assists in leading Brewster to a 31-3 record and spot in the national prep school semifinals. He also started at point for last year's national title team.
"Naadir gets a chance to play with Thomas again. Both are excited about it," Smith said. "Thomas, like most of our alums, said he would be coming back for a visit to our school this spring (where he and Tharpe can work out)."
Tharpe said Robinson is "one of my good friends. When I committed, he texted me and said, 'Welcome to the Jayhawks.' I have a friend at KU in Thomas. We are real close and talk a lot."
Tharpe, the New England Preparatory School Athletic Council player of the year, scored 10 points and dished seven assists against no turnovers in the recent East-West All-America game in Houston.
"He played very well," said Smith, who coached the East team to victory.
More decisions coming
KU's Marcus and Markieff Morris and Josh Selby have yet to announce whether they will return to KU or turn pro. Players have until April 24 to enter their names in the draft. They have until May 8 to withdraw if they do not sign with an agent.
According to draftexpress.com, Marcus Morris will be taken 15th, Markieff 19th and Selby 27th in Round One of this year's draft. Robinson is now listed as No. 13 pick in the first round of the 2012 draft. Taylor is No. 5 and Elijah Johnson No. 15 in Round Two in '12.