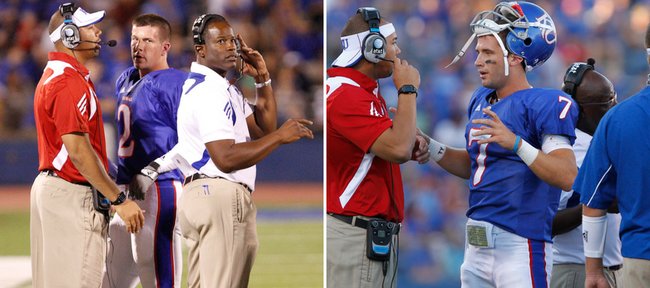 The stage was set, everything was in place for quarterback Jordan Webb to come in and save Kansas University's football team during Saturday's season opener against North Dakota State.
Of course, the fact the Jayhawks needed saving in the first place was too much for some people to fathom.
Still, with 11:24 remaining in the fourth quarter, Webb, a red-shirt freshman who began the night as the backup to starter Kale Pick, took over in the huddle with a chance to lead KU to victory.
"That's something everybody dreams about," Webb said. "That's when a competitor wants to do his best. Everyone wants to be in that position. I came in in a position to lead us to victory."
Didn't happen. Instead, Webb, like Pick, found little time to throw and struggled to move the Jayhawks down the field with consistency. He finished the night 6-of-11 for 59 yards. Pick, in three quarters, was 13-of-22 for 138 yards. Both QBs were sacked twice, and both, according to KU coach Turner Gill, held onto the ball too long at times.
For most second-stringers, a chance to prove themselves on the field during live action is all they want. Asked if that moment was bittersweet, considering the outcome of Saturday's game, the 6-foot, 210-pound righty with the rocket arm didn't paint a rosy picture.
"There wasn't anything sweet about that game, to be honest," Webb said. "We didn't play like we should, we didn't play like we're capable of, and it's disappointing."
Worse yet, it may have been just the opening stanza of a true quarterback controversy.
After the game, Gill said he did not have "any idea" what he was going to do with the quarterback position. His options? Stay with Pick, who was visibly shaken talking with reporters following Saturday's loss, or hand the job over to Webb, who, until Saturday, never had played in a college football game.
Tough choice for anyone, one made more difficult by the harsh reality that next up on the Jayhawks' schedule is Georgia Tech, a team ranked in the top 20 nationally that features a defense that limited South Carolina State quarterback Malcolm Long to 94 yards on 11-of-25 passing in a 41-10 Tech victory in the opener for both teams.
Though Pick admitted to being upset about the way his first start unfolded, he insisted he would not let it bother him long.
"I'll be fine," he said. "I'm not worried about my confidence."
Regardless of which quarterback Gill elects to go with in Saturday's showdown with Georgia Tech, the rest of the Jayhawks plan to support both guys.
"You can't get down on them," junior wideout Daymond Patterson said. "They're young guys, and we just need to keep pumping them up and get behind them, because once you get down on them everything's going to go downhill."
Gill, like most, was disappointed by the way his young guns performed Saturday night. He was careful to point out, however, that the reason KU lost just its second-ever game to an FCS (formerly Div. I-AA) opponent went well beyond which guy was taking the snaps.
"It's not just the quarterback, (it's) all areas that we have to (improve)," Gill said. "I understand that the quarterback position is the one we all look at."
Sunday night, after watching tape and evaluating the position further, Gill said he and offensive coordinator Chuck Long would continue to discuss their quarterbacks as the week progressed.
"Obviously, we made a decision based on the things that occurred (in practices)," Gill said. "And (Pick) showed that he deserved to be the starter. At that time, we just hoped that things would work out. If (things) didn't, we always said we had two good quarterbacks, so we're going to continue to evaluate (both of them) and hopefully we'll find the right guy as soon as possible."
More like this story on KUsports.com