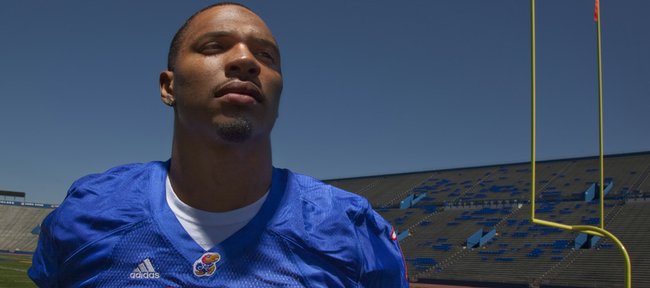 Lubbock Smith wanted to go back to his roots with his jersey.
Wearing No. 13 last season, the Kansas University safety broke his ankle in the Texas game. The injury ended his season, one in which the Jayhawks lost their last seven games.
When he received the good news this summer, Smith knew he had to call his godfather, Willie Weeks.
"Dad," Smith said over the phone, "I finally got that No. 1 back."
Weeks would best understand the significance.
After all, if it hadn't been for Weeks — and also the No. 1 jersey — Lubbock Smith wouldn't be at Kansas University right now.
And he certainly wouldn't be playing college football.
★ ★ ★ ★ ★
Kansas defensive coordinator Carl Torbush has seen fast improvement this year from Lubbock Smith.
The 6-foot, 206-pound safety is picking up defensive schemes more quickly, while also becoming more consistent in different types of coverage.
There's something else striking about Smith to Torbush, who has been coaching college football players since Gerald Ford was in office.
"He's just a sophomore, but in my mind, I think of him as a junior or senior," Torbush says, "just because of the way he looks, his maturity level."
Smith — tied as KU's fifth-leading tackler — says there's good reason for his no-nonsense demeanor: He learned it the hard way from his father, Lubbock Jr., long ago.
"I always want to do the right thing and never mess up in life," Lubbock says, "because you never know what you're missing out on later on if you make a mistake."
★ ★ ★ ★ ★
Yolanda Smith took her 10-year-old son to Planet Hollywood on the West End Marketplace in Dallas.
She hadn't rehearsed what she was going to tell Lubbock, but she mustered the courage to start talking as they walked away from the restaurant.
There was a reason Lubbock hadn't seen his father in 10 days, Yolanda said to him. She paused before speaking words that would change his life forever.
Lubbock's father was in prison.
Lubbock didn't fully process everything until he made it home later that night.
He finally asked his mother a question: How many years would his father be in prison?
Yolanda has never forgotten the look on Lubbock's face after her answer.
The 10-year-old put his hands to his stomach. His entire body hunched over. His head fell toward the ground.
The response — "Ten years" — had literally made Lubbock Smith ill.
"I felt like I lost my best friend," says Lubbock, who still isn't comfortable talking about why his father ended up in prison. "I just really lost a part of my heart."
Lubbock's father always had allowed him to go outside and play football as long as his chores were finished. He would coach his son up, too, telling him to show his aggressiveness on the football field. The father never missed one of his son's games.
Lubbock had lost his motivation to play football. He told his mother he didn't want to go to practice, saying he just wanted to stay home. Yolanda said that was OK.
At 10 years old, Lubbock Smith was content to give up football forever.
★ ★ ★ ★ ★
On Aug. 8, 2000, Willie Weeks made his way to the second house on the right, behind a Church's Chicken on Overton Street in Dallas.
This was where he was told Lubbock Smith would be.
His team's roster had taken him to the wrong apartment the day before. The person who answered said that the Smiths had moved to a different address.
Weeks asked his players at practice if they knew where Lubbock lived. One parent gave Weeks directions.
The youth football coach knocked on the door.
A few seconds later, Yolanda answered.
"Is Lubbock there?" Weeks asked.
★ ★ ★ ★ ★
After bringing Lubbock Smith back to football, Willie Weeks says he couldn't help but grow closer to him.
The coach also would give Lubbock pep talks, speaking to him about being responsible and making the right choices.
Weeks became Lubbock's godfather, but he ended up being more than that.
Lubbock started calling him Dad.
Weeks had Yolanda's blessing, too. She knew that, as a single mother working full time for the Department of Education, she wasn't fully equipped to raise a young boy to be a man. Lubbock needed a man to help with that.
Weeks, meanwhile, couldn't help but think of his own past when he saw Lubbock.
Weeks' father had passed away when he was 13, and his youth football coach, Gus Jones, took him to his first Dallas Cowboys football game. He also invited Weeks over to his house to eat with his family and went on recruiting visits with him.
Now, Weeks was inviting Lubbock to meals with his family, which included Willie's wife, Debra, and his daughters, Kawana and Krystal.
"The only thing I knew was God was sending this young man into my life," Weeks said, "for me to be there for him."
★ ★ ★ ★ ★
Lubbock Smith still remembers 10 years ago when Willie Weeks visited him during breakfast.
Yolanda sat her 10-year-old son at the kitchen table with his coach. Lubbock was the man of the house now. This would be his decision.
Weeks made his recruiting pitch. He told Lubbock it was important for him to play football. He told him that he had great talent. He told him that football could help open doors down the road if he kept playing.
Then, he went for the hard-hitting stuff.
Weeks told Lubbock he'd probably be the starter at running back. And that he could be whatever number he wanted.
After thinking about it, Lubbock had made up his mind. He was going to play football again.
But not without one demand.
When Lubbock went to Pop Warner games growing up, he noticed that the best player on each team always seemed to wear the No. 1 jersey.

"It was something I'd always dreamed about having," Lubbock says.
That season, the No. 1 jersey was all his.
★ ★ ★ ★ ★
Lubbock Smith was in Lubbock, Texas, when his cell phone started to ring.
KU was playing Texas Tech last year, and Yolanda had told him that a call might be coming.
Lubbock Jr. called his son from Frankston, Texas. His prison sentence was over.
Lubbock Jr. told his son how much he missed him. He told him he'd finally get a chance to relax and watch him play.
"I missed hearing from him," Lubbock says. "I hadn't talked to him in a long time. I just had missed hearing his voice."
When Lubbock goes back to Texas, he visits his biological father. They'll watch movies, eat, joke and try to catch up on lost time.
Lubbock Jr. even came to Dallas last year. His son knew he couldn't let the opportunity pass.
Driving his Toyota Camry, Lubbock took his dad through Dallas, finally stopping at a red brick house on Crystal Lake Drive in DeSoto.
This was where Lubbock said the man would be.
Lubbock knocked on the door, seeking out the same man that had searched for him 10 years ago.
When Willie Weeks answered, Lubbock introduced him to Lubbock Jr.; the two men saw each other for the first time since Lubbock's little league football games more than a decade earlier.
The father and godfather shook hands, and Lubbock says it was like his family was finally united.
"I wanted to let both of them know," Lubbock says, "that they'd played a major role in my life."