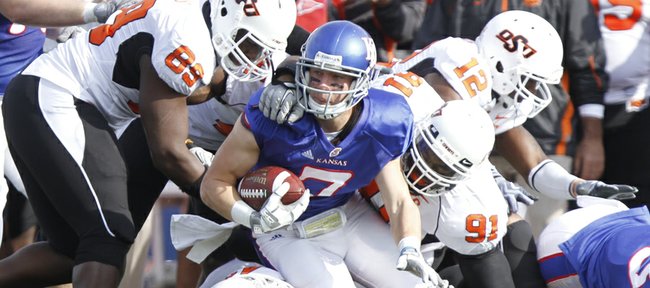 From the opening play on a sunny Saturday afternoon at Memorial Stadium, the Kansas University football team's offense screamed, "Let me entertain you; let me make you smile." It amounted to a big tease.
The steady signs of improvement evident the previous four weeks and in Saturday's first half morphed back into a replay of early-season bloopers: not having 11 men on the field, undisciplined penalties, pass-protection breakdowns, special-teams collapses.
Yet again, Kansas came out of the locker room after halftime playing at a different speed than its opponent.
Not surprisingly, Oklahoma State, ranked 12th in the nation, took advantage of KU's signature third-quarter blues and rolled to a 48-14 victory.
In conference play, Kansas has been outscored 90-10 in the third quarter. The easy answer: KU's coaches aren't as skilled at making halftime adjustments as the coaches of most other Big 12 teams. I'm not sure that's where the answer lies.
Extremely well-conditioned athletes come out of intermission refreshed and can regain maximum energy level quickly. Those not as fit tend to have trouble restoring their energy after taking a break.
It's just a theory, one I ran past first-year KU coach Turner Gill during one of those inevitable uncomfortable moments of silence that accompany just about any losing coach's postgame news conference.
To what extent, I wondered, has conditioning played a part in the team's third-quarter woes, or is it a case of in-game adjustments, or just what is it?
"It has nothing to do with conditioning," Gill said. "Eliminate that for sure."
His next remark could be spotted from a mile away: the E-word. Execution.
"Part of it is just being able to execute," Gill said. "For the most part, we've been fairly good on defense. I think it's offensively we probably haven't been able to get things done in the third quarter."
Which brings us back to: Is it conditioning or losing the in-game-adjustments battle that leads to such poor third-quarter blocking? The Kansas offense ran 15 third-quarter plays and gained six yards, all on the ground.
Whispers blowing out of last winter's conditioning sessions told stories of far less running than in previous seasons.
"I wouldn't say it was that much less (running)," sophomore safety Bradley McDougald said. "Conditioning is going to be hard one way or another. Guys are still hurting at the end of the day after workouts. Guys were still coming in sore."
The emphasis appeared to have shifted from conditioning to bulking up, which fits a team that relies on smash-mouth, power football, but hinders one that spreads the field and tries to out-quick and out-last opponents.
"A lot of people did get stronger," McDougald said. "That's one of the biggest things I noticed. I raised my bench. A lot of other people raised their lifts as well. People are getting stronger and better."
The approach to strength and conditioning needs to improve, and the performance of the special teams must as well. For now, the attention is trained on two words: Beat Missouri.
More like this story on KUsports.com