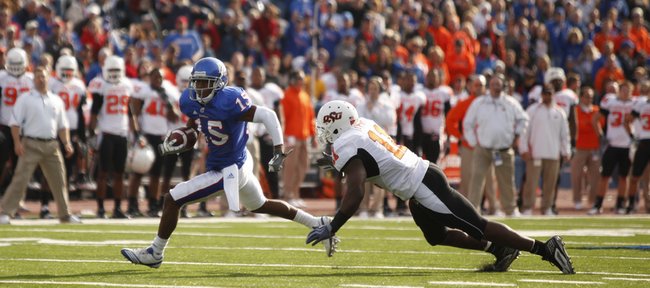 Call it slow death.
After being rocked so many times this season by rapid fire, the Kansas University football team on Saturday suffered through a sluggish and methodical 48-14 beatdown by No. 12 Oklahoma State at Memorial Stadium.
The Cowboys required several plays to score on each drive, mixed the run and pass nicely throughout the game and also settled for a couple of field goals along the way.
Even the Memorial Stadium stands, which held an announced attendance of 39,261, emptied at a slower pace than they had in earlier home blowouts.
"I think we did a great job defensively of keeping it slow," senior end Jake Laptad said. "Their offense is really fast-paced, and we were running in a different defensive line every four plays. We were trying to keep up, but they're one of the best offenses in the league."
And it showed.
Despite leading just 20-14 at halftime, OSU used a strong second half to bury the Jayhawks, who fell to 3-8 overall and 1-6 in Big 12 play.
Jeremy Smith scored on a five-yard TD run late in the third quarter. OSU followed with a blocked punt for a touchdown a few minutes later. And OSU quarterback Brandon Weeden (31-of-43 for 389 yards and three TDs) tossed two perfectly thrown fourth-quarter touchdown passes that helped him establish a new single-season record for total offense at OSU.
"We played pretty sound for three quarters," said senior Chris Harris, who finished with 11 tackles. "But they're the No. 1 offense in the country. If you keep giving them shots, they're gonna score."
For a while, the Kansas offense did its part to keep up with OSU. After one quarter, KU led, 14-10. Both teams had run 20 offensive plays, and OSU's edge in total offense was just 14 (163 to 149).
In the end, though, KU fell off the pace.
"I thought in the first half we played pretty good football," KU coach Turner Gill said. "We put ourselves in position to make plays, and our guys made plays both offensively and defensively."
Once again, though, it was a different story after halftime. KU was outscored 14-0 in each of the final two quarters, a famine that pushed KU's third-quarter points-against disadvantage to 90-10 in Big 12 play.
OSU racked up 597 yards of offense compared with 288 for KU. Those numbers included a 298-64 advantage in the second half that helped explain the outcome.
It's not that KU didn't have its chances in the second half. The KU defense opened the third quarter with a huge fourth-down stop inside OSU territory. Harris and Tyler Patmon stuffed OSU's Kendall Hunter on fourth-and-one, and the stand gave the ball to the Jayhawks at the OSU 37, trailing just 20-14. Four plays later, however, a 47-yard Jacob Branstetter field-goal try was blocked, and the rout was on.
"That made a difference in the ballgame," Gill said.
Asked why he chose to kick instead of going for it on fourth-and-three, Gill said: "I thought it would be advantageous for us to get three points. I felt good about where we were, as far as field position, and I thought to be there at 20-17 we (would have been) in pretty good shape."
KU's forced a missed field goal on the ensuing drive and gave the offense another chance. But on third-and-six from the KU 33, red-shirt freshman receiver Chris Omigie dropped a pass that would've led to a sure first down. OSU responded with a TD on the next drive and the punt block two drives later.
"It's definitely been one of those types of seasons," Harris said.
Omigie, who tallied three catches for 41 yards, was down on himself for the drop, saying he lost his concentration in the second half.
Gill was more forgiving.
"He's human," Gill said. "Guys drop balls, unfortunately."
And, in college football, the better team usually wins. It happened again Saturday at Memorial Stadium, and, afterward, nobody was arguing.
"They're good. They're as good as there is around," Gill said. "They've proven throughout this whole season that you might slow them down, but you're not gonna totally stop 'em."