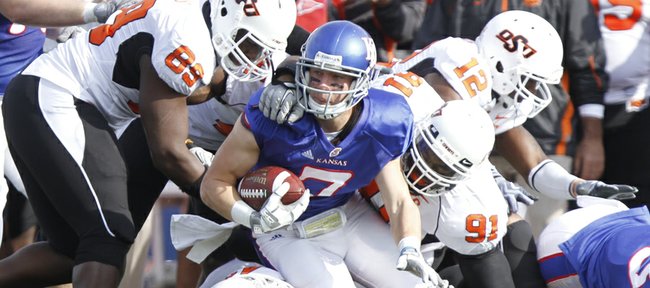 Kale Pick was trying his hardest to catch up.
While walking to Rhetoric class earlier this week — before Kansas' 48-14 loss to Oklahoma State on Saturday — the Kansas quarterback-turned-receiver was working on perfecting his route running.
He started with his outside foot in front of him, taking three steps ahead before breaking off a slant route. He counted a few more steps, then executed a curl route. A few more steps, then a corner route.
While walking the other direction, KU freshman receiver Erick McGriff stopped him to give him some ribbing: "You're working on your routes right now?"
"I was like, 'You've been doing this all year, all your life,'" Pick said. "'I'm trying to get this in three days.'"
Considering the circumstances, Pick's debut at receiver on Saturday is likely to be deemed a success.
The sophomore caught two passes for nine yards, which included an eight-yard reception in the first quarter.
"It was different, watching the ball coming at me," Pick said, "instead of away from me."
Pick's transition to a new position happened quickly.
KU coach Turner Gill approached Pick about the change early in the week, telling him that Quinn Mecham and Jordan Webb would receive the most repetitions at quarterback the rest of this season.
"I think it was more of a shock when I first heard it from Gill on Monday," Pick said. "I wasn't really expecting it."
Pick spent Monday's practice thinking not only about the playing time he could be getting at receiver but also the alternative, which most likely was standing on the sideline.
After sleeping on it and talking to his father, Mark, Kale alerted the coaches on Tuesday that he'd make the change.
He ran the first wide receiver route of his life during Tuesday's practice.
"(KU assistant) coach (Chuck) Long thought it was pretty good," Pick said with a smile. "I'm going to take his word on it."
Since then, Pick began a crash course on his new position with KU receivers coach Darrell Wyatt.
There was a lot to take in. Pick learned to always plant off his inside foot, while also receiving instruction on when to break down his route and when to pump his arms at the end of his route.
He also asked for feedback from his teammates, including Daymond Patterson, Christian Matthews and Willie O'Quinn.
"If I did anything wrong, I wanted them to tell me," Pick said. "I didn't want them to tell me I did a good job if I caught the ball and had a bad route."
After watching him practice during the week, KU's coaches limited Pick to about 10 potential plays for the Oklahoma State game.
His first catch was on a bubble route.
"I haven't run too many of those," Pick said. "I'm just glad I caught the ball and got north and south with it."
As far as the future is concerned, Pick said he isn't sure if the position switch will be permanent.
"Coach Long and coach Wyatt tell me just live in the present time," Pick said. "Worry about yourself right now, and try to do the best you can at the position you're at."
More like this story on KUsports.com