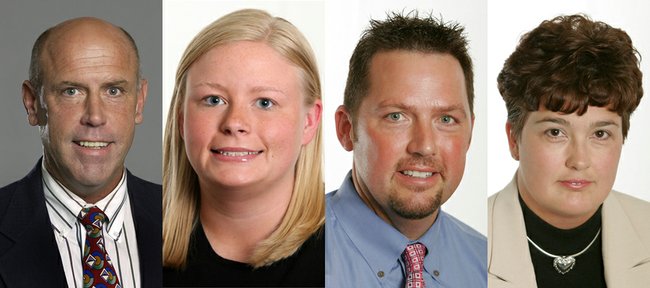 Feature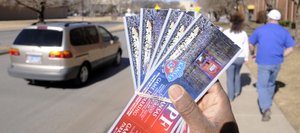 Four former Kansas Athletics employees and one current employee have been federally charged and two former employees have pleaded guilty in a scandal involving millions of dollars of stolen tickets from the university.
The director of ticket operations resigned Thursday morning from Kansas Athletics Inc. as a grand jury indicted her and four others for their roles in an alleged ticket scam prosecutors say cost the department up to $5 million during the past five years.
Kassie Liebsch is among those facing a charge of conspiracy after a grand jury in Topeka reviewed evidence from an ongoing federal probe addressing the diversion, theft and resale of tickets the university already has said involved more than 17,000 tickets for men's basketball and more than 2,000 tickets for football.
The other four people charged — Charlette Blubaugh, former director of ticket operations, and her husband Tom Blubaugh, a former paid consultant; along with Rodney Jones, a former assistant athletics director in charge of the Williams Educational Fund, and his boss Ben Kirtland, former associate athletics director for development — already had been implicated in an earlier investigation led by Kansas University. The department severed its arrangement with Tom Blubaugh, and the others all resigned.
Liebsch, however, had not been identified in the KU report as being involved in the alleged scheme. In fact, she had been elevated to run ticket operations, and her efforts had been cited as helping identify others' involvement.
But KU's hired investigators didn't have the ability to issue subpoenas or otherwise compel people to talk — or to prompt anyone to disclose information about what actually had been happening as federal authorities looked into allegations of people diverting tickets, channeling them to brokers and pocketing proceeds, said Jack Focht, the lead investigator for a Wichita law firm hired to conduct KU's review.
"Her resignation speaks loudly about her involvement," Focht said Thursday.
Focht said that during his investigation, he'd asked Liebsch and her counsel whether Liebsch had done "anything that would be indictable."
The answer, Focht said, was no. No other principals or attorneys interviewed at that time had made such a similar claim.
"It disappoints me that she was still there if she knew, and her attorney knew, that she would be indicted," Focht said, noting that an indictment is not a conviction. "I am surprised (about her indictment), based on what was said to us. We have to assume people tell us the truth, until we learn otherwise."
Liebsch and her fellow co-defendants are scheduled to make their first appearances at 1:30 p.m. Dec. 8 in U.S. District Court in Wichita, where they will be required to enter pleas of not guilty. If convicted, each would face up to 30 years in prison and a fine of up to $1 million.
Seeking monetary return
Prosecutors also are seeking to recover $3 million to $5 million from the defendants, the amount for which the five are "jointly and severally liable," according to the indictment.
"That is the amount of money we believe should be returned," said Lanny Welch, chief of the criminal division for the U.S. Attorney's Office.
Individual attorneys for each of the five defendants declined to comment on the indictment, other than to say they were studying it.
But John Rapp, an attorney for Charlette Blubaugh, did take issue with prosecutors' description of the money involved.
"I think the amount of loss that this claims is high — erroneously high," Rapp said. "It's too high."
The indictment outlines a "scheme" and "conspiracy" that started in 2005, when Charlette Blubaugh is alleged to have started taking tickets and distributing them to the others for sale to third parties — through individuals and ticket brokers — in violation of university policies.
The indictment alleges that the individuals entered false information into a computer system designed to prevent ticket theft, paid kickbacks to third parties not connected with the ticket office, had checks written to third parties and had checks written by ticket brokers to third parties.
The indictment also alleges that they concealed the receipt of their outside income on reports required by NCAA rules.
Such activities are in the past, KU officials said Thursday, as they sought to assure ticket buyers that they could continue to rely on systems now in place to ensure proper sales and distribution of tickets.
'Unwavering' commitment
"With a federal investigation ongoing, we have known that indictments, unfortunately, were a possibility," KU Interim Athletics Director Sean Lester said in a statement. "We strongly support the U.S. Attorney's search for the truth in this matter.
"Over the past six months we have implemented measures to strengthen our ticket protocols and make the entire process more transparent. I think our donors appreciate the enhancements we have made in transparency, accountability and the fact that so many of their seating locations have improved. We are unwavering in our continued commitment to our student-athletes, donors and fans."
KU has hired an internal auditor, Brenda Muirhead, whose $58,000-a-year salary is paid by Kansas Athletics. Muirhead is part of KU's Department of Internal Audit, which reports to Chancellor Bernadette Gray-Little.
"Since we first became aware of the diversion of tickets, Kansas Athletics and the University of Kansas have taken a number of actions to enhance internal controls and accountability," said Jack Martin, a KU spokesman, in a statement. "A forensic auditor was hired, new controls and restrictions placed on access to the ticketing system, and new transparency regarding seating was provided, among other actions."
Athletics Director Lew Perkins resigned in September. A search for his replacement is ongoing, with Gray-Little expecting to have a new athletics director chosen by the end of the spring semester.
Now serving as interim director of ticket operations is Nicole Corcoran, who has been Liebsch's boss as the department's associate athletics director for administration. She also is chief of staff to Lester, after having been hired into the role by Perkins.
Two other former Kansas Athletics employees, Brandon Simmons and Jason Jeffries, already have pleaded guilty to offenses associated with the alleged tickets scheme and are awaiting sentencing in federal court. They are not named in the indictment.
Jim Cross, spokesman for the U.S. Attorney's Office, declined to speculate on the future of the federal investigation, or where it might lead.
"I can't say who will or won't get indicted in the future," Cross said.