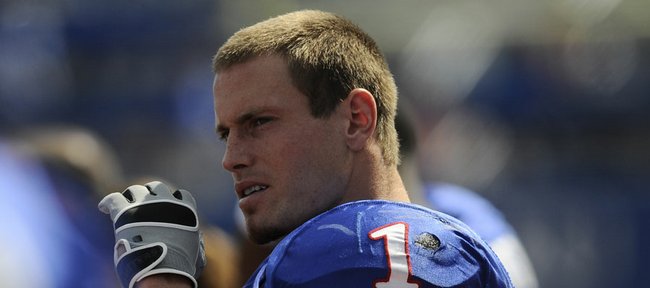 Jayhawk Pro Day stats
Unofficial 40-yard dash times
Kayl Anderson 5.18, 5.10
Caleb Blakesley 5.35, 5.37
Dezmon Briscoe 4.48, 4.50
Kerry Meier 4.53, 4.57
Maxwell Onyegbule 4.9, 4.81
Raimond Pendleton 4.78, 4.75
Todd Reesing 4.89, 4.82
Jake Sharp 4.34, 4.37
Justin Thornton 4.7, 4.61
Arist Wright 4.65, 4.61
Bench press reps at 225 pounds
Kayl Anderson 10
Caleb Blakesley 15
Dezmon Briscoe 11
Maxwell Onyegbule 18
Raimond Pendleton 10
Jake Sharp 19
Justin Thornton 5
Arist Wright 18
Todd Reesing Did Not Lift
Kerry Meier Did Not Lift
The Kansas University football team's Pro Timing Day at Anschutz Pavilion on Wednesday easily could have been renamed Jake Sharp Day.
Of all the Jayhawks who participated — 10 players from the 2009 team plus KU alums Joe Mortensen (2008) and Jason Swanson (2005) — the former KU running back ran the fastest 40-yard dash (4.34 seconds), recorded the most reps in the bench press (19) and had two of the best leaps in the vertical and broad jump tests.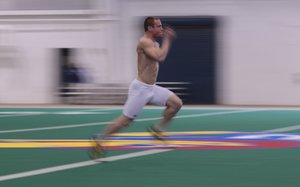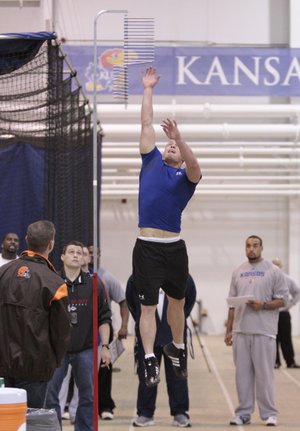 "His work ethic is phenomenal," former KU receiver Dezmon Briscoe said of Sharp. "He's one of the hardest-working players on the team, and his speed, I think he deserves a chance."
Sharp, who was not invited to the NFL combine last month in Indianapolis, made the most of his day in front of the scouts. In all, 11 NFL teams were represented on Wednesday. They included: Baltimore, Chicago, Cleveland, Dallas, Denver, Indianapolis, Kansas City, Miami, Minnesota, Philadelphia and Pittsburgh.
In addition to testing well in the timing and measurement portion of the event, Sharp caught every ball thrown his way during the on-field drills and flashed his speed whenever he was given the chance.
"You can run as fast as you want," Sharp said. "But if you can't catch a football, you're going to be in trouble. Everything holds weight and you just want to be the most complete player you can be."
For Sharp, that includes returning kicks, a position he said would be his most likely avenue to take when pursuing the NFL dream.
"If I play at the next level, that's always what I've thought I would be," he said.
Sharp was not the only player to perform well at KU's Pro Day. Briscoe, who underachieved at the NFL combine, came back with a vengeance, improving in four major areas. He dropped his 40 time by more than a tenth of a second (from 4.63 to 4.48), improved his vertical by an inch (from 33 to 34), topped his combine broad jump by nearly a foot (10 feet, 5 inches vs. 9-7) and recorded 11 reps at 225 pounds in the bench press, two more than he was credited with at the combine.
"I feel like I helped myself a whole lot," Briscoe said. "I feel like I bettered myself in everything I did today. Being around my teammates again, the adrenaline just got pumping. I wasn't going to do everything, but after I got going I just felt like going ahead."
Other KU seniors who joined Briscoe and Sharp on Wednesday were: long snapper Kayl Anderson, defensive tackle Caleb Blakesley, wide receiver Kerry Meier, defensive end Maxwell Onyegbule, wide receiver Raimond Pendleton, quarterback Todd Reesing, safety Justin Thornton and linebacker Arist Wright. Safety Darrell Stuckey also attended but did not participate in drills, instead deferring to his stellar effort at the NFL combine.
Notable performances from that group included: Reesing's 4.82 in the 40, Wright and Onyegbule recording 18 reps in the bench press and Meier running his 40 a tenth of a second faster than at the NFL combine (4.53).
All times recorded from Wednesday's Pro Day were unofficial, hand times. Official times were not released by the scouts.
Next up, these Jayhawks will continue to prepare for the NFL Draft, which is scheduled for April 22-24 in New York.
"We'll do private workouts (for NFL teams) the next two to three weeks and then we'll kind of shift gears to get him ready for training camp, football stuff," said Erik Burkhardt, Briscoe's agent. "This is underwear Olympics training that he's been doing."