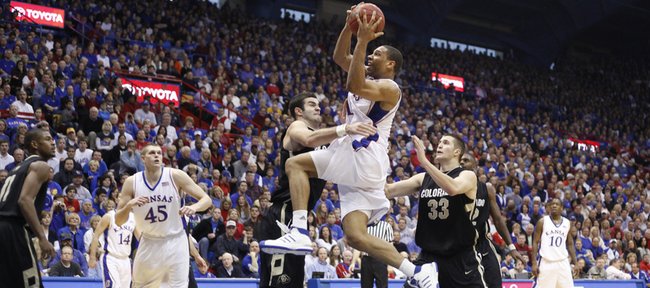 Xavier Henry — who is having one of the best seasons of any freshman in Kansas University basketball history — didn't ask for a recount after learning he'd been out-voted for Big 12 frosh of the year.
"I respect their decision to make him rookie of the year," Henry said of the league coaches as well as Associated Press media members tapping Colorado's Alec Burks the league's No. 1 rookie.
"He's a good player. I didn't get to see him too much because we only played against him one time here," Henry added of the Jayhawks' 94-74 victory on Feb. 20.
Henry outscored Burks, 24-17, that day. Burks sat out KU's 72-66 overtime victory over the Buffs on Feb. 3 in Boulder because of a knee injury.
"He had a good year and there are a lot of good players in the conference," Henry said.
Henry — he averages 13.9 points and 4.2 rebounds per game overall and 12.3 points and 4.3 boards in league games — has scored 432 points, third best mark of any freshman in KU history. The 6-foot-6 guard from Oklahoma City is 12 points shy of tying Brandon Rush and 64 short of catching Danny Manning, who scored a KU freshman record 496 points in 1984-85.
Burks, a 6-6 guard from Grandview, Mo., averages 16.8 points and 4.8 rebounds a game — 17.3 ppg and 4.7 rpg in conference action — heading into today's 11:30 a.m. first-round Big 12 tournament contest against Texas Tech in Sprint Center. The winner meets KU at 11:30 a.m., Thursday.
"I want to finish as strong as I started, to play the best of my ability and help the team as many ways as I can," Henry said, asked his goals entering the postseason. "Since I got here, I learned a whole bunch about the team concept, how to play on both ends. I really grew as a player. I want to showcase all those skills and talents at the end."
Henry's 13.9 scoring average ranks third of all KU freshmen, trailing only Kerry Boagni (14.1) and Manning (14.6). He's tied for third in free throws made (83; record is Darnell Valentine's 106), third in three-pointers made (59; record is Jeff Boschee's 79), seventh in field goals made (135; record is Manning's 209), and 10th in minutes played (852; record is Manning's 1,120).
The only slip-up he's had was the first half of the Big 12 season when he scored in double figures in two of eight games. He was a double-digit scorer in seven of the final eight contests.
"Controversies and stuff make you a better player and person," Henry said. "The way you deal with stuff always helps you out. That definitely opened my eyes to new things. I've become better from it.
"I don't think it was that tough for me," he added. "I kept my mind focused on doing everything else if I wasn't scoring that great. I was always feeling productive. There was no point in time I felt I doubted myself or anything. I always felt I was going to come back (strong)."
KU coach Bill Self gives a resounding thumbs up to Henry's freshman campaign.
"He's played very well. He didn't score a lot versus Missouri (seven points on Saturday)," Self said. "A lot is the way Missouri plays and guarded. I think he is on the uptick."
Henry says he's feeling no anxiety entering his first —and likely last — college postseason. He remains a solid first-round selection on various 2010 draft Web sites.
"Growing up, I never really looked in the future too much. I just played middle school ball and high school ball and when college came, it came," Henry said, indicating he never dreamt about March Madness. "It wasn't a big deal to me watching all the greats or anything like that.
"I think it's going to be fun and exciting time for the whole team. I think it'll be a great atmosphere," he added of the postseason. "We know what we've been working on the whole year (what) we've been saving up for now. That's what we are going to put our whole effort into."
Senior leader Sherron Collins says he has utmost confidence in the frosh standout.
"I think he's going to play well," Collins said. "He's been scoring well, rebounding the ball, getting offensive rebounds, helping us in every area on the floor."
Henry and Burks, by the way, haven't been the only freshmen in the league to have productive seasons entering the Big 12 tourney.
Here's a look at a few others:
Texas guard Avery Bradley averages 11.7 points a game overall, 12.4 in league games. He has 66 assists to 51 turnovers. Oklahoma point guard Tommy Mason-Griffin averages 13.9 ppg overall, 16.9 in league action. OU center Tiny Gallon averages 10.3 points and 8.0 rebounds overall, 9.1 points and 7.2 boards in league games. Texas forward Jordan Hamilton averages 10.0 points and 3.7 rebounds overall — 10.4 points and 3.8 boards in league action.
All-district
KU's Cole Aldrich, Sherron Collins and Xavier Henry were named to the U.S. Basketball Writers Assn. all-District Six team Tuesday. District Six encompasses the states of Kansas, Iowa, Missouri, Oklahoma, Nebraska, North Dakota and South Dakota.
Selby update
Josh Selby, a 6-2 senior point guard from Baltimore's Lake Clifton High, has a final four of KU, Kentucky, Arizona and UConn. Some say Tennessee is still a strong possibility.
"At one time Josh was going to announce his decision when he finished his visits," Selby's mom, Maeshon Witherspoon, told Rivals.com. "Now we are waiting 'til the Jordan Game (April 17, New York), so we can see how all the teams play in the tournament. It has nothing to do with us being concerned with what Brandon (Knight) is doing."
Knight, a 6-3 point guard and Rivals.com's No. 1-rated player, has a final list of KU, Kentucky, UConn, Florida, Miami and Syracuse. Selby is Rivals.com's No. 4 player.
More like this story on KUsports.com