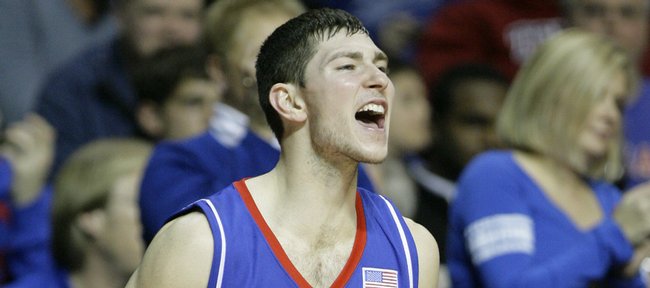 Fathers who coach their sons would do well to follow the blueprint drawn by Stacy Reed, father of Kansas University junior guard Tyrel Reed: Coach him until you can find a better coach for him, and then enjoy watching him play.
"He lets coach (Bill) Self do that," Tyrel said when asked if his dad critiqued his game regularly. "We really don't even discuss basketball anymore. It's just more of a father-son relationship. We just look forward to the summer when we can golf together and hang out."
Tyrel said his father has been to every game he has played since coming to college from Burlington High, from which Stacy retired as head basketball coach in order to watch his son live his dream. Stacy and Debbie Reed also get to visit with their daughter Lacie at games. She is a team manager.
For Tyrel, the love affair with Kansas basketball began when his father took him to a game in Allen Fieldhouse.
"First Kansas player that I remember?" Tyrel said, repeating a question. "Probably my favorite when I was little and the first one I really remember was Paul Pierce. I don't remember who it was against, but he had a reverse dunk in the first game I remember being at."
Former KU players who make their living in the NBA tend to return to Allen Fieldhouse during the All-Star break, a busy time for Pierce.
"I haven't met him," Reed said. "He really hasn't come back to KU any time recently. I'd rather be an All-Star than come back as well, so I can't blame him there."
Reed doesn't project as an NBA All-Star, but he has had a way of hitting big shots in big games for Kansas, especially against Missouri. He matched a career high with 14 points against Mizzou in January's 84-65 victory in Allen Fieldhouse. In the 10 games since, Reed has averaged 3.3 points. In his past three games against the Tigers, Reed is averaging 10.3 points.
It shouldn't come as a surprise to anyone if Reed finds pockets against Mike Anderson's trapping defense and steps into a pass to bury a three-pointer today. Or two. Or three.
"I like the corner threes," Reed said. "I used to like the top of the key, but since college, the corner's kind of been my favorite. I just enjoy hitting one at a crucial time in the game."
The Antlers, Mizzou's raw student section, will bring the venom today, no doubt much of it sent the way of assistant coach Kurtis Townsend. Kansas is used to jacking opposing crowds.
"That's why you play college basketball, to play in harsh environments, and it always feels better to win on somebody else's court," Reed said, speaking generally, not about any one road venue.
Win or lose, good game or bad one, Reed will tune in one voice, that of his coach, and tune out the rest. That used to be his father's voice. Now Stacy has settled into a comfortable seat behind the bench and roots just as hard for his favorite college basketball team during the 25 minutes a game his son is on the bench as the 15 minutes he's in the game.
Something tells me Stacy Reed never was one of those parents who hassled the local sports editor, demanding more coverage of his children.
More like this story on KUsports.com