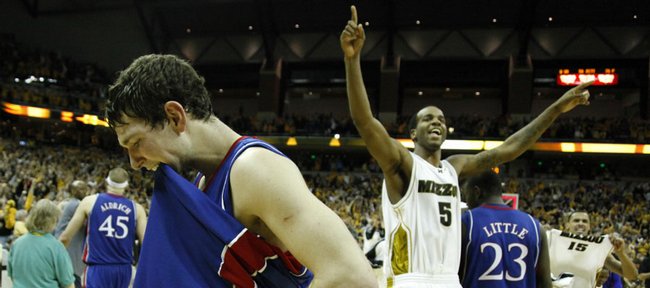 Columbia, Mo. — Recent Kansas University basketball history indicates no lead is safe in Mizzou Arena.
The Jayhawks, who are 2-3 all-time against Missouri in the Tigers' shiny, new 15,021-seat arena, blew a 14-point halftime lead last season — and a seven-point margin with four minutes to play — in suffering a 62-60 defeat.
Back in 2006, the Jayhawks squandered a nine-point lead in the final 1:51 and five-point advantage in the last :29 in succumbing, 89-86, in overtime.
"That's our motto. The game is 40 minutes, not 20 minutes," said Missouri senior guard J.T. Tiller, who is not at all surprised the Tigers were able to battle back against the Jayhawks in those two particular KU meltdowns.
The two teams meet again today in a 1 p.m. tip in the Tigers' facility.
"We don't stop playing until that buzzer goes off at the end of the game," added Tiller, whose basket with just under a minute left gave MU a 60-58 lead last Feb. 9 in Columbia. Zaire Taylor's jumper in the lane with 1.3 seconds remaining sent the fans streaming onto the court in a wild celebration, similar to the one in 2006.
"The way we did it last year ... that was pretty upsetting," said fourth-year KU junior Brady Morningstar who also has been part of 76-70 (2008) and 92-74 (2007) victories at Mizzou Arena. KU opened the arena with a 72-68 loss in 2005.
"It was pretty tough, especially when you have to drive home on the bus," Morningstar added.
Of course, if it's any consolation, the Tigers have made life tough on a lot of teams in their home building. MU, 16-1 in Mizzou Arena this season, had a 32-game homecourt win streak snapped by Texas A&M; on Feb. 3. The winning streak died just two victories shy of the school record of 34 set from 1988-90 at the old Hearnes Center, where KU had an all-time mark of 14-18.
Since that 77-74 setback, the Tigers have rattled off home victories over Iowa State (65-56), Texas (82-77) and Colorado (92-63).
"Last year, I played there as a freshman and had six turnovers (as did Sherron Collins)," said KU sophomore guard Tyshawn Taylor. "The (fullcourt) pressure is something they do well at home. When they come here (Allen Fieldhouse where KU rolled, 84-65 on Jan. 25) they don't pressure as much as they do there. They have great guards, athletic guards. We have to take care of the ball better than we did last year."
The Tigers, who forced 27 KU turnovers in Columbia in '09, compared to 23 this season in Lawrence, lead the country in steals (11.1 per game) and are No. 1 in turnovers forced (19.9).
The MU defensive charge is led by 6-foot-3 senior Tiller, who has 36 steals after plucking 68 last year en route to being named Big 12 co-defensive player of the year.
"I take it as a personal challenge every night to be the best defensive player on the floor," said Tiller, who averages 8.7 ppg off 41.8 percent shooting "I guess you could call me a unique type of guy, but I just like to have a lot riding on the defensive end. I just like the challenge. It's always a hard challenge that night to get the best offensive player on the floor."
Tiller is one of the reasons Missouri may be becoming an NCAA Tournament fixture under fourth year coach Mike Anderson, who has a 1-7 all-time record against KU, 1-6 as Mizzou mentor. Bill Self is 14-3 against MU; 11-3 as KU coach.
"We want to be a perennial (NCAA) team. We want to put Missouri back on the map and make this one of the powerhouses in the nation," said Tiller, a Marietta, Ga., native who will be honored during Senior Day festivities today.
"I think we'll be able to do that. Little by little we have to revive Mizzou nation. After last year, we have developed a great fan base."
The Tigers turned some heads locally and nationally in making an Elite Eight run a year ago.
"Oh man, it was very heartbreaking to actually go that far and take a loss," Tiller said of an 82-75 loss to Connecticut in the West Regional finals March 28 in Glendale, Ariz. "We've got to understand that's what college basketball is about. You've got to play the best teams. Sometimes you win some. Sometimes you lose some."
He was asked who's been his favorite team to go up against in his four-year Tiger career.
"I think it might be the Kansas game. It's always fun playing your rival," he said.
Especially at home, where Mizzou has won six of its last eight games versus ranked teams, including four straight.
"Our fans want it like their fans want us to come there," said Tiller, who scored eight points off 2-of-11 shooting with five rebounds and three assists in MU's loss at Allen this season. "They (MU fans) always get their best hagglin' going after the Kansas players," Tiller added with a laugh.
"I believe any team is beatable. That's the great thing about college basketball, you actually get to play the game. I wouldn't say we're going to lose. I just believe the best team will win at the end of the night."
More like this story on KUsports.com