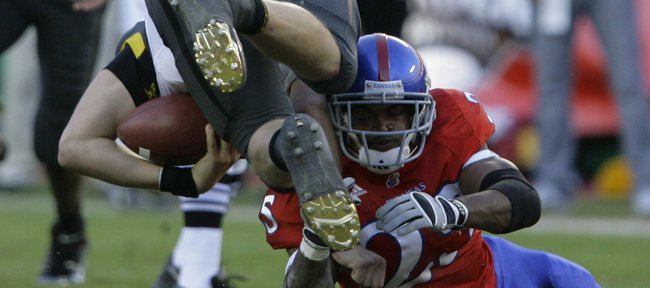 Former Kansas University football player Darrell Stuckey, a native of Kansas City, Kan., was named the Big 12 Male Sportsperson of the Year, the conference announced Thursday, positive news for a conference reeling from realignment talks.
"It's a great honor," Stuckey said. "And it was about the only positive thing that came out of the Big 12 today. I was a little surprised about it; I didn't expect to get any more collegiate awards."
Stuckey, a three-year starter who was selected in the fourth round of April's NFL Draft by the San Diego Chargers, led the Jayhawks in tackles in 2009.
He leaves Kansas as one of the most accomplished defensive backs in recent memory. He played in 45 games in four years, starting every game from his sophomore season on, and finished with 295 total tackles. In addition, he finished with eight interceptions, 11 tackles for loss and was a captain in 2009. In 2008, Stuckey was KU's lone All-Big 12 first-team selection.
Stuckey's on-the-field contributions, which included a pair of bowl-game victories, only told half of the story of his time at Kansas.
He also was heavily involved in community service, serving on several athletic and campus committees, and became a regular visitor to elementary schools throughout Lawrence and Kansas City.
In 2009, he earned a spot on the American Football Coaches Association's 11-man Good Works Team and also was named a Senior CLASS Award finalist. As a junior, he was tapped a Big 12 Community of Champions member.
Acts such as those have led to him being named the male athlete of the year by the Kansas City Sports Commission, an award for which he'll be honored July 14.
Stuckey becomes the third Jayhawk to earn Big 12 Sportsperson of the Year honors in the 10 years of the award. Former women's golfer Amanda Costner won the award in 2007, and former volleyball player Katie Martincich was honored in 2008.
The Sportspersons of the Year Award was started in 2000-01 to recognize annually student-athletes who displayed an extraordinary degree of sportsmanship and/or community service during the academic year.
Stuckey and 2009 female recipient Holly Vise, a gymnast from Oklahoma University, were selected by a media panel. Because of their standing in the Big 12, both Stuckey and Vise have been nominated for the NCAA's national Sportsmanship Award.
More like this story on KUsports.com