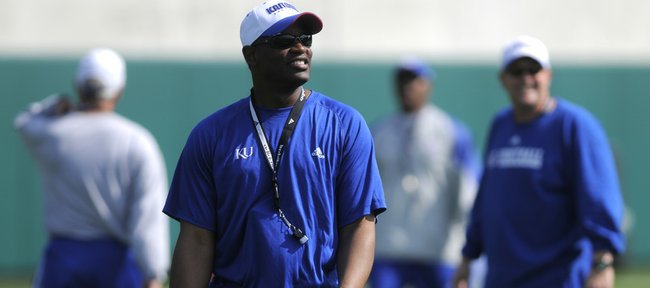 Don't let Kansas University football coach Turner Gill's first recruiting class mislead you. Gill is a believer in Kansas high school football.
"Getting in-state talent, we're going to make sure we recruit those (Kansas) guys and we want 'em all here," he said. "To say it's going to be 100 percent, that's probably not realistic. But we need to make sure to get our share of in-state guys to come here to the University of Kansas."
Despite devoting just one scholarship to a player from the Sunflower State in the Class of 2010 (defensive end Pat Lewandowski of Blue Valley West) — Hutchinson High running back Josh Smith announced after signing day that he plans to join the Jayhawks as a walk-on, as well — Gill's actions since taking over have backed up his claim that landing Kansas athletes will be important to his program.
Upon arriving at KU, one of the first things Gill and recruiting coordinator Reggie Mitchell did was divide the state into nine different regions. From there, each assistant coach — including Mitchell, who also is in charge of KU's running backs — was assigned to a region, therein providing consistency and continuity in recruiting the more than 81,000 square miles that house Kansas' high school football fields.
"All of our assistant coaches have a part of Kansas," Gill said. "We want to make sure that there's a touch or a connection from a KU coach. We're not going to visit every high school in the state of Kansas but we're going to hit quite a few schools and we're going to make sure that, at least in Kansas, we are aware of the top players. Then we'll evaluate them, and if we believe they're top-notch players who can help KU be successful, then we'll offer."
In many ways, the new approach appears to be working. This spring, KU received an oral commitment from Wichita Heights junior running back Dreamius Smith. KU assistant coach Robert Wimberly is in charge of the Wichita area and Smith's coach, Rick Wheeler, said he saw first-hand how the KU staff's commitment to Kansas would work.
"As the process started, I had been talking to coach Wimberly about another athlete of ours, someone he had called about, and I said, 'Well, I want you to take a look at this running back of mine,'" Wheeler said. "Coach Wimberly liked him right away, he reported back to coach Gill and it just went from there."
To be fair, Wheeler said Smith told him at the start of 2009 that Kansas would be his first choice if he could pick any school in the country. At that time, Mark Mangino coached the Jayhawks and Gill still was in Buffalo. In some ways, such a statement reflects well on what Mangino was able to do at KU. At the same time, the fact that Gill stuck with Smith, and ultimately landed him, demonstrates that his approach works, too.
"I certainly get the feeling that recruiting Kansas kids is really important to them and winning the kids in their own back yard is important," Wheeler said.
Gill's plan is a slight departure from the way Mangino and his staff did things. Under Mangino, Kansas was divided into three areas — the Kansas City metro area, southern Kansas and the rest — and one coach was assigned to each region. It's not that Gill's way places more emphasis on Kansas — Mangino was fairly successful in landing some marquee Kansas players — it's just that, under the new system, there's more of a connection between the state and the KU staff.
"The important thing is that people identify with the state-of-Kansas kids coming to play at the University of Kansas," Gill said.
Added Mitchell: "We have to be able to recruit Kansas better than anyone. Even though there may not be more than 10 Div. I football players in the state, during a good year, you still have to show the commitment."
So far the Class of 2011 is shaping up to be one of those good years that Mitchell mentioned. Though Smith is the only Kansas player to orally commit to KU so far, several others have the Jayhawks high on their lists.
Through Monday, according to Rivals.com, KU had offered scholarships to the following Kansas players: Bubba Starling, QB, Gardner-Edgerton; Dylan Admire, OL, Blue Valley West; Shane Ray, DE, Bishop Miege; Jordan Phillips, OL, Towanda. About a dozen others from the state are on KU's radar and most are receiving major interest from programs throughout the country. Landing any number of them would go a long way toward making Gill's second recruiting class at KU a memorable one.
As assistant coach Aaron Stamn said, "Gotta keep the heart here."
More like this story on KUsports.com