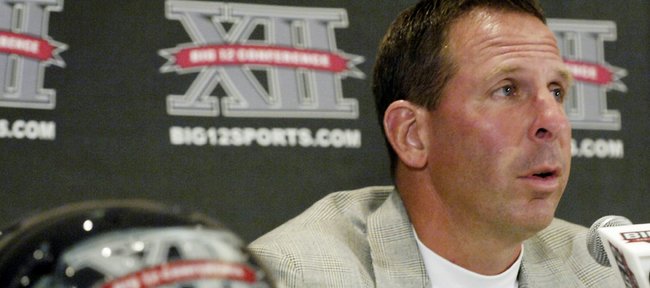 Irving, Texas — Baylor, Iowa State and Texas A&M; all stayed loyal to the Big 12 Conference during the offseason's turbulent realignment talks.
But it was the Nebraska Cornhuskers and their impending exit to the Big Ten at the end of the 2010-11 season that dominated the talk on Day 1 of this year's Big 12 media days outside of Dallas on Monday — even if Nebraska coach Bo Pelini didn't want it that way.
"I understand and respect the job that all of you have to do," Pelini said in his opening comments. "But I will not be taking any questions in regards to any Big Ten issues. We're excited about being in the Big 12 this year. We're excited about the upcoming season, and all our focus is on the Big 12, which is a great conference."
From there, reporters found ways to circumvent the disclaimer and peppered Pelini anyway. Asked if the school's future plans were a distraction this summer, Pelini was direct with his response.
"Business as usual," he said. "We haven't really talked too much about it. In our program, we talk to our guys about the process and what they have to do on a regular basis to have an opportunity to compete. That hasn't changed."
Pushed further, Pelini said he had no idea if life away from Lincoln would be any more hostile than in years past, as the Cornhuskers make their farewell tour through the Big 12 this season, with road games at Kansas State, Oklahoma State, Iowa State and Texas A&M.;
"You don't really know," he said. "I don't anticipate any problems. Throughout the conference, fans in the Big 12 are very classy fans. I don't anticipate any ramifications as far as that's concerned."
While much of this year's opening day at the Westin Hotel focused on quarterback battles, injuries and preseason hype, things always seemed to come back to the Cornhuskers.
In his first year at ISU, Paul Rhoads led the Cyclones to a bowl game. That surprise season included an improbable and emotional victory against Nebraska. With the return of several starters, Rhoads had plenty to boast about during his meeting with the media. But even he couldn't stay away from Nebraska.
"To me, it's sad," Rhoads said. "I grew up with that game and grew up with that rivalry. It's a good rivalry because (Iowa and Nebraska) are bordering states. But it's not a great rivalry because they used to beat our tails all the time."
The most interesting part about all of the focus on Nebraska's upcoming departure is the fact the Huskers have what Pelini believes is the best team they've had in quite some time. Fresh off of last year's heartbreaking loss to Texas in the Big 12 Championship game, Nebraska returns several key players on both sides of the ball and appears to be poised for another run at the title this year. Pelini has depth on the offensive line, talent at the skill positions, a healthy competition at quarterback and the preseason co-defensive player of the year in defensive tackle Jared Crick. Even with all that, Pelini knows that his team's Big 12 swan song won't mean much without hard work.

"You know, we understand that we're going to get what we earn," Pelini said. "And the kids have worked hard through this offseason. We had a good winter, good spring, and we followed it up with a good summer. We're really looking forward to the season."
Though most players in attendance Monday said they didn't think playing Nebraska would provide any extra motivation, the words spoke by some said otherwise.
"If they want to leave, they can leave," Baylor linebacker Antonio Johnson said. "We welcome all challengers so it really doesn't matter. If they don't feel like they're Big 12 material then they can leave."
Media days will continue at 9 a.m. today with Missouri kicking off Day 2. The Tigers will be joined by Kansas State, Oklahoma State and Texas Tech. Kansas and new head coach Turner Gill will open the third and final day at 9 a.m. Wednesday.
More like this story on KUsports.com