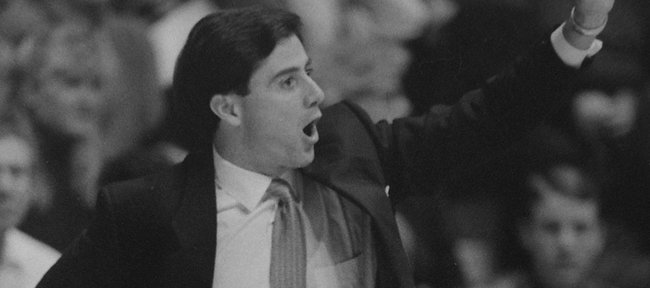 Editor's note: This is the second story in the Journal-World's series of the top 10 victories in Kansas University hoops history. Introducing No. 9:
Photo Gallery
Kansas 150, Kentucky 95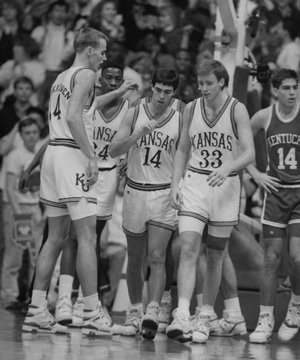 Photos from KU's 150-95 blowout of Kentucky from December 9, 1989.
Ten greatest games
As the countdown continues, look back at the ten greatest games here:
8 - Check back next Wednesday for No. 8
9 - Roy's boys run wild vs. 'Cats
With more than 1,100 victories between them, Roy Williams and Rick Pitino long have been considered two of the greatest minds to work college basketball's sidelines.
But there was a time, not long ago, when they were linked in a way that had nothing to do with win totals.
The day was Dec. 9, 1989, and second-year Kansas University coach Roy Williams was on the sideline for his first match-up with one of the nation's elite programs. Two weeks removed from rolling their way to the Preseason NIT championship — with victories over Shaquille O'Neal and second-ranked LSU and Larry Johnson and top-ranked UNLV — the Jayhawks were home for a battle with Pitino's Kentucky Wildcats.
Pitino, who made a name for himself by guiding Providence College to the 1987 Final Four and in the NBA with the New York Knicks, was in his first season in charge of the probation-laden Wildcats. With just eight scholarship players and a host of walk-ons on his roster, Pitino rode the Wildcats hard that season, determined to lay the foundation for the fast-paced, pressing style that would lead UK to three Final Fours in the 1990s, including a national title in 1996.
On this day, though, the Jayhawks had little trouble with Pitino's press. Seniors Kevin Pritchard, Ricky Calloway, Jeff Gueldner and Freeman West, along with juniors Mark Randall and Terry Brown, torched the pressure and scored at will while leading Kansas to a 150-95 blowout. KU led at the half, 80-61.
"This is something that I still preach to this day, and it was really from that game," Randall said. "Against any press, always get the ball to the middle. And that's what we did. And we were able to advance up the court past their press, and it was layup, layup, layup."
With each Kansas layup or dunk, the Allen Fieldhouse crowd roared louder. As the decibel-level grew, Pitino became more irate.
"It just kept getting louder and louder and louder, and, as a player, you feed off of that energy and excitement," Randall said. "The energy in that place never got better than it was that time. The tradition of Kansas against the tradition of Kentucky and the energy that was in the building that day, it was unbelievable. There was nothing like it in my five years that I was at Kansas. Nothing really even came close."
With his team getting embarrassed on the court, Pitino's temper boiled. Randall recounted how Williams yelled to Pitino, asking what he wanted him to do, given that he already had his third team in the game. Pitino, according to Randall, responded with an expletive.
The exchange stoked Williams' competitive nature, and it showed.
"The starters were taken out, which was a nice gesture on coach Williams' part, but there's emotion in this game, there's passion in it," Pritchard said. "Once the incident happened, I just remember coach Williams looked down the bench and said, 'Starters, back in the game now.' Initially I thought we were in trouble, but he just wanted us back in there to show 'em that we were going to go back in and compete for the next five minutes."
Added Randall: "I thought what coach Williams did was class. It was kind of one of those things where you just sat there and said, 'What are you gonna do?' (Pitino's) the (guy) who kept putting the press on."
Pritchard's surprise did not stop with Williams sending KU's starters back in.

"What was amazing," Pritchard continued, "was that they kept pressing, and we kept breaking the press and just kept getting easy baskets."
To this day, many of the Jayhawks on that team continue to be amazed by Pitino's insistence on using the press until the bitter end.
"I don't know what his thinking was," Randall said. "Maybe he was thinking, 'hell we were getting smoked anyway, we might as well keep going.'"
After racking up a few more victories at KU, Randall and Pritchard both went on to enjoy a few seasons as NBA players and currently are still involved with the league. Randall is the director of community relations for his hometown Denver Nuggets. Pritchard is the general manager for the Portland Trailblazers. Throughout their careers, they've encountered plenty of Kentucky alums along the way. Just about every time, the record-setting game comes up.
"Any time I run into any Kentucky fans," Pritchard said. "There are a lot of Kentucky guys in the NBA and there are a lot of Kansas guys in the NBA, and we're not afraid to have a few friendly words."
Added Randall: "In the time I've spent in Lawrence since I graduated, I would say that that's the one game that's talked about most in my career. People remember where they were or what they were doing when they were watching it."