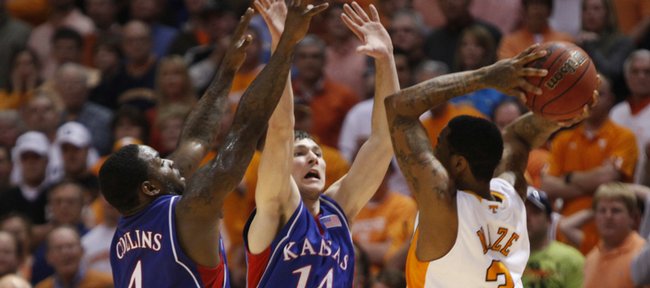 Kansas University's frantic fullcourt press forced a pair of turnovers in the final 1:24 of the Jayhawks' 76-68 loss to Tennessee on Sunday in Knoxville.
"Presses are always effective in a late-game situation where the other team never tries to score," KU coach Bill Self said Monday, when asked on the weekly Big 12 coaches call if he wishes he'd pressed earlier in the game.
"Think about it. They are just trying to get across halfcourt, so you can gamble and miss and nobody is hurt. Also one of the reasons a press looks good late is because teams are told only to shoot layups. That helped us as well.
"We put ourselves in a situation where we were kind of scrambling. Our team wasn't in tune. We looked slow. They (Vols) were definitely the quicker team. We probably could have done some things to create some pace and do some things like that."
Self brought up the subject on his own on Monday's Hawk Talk radio show.
"If you studied our game, we weren't turned up yesterday," Self said, perplexed by the lack of energy. "Our game plan was never to let them catch it where they want to. Our game plan was to deny every pass, every bounce, to get after 'em.
"It's frustrating (that KU didn't do those things). It's like football ... if you get off to a good start and have success, the train is rolling. You don't do that and the other team gets comfortable and they think they can play with you. It's hard to turn it on and off. We didn't go in with the mindset we needed to be turned totally up like we did against Temple. It wasn't a lack of respect (for 12-2 Tennessee) but whatever reason. We need to be turned up to have success."
Twin talk
Kansas University sophomores Marcus and Markieff Morris combined for seven points and eight rebounds Sunday after totaling five points and eight boards in last Wednesday's 71-66 victory over Cornell.
"Since Christmas, I don't think the twins have played like they are capable," KU coach Bill Self said, when asked about the duo on his Hawk Talk radio show on Monday. "I don't sense a motor. They're not going after the ball with the same vigor. That doesn't make them bad players. Maybe they had a bad week. It's what I'm believing to be the case.
"A lot of things happened in the game yesterday. It was everybody, not just them. The twins know how the staff feels about it and (twins) will do some things to take positive strides in doing things we know they can do. Rebounding, screening, running, being in a stance to me doesn't take a lot of skill set. It takes a want-to. I don't think the twins are quite as turned up as they were earlier. They are still good players. We've got to get them back to playing the way they were before Christmas."
Collins led way
Self did not think senior Sherron Collins tried to do too much in Sunday's loss. He scored 22 points off 7-of-20 shooting and was 2-of-10 from three.
"It was not so much everybody watching him, but no execution. We didn't play with a purpose yesterday," Self said. "Because of that, Sherron tried to take over and do some things. To be honest, other than about three shots he took late when the game was over or close to being over, he did a pretty decent job. He got some good looks, just didn't make them. When you play from behind, it takes so much energy, you have to be so much more precise. There's little margin for error."
What about Johnson and Robinson?
A Hawk Talk caller asked for more playing time for Thomas Robinson and Elijah Johnson. Robinson played three minutes against Tennessee, while Johnson didn't enter the game.
Self said Tennessee using four guards meant Robinson would have to guard a point guard on the perimeter after switching in some situations, which would negate his effectiveness.
As far as guard Johnson ... "We took Sherron out two minutes in the first half and we went up two (points) to minus six. We needed Sherron in there. At least he was a calming influence. The caller is right in utilizing our bench. I agree, but in the situation yesterday I felt we were better with him in the game a little fatigued, than not so."
Taylor on uptick
Self on the play of Tyshawn Taylor, who had 13 points off 4-of-11 shooting with four turnovers against three assists:
"From my vantage point watching practice and being with the guys every day in the last month, I think Tyshawn is on a big uptick," Self said. "Yesterday, he played fine until the last four minutes. He had three plays I know he wished he got back where he didn't use great judgment."
Next up: Huskers
KU will next meet Nebraska (12-4) at 8 p.m. Wednesday, at Devaney Center in Lincoln, Neb.
Christian Standhardinger, a 6-8, 210-pound freshman from Munich, Germany, made his career debut in Saturday's 64-53 loss at Texas A&M.; He scored a team-high 13 points off 4-of-7 shooting with a team-best seven rebounds. In 2009, Standhardinger averaged 22.2 points, 8.5 rebounds, 2.1 assists and 1.6 steals over 26 games for German club team Ehingen. He hit 54.7 percent (151-of-276) from the floor, including 40.6 percent (43-of-106) from beyond the arc.
Good workout
Self said the Jayhawks had "as good a practice as we've had all year" Monday. "I tell our guys, it's pretty sad we play harder in practice than in games. Unfortunately it's the case sometimes. Today was an opportunity for us to get better and we did."
More like this story on KUsports.com