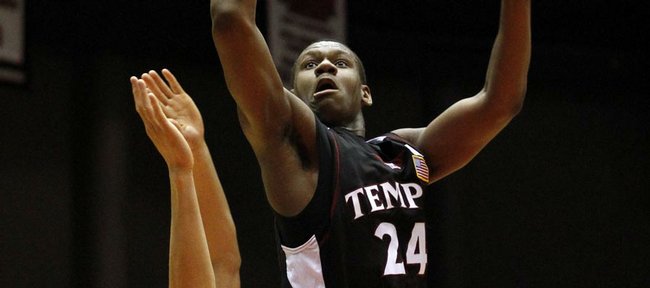 Philadelphia — The Kansas-Temple game was viewed as a homecoming for the Morris twins, nothing more, nothing less, when the Jayhawks' 2009-10 basketball schedule was released last June 3.
Half a year later, today's 4:30 p.m. clash at Liacouras Center is, "by far triple the hardest game we've played so far," KU coach Bill Self says.
Expected to be in rebuilding mode following the graduation of first-team all-Atlantic 10 guard Dionte Christmas, the Owls instead take an impressive 11-2 record and No. 18 national ranking into a marquee matchup against No. 1 Kansas (12-0).
It's being billed as the biggest game in the history of the Owls' 10,224-seat campus facility, which opened in 1997.
And why not?
It's the first time a top-ranked team has ventured through the building's doors to challenge the Owls.
"I know they will guard. They are No. 1 in the country in scoring defense," Self said of a team that has allowed 54.2 points a game and has held opponents to 24 percent three-point shooting.
"I don't anticipate getting our average," added Self, whose Jayhawks average 87.8 points a game, second-best mark in the country, while allowing 58.6.
"I'm not saying we can't get our average. I don't think there will be enough possessions around. They do a good job of taking care of the ball and not turning it over (10.5 per game) and giving them a chance to score every possession.
"Last year when we played them, we hung 70 on them in our building," Self added sarcastically. "You don't go on the road and think you'll hang 90 on somebody when they are only giving up 53. It's good for our team, because that's an NCAA Tournament type game."
The Jayhawks nudged Temple, 71-59, last Dec. 20 in Allen Fieldhouse, behind the 19-point outing of guard Sherron Collins.
"It was a great game last year. They played us really hard at home. We can only imagine what they'll play like at their place," said junior center Cole Aldrich, who had 13 points and 11 rebounds. Tyshawn Taylor and Brady Morningstar scored 11 apiece, while Temple's Christmas (21) was one of the Owls' two double-digit scorers.
Junior forward Lavoy Allen contributed 10 points and seven boards.
"He's a good player. I heard he's doing really well this year," KU soph Marcus Morris said of Allen, a 6-foot-9, 225-pounder from Morrisville, Pa., who averages 10.6 points and an identical 10.6 boards.
"He's a jump hook guy who can also shoot it in from three with his feet set. I can't compare him to anybody in the NBA right now. He has an older game. He's a fundamentally sound guy."
Ryan Brooks, a 6-4 senior who scored seven points versus KU, leads the Owls with a 15.8 scoring mark. Juan Fernandez, a 6-4 sophomore who did not play against the Jayhawks, averages 14.3 points and 3.5 assists.
Fernandez scored 26 points and Brooks 19 in Wednesday's tuneup — a 70-60 victory at Northern Illinois.
"We stressed all through the week to stay focused," Brooks said. "With three games this week (including Monday's 63-39 victory over Bowling Green) each one was treated as the most important game of the year. Now we're very excited for the opportunity we have and the position we've put ourselves in."
Temple enters today's game after completing its first unbeaten December since 1987. The Owls, who have won seven straight, are off to their best start since 1993-94.
"I like playing tough games. I love the competition," said KU sophomore Taylor, who like the Morris twins and Washington, D.C. native Thomas Robinson, will have several family members and friends on hand today.
"Road games are tough. You are playing against five people on the court, plus the crowd," Taylor added of Temple fans who fired up the Jayhawks by chanting, 'We want Kansas' after a recent victory over No. 3-ranked Villanova.
"You've got to be mentally tough and focused in. You can't forget assignments. One possession on the road can lose a game."
KU coach Self may have fired up his own players by referring to them as "soft" after Tuesday's 81-51 victory over Belmont.
"It puts a little energy in us, definitely motivates us to get better as a team," Aldrich said. "Coach knows the game more than all of us combined. Whatever he says we are all going to follow. We watched a lot of film this week. There's a lot we can get better at ... rebounding, defending, trying to get better every day in practice."
"I mean, that's what he thinks," Taylor said. "I don't disagree with him at all. Watching the tape, you can see things you don't see during the game. I didn't feel that way during the game, but now I can see what he's saying. If he feels we're soft, we've just got to play tougher."
From the sounds of it ... it'll take toughness to win today's game, one that Self said could be "muddied."
"We have to play hard the whole game," said Marcus Morris. "Kansas stands for a lot. Every game we have a target on our chest with something to prove. We will go out the same way we do every game, feeling we have something to prove."
"It's a huge road test for us," Aldrich said. "It's going to be a fun game. We're playing a really good team that's on a good streak now."
• A previous version of this story was updated.
More like this story on KUsports.com