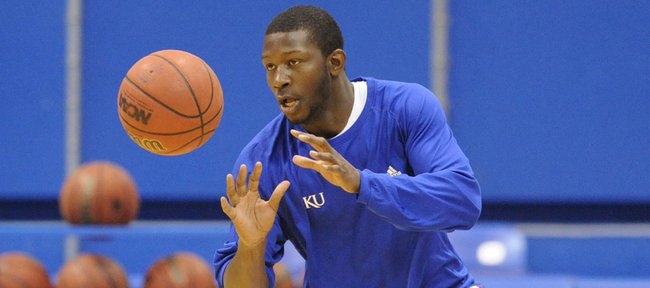 Ten pounds lighter — and a heck of a lot healthier than a year ago — Mario Little has made quite an impression at Kansas University basketball workouts during the 2009-10 season.
"Honestly, I think Mario is the best 1-on-1 player we have on our whole team. He's tough to guard," said KU junior Conner Teahan, assessing his roommate's progress during a red-shirt campaign.
"Mario's a tough matchup at the 4 (power forward) and at the 3 (small forward). He's so strong and athletic. I mean, he has quick, quick moves and a really good stroke," Teahan added of the versatile 6-foot-5, 210-pound senior.
"He makes up his mind, knows what he wants to do with the ball. He's gotten better at every aspect of the game."
The ever-modest Little — he decided to red-shirt to give his surgically repaired lower left leg time to heal and become more effective on the perimeter — reluctantly agrees with his buddy's assessment.
"I'm in shape, dribbling without hesitation, shooting the three-point shot a lot, things like that," Little said. "I'm more aggressive. I'm getting better every day (while) waiting for next year."
He wishes he could say he has been waiting patiently.
Little, who starred at Chicago's Washington High School and Florida's Chipola Community College before averaging 4.3 points and 3.2 rebounds in 23 KU games last season, says practicing and not playing in games has been "humbling."
"I want to play in all the games, but certain games I really want to play — like the big games," Little said. "If we're struggling, I really want to play. It's new coming from always being in the game to being a cheerleader. It's humbling, like I said."
It's humbling to go from Chicago Southside area prep player of the year to Rivals.com's No. 1-rated juco player to KU rotation player to a guy on the Red Team — the scout team — at practice.
"Sometimes I get tired of being a practice dummy, but it's cool. I'm helping the guys get better," Little said.
Little, who was used primarily at power forward last season, has played various positions at practice this year.
"It's basically wherever they need me," Little said. "I've got to stick with Marcus (Morris) a lot because sometimes the other guys really can't. Sometimes I might guard X (Xavier Henry), Sherron (Collins), Cole (Aldrich) … everybody. I still do stuff at the 2, at the 3, the 4. I'm doing a lot."
Including spending extra time in the gym and the weight room. Little's top weight of 220 pounds last year was far from ideal.
"I was down to 203 at one point. Now I'm 209, 210. It's so I can be quicker. I won't get tired as fast," Little said.
He hasn't forgotten about his teammates while working on his own game.
"Mario has taken more of a vocal role just because he knows he can't be out there on the court," Teahan said. "He's been through some stuff so everybody kind of respects what he has to say."
Little said he tries to fire up the younger Jayhawks during pre-game drills.
"I try to make sure everybody is ready, try to get everybody hyped up," Little said. "That's the way you have to be — intense. I want to make sure our motor is running, try to get everybody ready to play the game and not be lackadaisical."
Though Little wishes he could contribute in games, he has never second-guessed his decision to postpone his senior campaign until 2010-11.
Remember, he came close to red-shirting the 2008-09 season.
"Last year I know I was helping the team out by playing. I knew my teammates wanted me to play," Little said. "Last year was my decision, but I didn't make the decision for myself. I made it for the betterment of the team.
"I sat out this year to have a better year next year. It's kind of why I really want to sit out, to get better."
Little ultimately wants to play for pay.
"NBA," he said, adding, "If I have to, I'll go to Europe or someplace like that. But I'll still work to try to get to the NBA. I love the game so much. I have to play," said Little, who will graduate in May of 2011 with a degree in African-American Studies.
Kansas coach Bill Self, who believes Little will "impact our program on the court," maintains landing a degree is the most important factor in the red-shirt decision.
"This will benefit Mario because not as many hours transfer (from junior college). It'd have been difficult for him to graduate. He'd have gotten closer this May, but those are definitely advantages," Self said.
Little is in no hurry to leave town.
"College is fun. I'm getting better. I'm around my teammates longer because they really want me to stay around. They like me and all that," Little said.
Indeed ... "He's one of the nicest, funniest guys on the team," Teahan said. "Don't get me wrong. He is a competitor. We see that at practice every day, but at the point he's at right now, I don't think he's trying to take anything too seriously."
Not until his red-shirt season is finally over with.
More like this story on KUsports.com