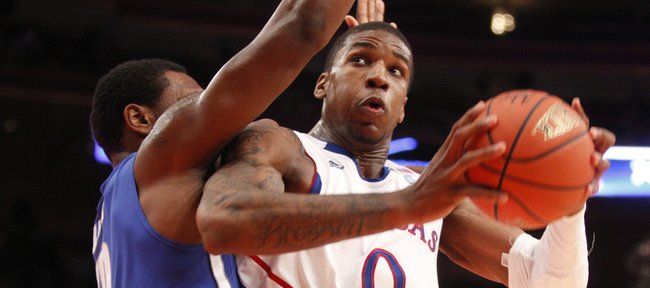 KU vs. Memphis
Podcast episode
Selections from KU coach Bill Self's press conference following the Jayhawks' 81-68 victory over Memphis on Dec. 7, 2010.
New York — Ideally, by the time conference play starts Jan. 12 in Ames, Iowa:
Markieff Morris will have mastered the art of playing defense with his feet, not his hands, and can consistently play 30 minutes a game.
Josh Selby, playing in his seventh game, will have gotten the hang of learning what shots that used to make sense no longer do because he's playing alongside so much more talent. By then, if he's as fast a learner as he is a basketball player, he'll understand the value of a possession and keep the risky plays to a minimum.
Meanwhile, not having a guard besides Tyshawn Taylor in the starting lineup who's a natural at breaking pressure, and not being able to count on big minutes from Markieff Morris hasn't killed Kansas, ranked fourth in the nation and undefeated in eight games.
Markieff's consistent inability to avoid foul trouble has meant more playing time for sophomore Thomas Robinson. More minutes have translated to more confident, comfortable efforts from the muscle-bound, 6-foot-9, 237-pound sophomore post player who contributes a ton of energy and athleticism off the bench.
In the long run, the minutes Robinson's getting now will make Kansas a better team. So too will the absence of Selby because of the extra pressure it places on Taylor, who's handling it well, and the additional playing time for sophomore Elijah Johnson.
Taylor's need to be the guy who gets to the paint to create high-percentage shots for teammates has resulted in him taming the wild child within. It's still there, but it has become the exception, not the rule.
Taylor needed another quick ball-handler to help him with the pressure and to give him some rest Tuesday night when Kansas handed 13th-ranked Memphis its first loss, 81-68.
Johnson answered the call in an efficient way, contributing seven points, three assists, a steal and a dunk on a lob. Best of all, he didn't commit a turnover. He made all three of his field-goal attempts and his only free throw.
Markieff spent all but seven minutes of the first half on the bench with two fouls. Hitting the boards hard, Robinson made sure that didn't cost Kansas the game. In just 15 minutes of action, Robinson contributed 10 points, 10 rebounds, two assists and a blocked shot.
One of those rebounds came when he ripped the ball right out of a Memphis player's hands. Robinson missed the easy shot after that, but it was an extremely impressive display of strength.
"Thomas was our best performer tonight," Self said. "I thought he played really well, and he played smart and was under control. We've got a fun team, but we're wild. We've got to harness some of that, but with Thomas, that's what makes him good."
The pieces were there with Thomas last season, and the effort was always all-out. It's just that he didn't always seem very aware of his surroundings. Offensive fouls, errant passes and rushed shots led to long stretches on the bench. In other words, he was a freshman, and now he's a sophomore.
"The game's not moving 100 mph," Robinson said of the biggest difference from his freshman and sophomore seasons. "I actually know what's going on. I've got a year under my belt. I know the offense now. There aren't too many things rushing me. I feel like I see most of what's coming at me."
Johnson played 21 minutes, matching a career-high set in last season's blowout victory against Alcorn State.
Johnson's not thinking about what his role will be when Selby joins the team. That's an abstract thought. He's concentrating on the concrete thoughts, the here and now.
"Tyshawn, when he needs to rest, he needs to know when he goes to the bench he doesn't need to worry about needing to get the lead back up when he gets back out there," Johnson said.
Sophomores have an easier time understanding how to fit in than do freshmen.
"I understand how valuable Thomas and my role is to the team," Johnson said. "Tyshawn can build a 20-point lead with the twins, and me and T-Rob can come in and change that to an 11-point lead. At first, I didn't realize how big of a deal it was, but it's a momentum thing. You give a team momentum, they can come back and beat you."
If Markieff Morris can stay on the floor more than the 20.4 minutes he's averaging so far, Robinson's minutes might decline a little. Selby's addition will make it more difficult for Johnson to find playing time. As long as the sophomores continue to make the most of the time they get, everybody wins.