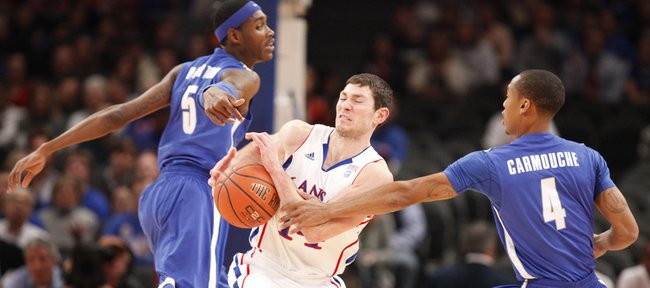 KU vs. Memphis
Podcast episode
Selections from KU coach Bill Self's press conference following the Jayhawks' 81-68 victory over Memphis on Dec. 7, 2010.
New York — Memphis guard Will Barton needed only a few words to explain what went wrong for his team on Tuesday night at Madison Square Garden.
"I think," Barton said, "we just got out-toughed."
Following Kansas University's 81-68 victory over Memphis, Barton's teammates were in agreement with his statement.
"Indeed," Memphis forward Will Coleman said. "It started from the point guard all the way up to the bigs, including me. We all got out-toughed tonight."
KU's physicality especially showed inside, as the Jayhawks outrebounded the Tigers, 44-31.
So who was toughest in the paint for KU?
"The (Morris) twins and (Thomas) Robinson. They were on those boards," Coleman said. "Robinson, I don't know how many rebounds he ended up with. I think he was in double figures. He was a freaking monster on those boards. In the end, credit to him, but we just got out-toughed.
"I'm not going to say we were playing scared. I don't know what was going on."
Though half of Memphis' players are freshmen, Memphis coach Josh Pastner wasn't giving his team an out after the loss.
"I told the guys I don't want to hear about being young," Pastner said. "I am not going to allow them to have that as an excuse."
It was still difficult for the Memphis players not to mention their youth as a factor Tuesday night.
"It shouldn't matter," Coleman said, "but tonight, it showed. It showed."
Coleman said he saw his team getting rattled in the second half.
"It really showed who the older team was," Coleman said. "They ran their plays. They went through their sets. Ball screens, handoffs ... they did what they were supposed to do. In the second half, I'd say come the 17- or 18-minute mark, we just fell apart."
After Memphis tied the game at 39 with 18:21 left in the second half, KU put together a 9-0 run in just two minutes, 12 seconds.
"Coming out of half, we didn't throw the first punch," Memphis freshman guard Antonio Barton said. "They did. We never recovered from that."
Memphis also suffered from a poor shooting night, making just 27 of 73 shots (37 percent). It was the Tigers' second-worst shooting effort of the season.
"We are going to spend time on just the basics, layup drills," Pastner said, "and being able to go through contact and being able to make plays."
Pastner said after his team missed shots, his players started to press.
"That affected our defense and that was the difference for Kansas," Pastner said. "(The Jayhawks') turnovers and missed shots did not affect their defense."
Meanwhile, Antonio and Will Barton weren't able to get the chance to play against their cousin, KU guard Josh Selby.
The freshman Selby did not make the trip, as he is still serving a nine-game suspension handed down by the NCAA.
"It would have made it more fun, but that didn't change anything," Will said. "I was just worried about beating Kansas no matter who was playing."
Both Antonio and Will said KU was getting a valuable player in Selby.
"He does a lot of good things on the court," Will said. "He's an explosive athlete. He can shoot it. He can pass it, defend it, and he plays hard, too."
Added Antonio: "He's a leader. He'll fit right in with their program and their system. I think he'll come out and surprise people from the jump."