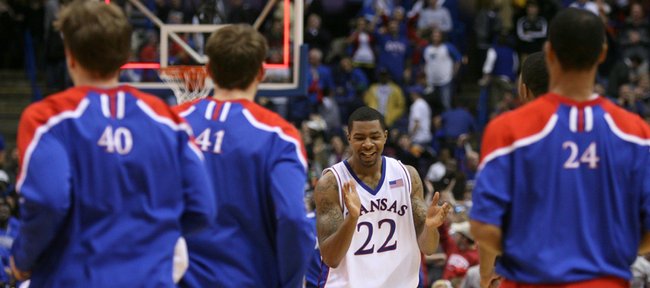 Past Event
Tuesday, December 7, 2010, 6 p.m.
Madison Square Garden, New York, NY
All ages
New York — Marcus Morris hoped for the best, but definitely feared the worst, as Memphis lefty sharpshooter Elliot Williams launched a possible game-winning three-point shot with two seconds left in the 2009 Hall of Fame Showcase in St. Louis Scottrade Center.
"I was actually guarding him. When he shot it, I was like, 'Wow,''' Morris, Kansas University's junior guard from Philadelphia, recalled a year after the fact. "We were up two, and he took a three. I'm like, 'He's got some heart to take a three.' I was just happy he didn't make it."
Williams' shot, taken fairly close to the spot KU's Mario Chalmers made famous against Memphis in the 2008 NCAA championship game, was dead-on. But it banged off the rim in Game Two of the 2009-10 season as the No. 1-ranked Jayhawks survived the unranked Tigers, 57-55.
"I thought he was going to make it when it left his hand," Morris said. "I was scared."
So was KU's defensive stopper, Brady Morningstar, who was back in Lawrence serving a suspension, not guarding Williams on the deep three.
"I was watching on TV. I was (worried) a little bit, for sure," Morningstar said. "That was a good game. I'm excited to play these guys."
KU and Memphis meet again —amid much more hype than a year ago — at today's Jimmy V. Classic. Tipoff for the matchup between the No. 4 Jayhawks (7-0) and No. 13 Tigers (7-0) is 6 p.m. at Madison Square Garden, with a live telecast on ESPN (cable channels 33, 233).
"It's going to be fast-paced, up and down, kind of like when we play Missouri. That's what they play like. It's going to be up-tempo," Morningstar said.
Coach Josh Pastner's second Memphis team — which, by the way, is without Williams, who turned pro after his sophomore season and is on the injured list of the Portland Trail Blazers — has won six games at home and also defeated LSU (71-60) in Tupelo, Miss.
The home wins came against Western Kentucky (77-61), Arkansas State (78-71, OT), Tennessee-Martin (102-80), Northwestern State (94-79), Miami, Fla. (72-68) and Centenary (104-40).
The Tigers are led by Wesley Witherspoon, a 6-9 junior from Atlanta who averages 14.8 points and 4.8 rebounds per game. He had four points and two boards in 26 minutes in last year's KU game, which of course, was a rematch of the 2008 national title game.
"He has to be really good all year long," Pastner told Blue Ribbon Yearbook. "Expectations are high for him both internally from him and externally from the coaching staff."
Witherspoon and guys like Charles Carmouche (6-3 junior, 7.6 ppg), Angel Garcia (6-11 junior, 7.0 ppg), Will Coleman (6-9 senior, 5.6 ppg) and D.J. Stephens (6-5 soph, 3.3 ppg) provide stability to a team which inherits some of the top freshmen in the land.
No. 11-rated prospect Will Barton, a 6-6 freshman from Baltimore and cousin of KU's Josh Selby, averages 11.9 points and 3.7 boards a game. He has made 11 of 34 threes for 32.4 percent. His brother, unranked 6-2 freshman Antonio Barton, contributes 7.4 ppg.
No. 18-rated Joe Jackson, a 6-foot freshman from Memphis, averages 12.1 ppg. Other freshmen: No. 72 Chris Crawford, 6-4 from Memphis, who averages 8.0 ppg, and No. 54 Tarik Black, 6-8 from Memphis, who averages 6.9 ppg and 4.3, rpg.
Jelan Kendrick, a McDonald's All-American and the country's No. 15-rated player, was kicked off the team in mid-November.
"The really cool thing is we haven't taken a major dip," Pastner, 33, told Blue Ribbon. He took over a team decimated following the departure of John Calipari to Kentucky.
"We're a Top 25 team, and to be back at that level that quickly is very hard to do. That's a credit to the fan base, to the city, to the university, to be able to do that, but the bottom line is you have to produce on the floor. We have a lot of good players who haven't scored a single point in Div. I basketball, and they'll be asked to produce all year long."
KU coach Bill Self naturally considers this KU's toughest test to date. The Jayhawks have defeated name teams in unranked Arizona (87-79) and UCLA (77-76).
"Our last two games have helped us in moving forward, I think," Self said. "Certainly we'll need to play better against Memphis on a neutral court."
Twins take look back
The Morris twins, who signed with Memphis their senior years in high school before electing to attend prep school and reopen their recruitment, don't remember catching much grief from Memphis fans last year in St. Louis when Kansas won, 57-55.
"A little bit, not much as I thought they would," Marcus Morris said. "I think that's because it was at an away place. If it was in Memphis, I think they'd have given me a lot of stuff."
Noted Markieff Morris: "I don't really remember," he said of Tiger fan reaction. "I remember it was one of the fastest games I've ever played in, up and down."
This, that
Kansas leads the all-time series against Memphis, 5-2, and has won the last three games. KU claimed the first matchup, 59-49, at Memphis in 1981, and the last three — 64-62 in the ECAC Holiday Festival in New York, during the 1987-88 campaign and the 75-68 overtime thriller in the 2008 national championship game in San Antonio. ... KU has played 10 teams from the current membership of Conference USA and is 59-15 against the field. ... Kansas is 0-2 in the Jimmy V. Classic. The Jayhawks fell to St. Joseph's, 70-67, on Dec. 6, 2005, and to Temple, 75-66, in overtime in 1995. KU has lost its last four games played in Madison Square Garden.
Recruiting update
DeAndre Daniels, a 6-foot-8 senior forward from IMG Academy in Bradenton, Fla., apparently had a good time on his official visit to Kansas University last weekend.
"I think the coaching staff at Kansas made a very favorable impression on DeAndre during his visit, so I think he is strongly considering them," Daniels' AAU coach, Dinos Trigonis, told Rivals.com.
Daniels headed to Oregon for an official visit at the conclusion of the Thursday-Saturday KU trip. He also is considering Texas, Florida, UCLA and Kentucky. At one point, he was orally committed to Texas.
Daniels is Rivals.com's No. 9-rated player.
More like this story on KUsports.com