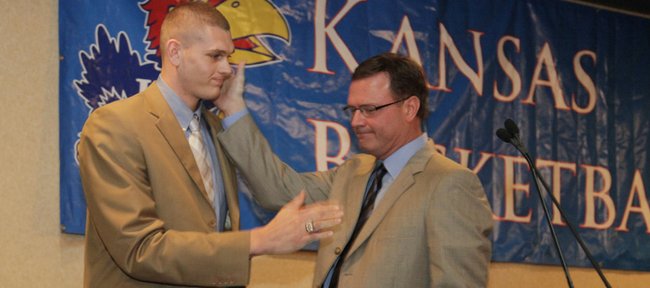 Kansas University's Cole Aldrich and Sherron Collins were named co-winners of the Danny Manning/Mr. Jayhawk Award for the second-straight year at KU's season-ending men's basketball banquet Monday night at the Holidome.
"I don't see how you can give it to one without giving it to the other. Both meant the same to our program over time," said KU coach Bill Self, who was able to personally embrace only one of the honorees.
Junior center Aldrich, who also was presented his Academic Player of the Year trophy to a standing ovation from the sold-out crowd of 600, was the only half of KU's dynamic duo to attend the banquet.
Self said senior guard Collins flew to his hometown of Chicago on Monday morning to sign with agents Andy Miller and Justin Zanik of ASM Sports and was unable to make it back in time for the 7-9:15 p.m. dinner.
"It's most disappointing to me that Sherron wasn't here," Self said, "because he would have absolutely loved this.
"He had to go back to sign. We talked to the agents this morning. His agent guaranteed us he'd make it back in time, so we OK'd it. He didn't make it back. He missed a pretty memorable night for himself."
Aldrich admitted he missed having his buddy and fellow team leader on hand to share the MVP award, the highest individual honor accorded a KU player.
"It would have made the night a little more special just because we've had a great three years together, but, I mean, I understand," Aldrich said.
Self appeared more sad than upset that Collins wasn't on hand for a banquet that honored the accomplishments of the 33-3 Jayhawks, who won a sixth-straight Big 12 regular-season title as well as the postseason tourney crown.
"It shouldn't be taken lightly —130-19 (record), 59 wins in a row at home. There's eight chances to win hardware up here, and there's seven trophies," Self said, pointing to the seven league regular-season and postseason tourney titles won by Collins.
"I think we certainly owe one of the toughest players I ever coached this recognition," Self added to rousing applause from the fans.
Aldrich thanked KU's fans for making his three season as KU "so special."
"I had a blast here," said Aldrich, who recently entered his name in the 2010 NBA Draft. "After this semester, I'll only be 15 hours short of my degree. I'm hoping to get it done as soon as possible, so hopefully I can graduate and walk down the hill with those guys (his incoming class) next year."
Aldrich said he has been interviewing agents the past couple days, but has yet to select his pro representation. Freshman Xavier Henry also said he'd yet to sign with an agency.
Recruiting: Self spoke in generalities about recruiting two days before the start of the monthlong spring signing period.
The Jayhawks, who signed 6-3 Royce Woolridge in April, hope to land a player or two on Saturday night.
That's when Josh Selby, a 6-2 guard from Baltimore's Lake Clifton High, and Doron Lamb, 6-4 from Oak Hill Academy in Mouth of Wilson, Va., will announce their college choices at the Jordan Brand Classic in New York.
Brandon Knight, 6-3 from Pine Crest High in Fort Lauderdale, Fla., who still has KU on his list, is expected to sign with Kentucky on Wednesday, the first day of the spring signing period.
"We should be happy for these guys," Self said, referring to KU early entries Aldrich and Henry. "When they go, they attract others to come. We need to hit a home run in recruiting the next couple weeks. Hopefully we're in position to do so. You never know until it's done. I think we've got really good players coming back (next season). I know we'll have great leadership. I know some guys who may have not had the opportunity to play as much, when they get the opportunity, they'll make you (fans) as proud as you are of this year's team."
Staff changes: Nothing is official yet, but Self indicated there was the strong possibility Barry Hinson, KU's director of external relations, would replace Brett Ballard as director of basketball operations. Ballard is Baker University's new basketball coach.
Self, who just completed his seventh season at KU, hinted that he would love to remain at KU a long time.
"There are a lot of great places out there. It cracks me up when somebody says, 'This is the very best place or that is the very best place.' You don't know that until you've been to every place, but I can tell you, there's no place I'm more proud to be than right here as your coach at the University of Kansas," he said, to a loud round of applause.
More like this story on KUsports.com