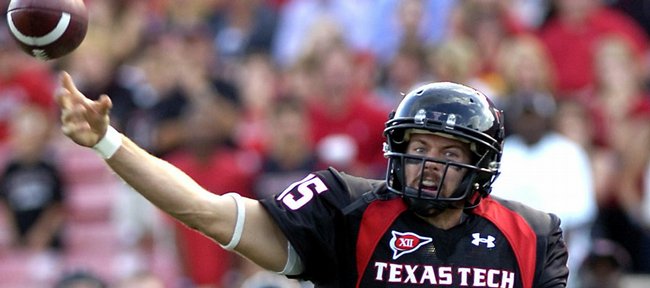 Lubbock, Texas — He's thrown for 861 yards and nine touchdowns in two games, more than anyone else in college football this season.
Nothing new for Texas Tech, of course, but this gunslinger is new.
Junior quarterback Taylor Potts is 6-foot-5 and 215 pounds, quiet and almost demure off the field. All that changes at game time.
"When the lights came on and it was time to go to work he was pretty intense," recalled Steve Warren, his high school coach in Abilene. "He was great at it."
It looks like he still is. And Potts will need every bit of that intensity when the Red Raiders travel to No. 2 Texas on Saturday night. Tech has lost the past four games in Austin and this game has a big subplot.
The Longhorns will be seeking revenge after Texas Tech stunned them 39-33 last year, beating the nation's top-ranked team on a final-second touchdown in Lubbock. Texas fans, and players, believe the loss cost them a shot at a national championship run.
Potts grew up about 25 miles from Texas quarterback Colt McCoy's hometown of Tuscola. The two never played in high school. Their schools were in different classifications — Potts played at a larger school than McCoy, who was a year ahead of Potts.
Texas Tech coach Mike Leach is a fan of Potts' leadership style, going so far earlier this season as to compare his swagger to John Wayne.
"I think he does a good job as far as leading the group, and I think (is) steadily improving, from the experience standpoint," Leach said. "He's picked it up pretty fast."
Warren remembers Potts' short memory. He shrugs off the good and the bad in equal measure. The two spoke after Potts' debut as a starter this season, a 38-13 victory over North Dakota during which he threw three interceptions — one more than he'd thrown in two years as backup to Graham Harrell.
Potts asked Warren's advice.
"Throw it to the open guy," Warren replied.
"I think he's really good at" keeping things in perspective, Warren said of his former player. "He makes really good decisions."
Potts didn't play in last year's victory over UT. It was his second season spent pacing the sidelines as he awaited his shot at leading Texas Tech, which for eight of the past nine years had quarterbacks lead the nation in passing in Leach's spread offense.
The waiting was probably hard for Potts, whose mother said he's never been a good spectator. But Leach didn't leave him languishing without feedback.
"There was respect from him," Potts said before the season (Leach did not make Potts available to reporters this week). "He offered up confidence to me. He said good things to me, encouraging things. He kept my spirits up."
Potts has little interest in statistics but knows big numbers come with Texas Tech's dizzying aerial barrage.
"I've only been one to care about wins," he said. "I think if you win 12 ball games they're going to be more praising of your 12 wins than they are your 5,000 yards passing or something like that."
Warren helped Potts understand that a strong, accurate arm isn't all a quarterback needs. He needs touch. So far this season, Potts has completed 70 of 105 passes (67 percent).
Will Muschamp, Texas' defensive coordinator, anticipates his secondary will be challenged.
"He's got arm talent," Muschamp said. "He can make all the throws. Arm talent is what jumps out at you on the film."
That talent sat behind Harrell, only the second three-year starter since Leach arrived in 2000.
Texas coach Mack Brown said Leach must be a good salesman.
"They do a great job of convincing quarterbacks to come and sit," he said. "They all have confidence. Mike does a really smart thing. Most of those guys have been in the system for a really long time, so (the offense) doesn't drop off."
Cathy Potts said her son is highly competitive but not "in an obnoxious way." He enjoys golf, hunting and fishing, and in high school played basketball, football and baseball, the latter of which fostered aspirations to play professionally.
It wasn't until his sophomore year that he settled on football.
"There's not anything he doesn't like to do and in most things he does them very well," she said.
And Warren had a word of caution for the Longhorns: "If Texas focuses on revenge then Taylor will have a huge day."
More like this story on KUsports.com