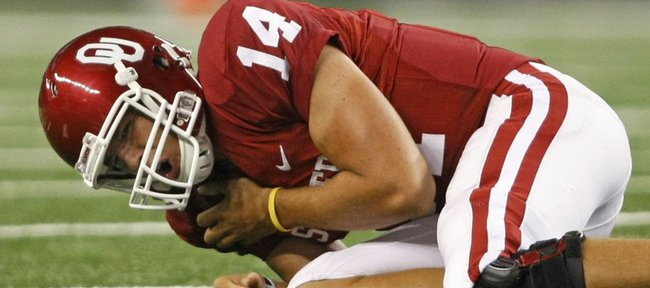 Norman, Okla. — Heisman Trophy winner Sam Bradford is not expected to need surgery on his sprained right shoulder and the quarterback could play again for No. 3 Oklahoma in two to four weeks.
"Everyone's different in how they heal, the soreness, how they handle it and how quickly it dissipates where he can move and be comfortable again throwing the ball," Oklahoma Bob Stoops said after the Sooners' practice Monday. "Anywhere from two to four weeks is what we're anticipating."
Stoops said the initial evaluations by doctors showed that Bradford did not suffer any damage to his collarbone, rotator cuff or other parts of his shoulder when he sprained his AC joint just before halftime in Oklahoma's 14-13 loss to No. 20 BYU on Saturday. Those evaluations also did not suggest surgery, although another doctor's opinion is due in today.
"In my mind, that's completely out. That's probably a little biased because obviously I want to be out there playing," Bradford said. "After that opinion does come in, I probably will have to sit down with the coaches and my family one more time just to make sure that getting back out there is the right decision for me."
Stoops said he expected to make an announcement today on the status of second-team All-America tight end Jermaine Gresham, who missed the BYU game with cartilage damage in his right knee.
Bradford said he spoke Sunday with New York Giants quarterback Eli Manning, who had a bruised AC joint during his team's run to the Super Bowl two years ago. Bradford has been told he has a Grade 3 sprain. He already started rehabbing Sunday, trying to improve the range of motion in his shoulder.
"It does feel a lot better today, not nearly as painful as it was Saturday," Bradford said. "Hopefully I can keep progressing like this."
Bradford has also received get-well wishes from the quarterbacks who finished second and third in last year's Heisman Trophy balloting.
Texas quarterback Colt McCoy, who became friends with Bradford during the Heisman festivities last December and then while rooming together at the Manning Camp for high school players over the summer, said Monday he sent his Sooners counterpart a text message.
More like this story on KUsports.com