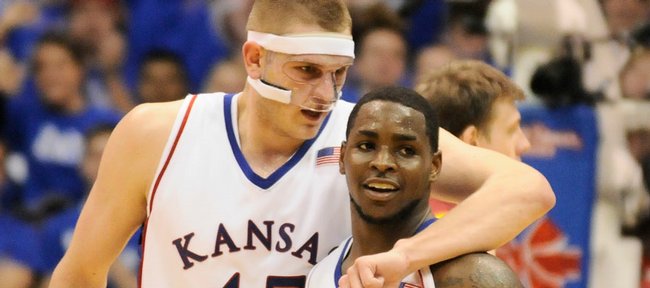 The Big 12's Preseason Co-Players of the Year happen to be bosom buddies.
"We're like two peas in a pod. You can't have one without the other. I'm the pod. He's the peas," Kansas University junior center Cole Aldrich said of senior guard Sherron Collins.
The two, who received Big 12 basketball's highest preseason hoops honor Thursday, also were named first-team all conference with Craig Brackins (Iowa State), Willie Warren (Oklahoma), James Anderson (Oklahoma State) and Damion James (Texas).
"Last year, I don't think there was one time where our names weren't mentioned together," Collins stated. "We're pretty used to it now.
"The crazy thing is, we have one class together and always walk on campus together, and it's a long walk from Smith Hall (site of class) to the (Jayhawker) Towers or the workout facility. Everybody's like, 'Whoa, Cole and Sherron are together. They're together.'
"You see everybody staring like, 'Whoa.' Tapping each other saying, 'The two best players. They're right there.' It's normal for me and Cole. It's just walking."
The two present sort of an Odd Couple look to fellow KU students.
"I think the other thing they say is how big Cole is over me. Because, I mean, I'm literally walking on the side of him, and I've got to look up to him all the time," said Collins, who stands 5-foot-11 compared to Aldrich's 6-11.
"I hope they aren't talking about how short I am. But, it's great, though. We hang together all the time. It's something different."
The two have become even closer than they were last year ... thanks to the class they take at Smith Hall.
Let Collins explain:
"We're taking this one Women's Studies class, and it's like probably 17 women in there, and me and Cole are the only two boys in the class," Collins said.
"It's funny. Miss Ballard ... she's our teacher. She's great. Class is so interesting and fun. We discuss all types of issues. The women … they gang up on us. They beat up on us a lot. We find a subject to debate, and me and Cole try to stick up, but we always get overpowered. There's just two of us. We learn to keep our mouths shut now."
Not always.
"From being in that class, we've learned to stick together at all times — on the court and off the court. We have to have each other's back," Collins said with a smile.
The two are pleased to share the preseason award.
"I'm glad we're both a part of it," Collins said. "The help Cole gave me last year was tremendous. He had a double-double every night. Cole's the biggest goofball I know. I wouldn't trade him for anything. He's like a brother to me."
Aldrich returned the compliment: "Oh man, I wouldn't trade Sherron for anybody. He's so fun to be around. He's an unselfish player, always upbeat. He leads a team to great heights like we saw last year."
Coach Bill Self — who reported that the 205-pound Collins was in the best shape of his career at this stage of a preseason — noted that Collins has a chance to become the winningest player in NCAA basketball history.
The Chicagoan currently has been part of 97 victories. KU would need 40 victories this season for him to catch the Memphis trio of Antonio Anderson, Robert Dozier and Chance McGrady, who were part of 137 victories. However, those three stand to see 38 wins erased as part of an NCAA decree forcing the Tigers to forfeit wins from two seasons ago because of violations.
If a Memphis appeal fails, Collins needs 36 victories to tie Shane Battier's Duke class of players from 1998 to 2001, who claimed 133 wins.
"That's a pretty remarkable feat," Self said of what could be ahead for Collins, who needs 26 victories to tie Matt Kleinmann (123) as winningest player (four-year record) in KU history.
"Cole to me has a chance to go down as the best true big man to play here maybe — this sounds farfetched — since Wilt (Chamberlain). You are talking about a true big man, not a tall four man like Danny (Manning), Raef (LaFrentz) — a true big man. I know we've had some good ones. He has a chance to be there. Both have a chance to etch their name in the annals of Kansas basketball in a big way."
They plan to have fun trying to lead KU to its second national title in three years.
"The season is a week away," Aldrich said of Late Night in the Phog. "I'm excited because we've been in the gym for eight months now since our last game. We're ready to get back at it."
"I'm excited. My mom is set to move up to Lawrence (for the entire season). She's soaking it all in. That's what makes me proud. My mom gets to see it all," Collins said of Stacey Harris. "The hard work … it hasn't paid off yet, but it is paying off."
Notes: Iowa State forward Marquis Gilstrap, a transfer from Gulf Coast CC, was voted newcomer of the year. ... Texas guard Avery Bradley was named freshman of the year ... Collins and Brackins were the only two who were unanimous picks for all league. ... Honorable mention all-league picks were Denis Clemente, Kansas State; Bradley and Dexter Pittman, Texas.
The Journal-World's Jesse Newell contributed to this story.
More like this story on KUsports.com