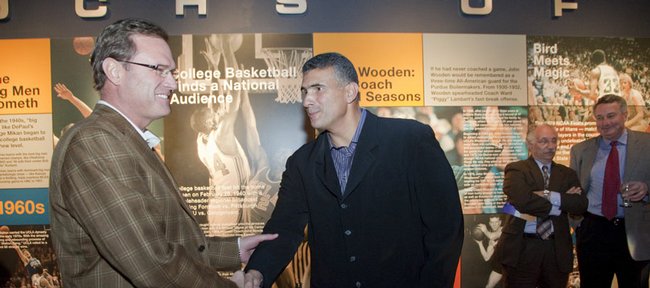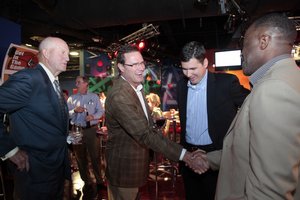 Kansas City, Mo. — Some folks have speculated that the first-semester suspension of returning starter Brady Morningstar means a certain slot in the lineup for highly acclaimed Kansas University basketball freshman Xavier Henry.
"I won't go so far as to say it's opened the door just for Xavier. I'll go so far as to say it opens the door for anybody," KU coach Bill Self said at Tuesday's Coaches Vs. Cancer Season Tipoff reception at College Basketball Experience, next to the Sprint Center.
"To be honest with you, the door to me was already open," Self added. "We didn't come into it thinking Brady was going to start in this position (shooting guard/small forward). We came into it thinking whoever was playing the best was going to start.
"We have one less guy to choose from. Early in the season, sometimes you rely on experience to get you through until young guys get comfortable. Now I think it's a matter where we will play somebody more than likely in that spot that doesn't have much experience. We'll allow them to play through their mistakes and maybe give them a little more freedom, so to speak.
"Xavier is a very talented individual. Whether it be Xavier, whether it be Marcus Morris ... whether we play small ... it could be Tyrel (Reed), Travis (Releford), Mario Little. If it's four of those five, you are talking about guys that haven't really played yet, at least in those spots. It'll be an inexperienced guy out there more than likely."
Guard Sherron Collins and center Cole Aldrich started all 35 games a year ago, while guard Tyshawn Taylor started 33 games, forward Marcus Morris 22 games and Morningstar 34 contests.
Self was asked more about the Morningstar situation at former Missouri coach Norm Stewart's fundraiser. Morningstar was arrested on suspicion of driving while intoxicated Saturday morning.
"His status is what everybody knows. He is suspended first semester. He will not play in games. He will not travel. He'll still be a team member. He will still participate in practice if I see fit," Self said. "Then we'll evaluate at the end of first semester.
"I'm very, very, very disappointed, and he knows that, and he's very disappointed in himself as well. Hopefully this could be a turn of events that obviously isn't going to help our school, but be a turn of events which helps him personally and puts him on a path where decisions like this are not made in the future. You look back and sometimes you are fortunate when bad things happen because no one was injured. Whenever you are operating a vehicle in a manner in which he allegedly did, then you always feel fortunate nobody was injured. Even though it's a very (big) negative, I'm hoping this could be a life-changing moment for him."
Self said it's been a rough couple weeks since KU's football and basketball players were involved in a pair of highly publicized scraps by the Burge Union and on campus.
"I'll be honest with you. I have a hard time to not take this personally," Self said. "I think it's a big reflection of me and our program. I know for a fact we've worked hard for a lot of years to make sure even if we didn't play well, people thought we conducted ourselves right. I am very disappointed the action of a few can negate the efforts of many over time."
He's still firmly behind his players.
"We have our own problems like everyone else. For the most part they've been great ambassadors for this university," Self said. "The last two weeks I would definitely go the other way and say I'm not proud of their actions, but I'm still proud of our kids.
"I still like our kids. I'm disgusted right now with some things that have transpired. Guys will be punished in a way I feel fit. It's been a distraction for me personally, but people deal with situations like this all the time. We've got to somehow work our way through it and be better because of it in the long run, which I think will be the case."
Beasley update
Kansas State coach Frank Martin, Missouri's Mike Anderson and UMKC's Matt Brown joined Self and Stewart at the fundraiser.
Martin said former Wildcat forward Michael Beasley of the Miami Heat is faring well after spending part of the summer in a Houston rehab center.
"He is as happy as I've heard him or seen him since halfway through his freshman year," Martin said. "That responsibility of becoming a professional ... that's why it's so difficult on young kids to do that," he said of turning pro after one year of college.
"From a preparation-in-life standpoint, it's a difficult transition. There's so much expected. You live life a little bit differently. When I said at the time it was a hard decision on him (to turn pro in 2008), a lot of people thought I was joking. It was a difficult decision for him. In his mind, he wanted to stay in college, but he understood he had an unbelievable opportunity ahead of him. He chose to do that (and was chosen No. 2 overall)."
KSU assistant coach Delonte Hill spent some time with Beasley after Beasley elected to enter rehab.
"The first thing Mike said was, 'Bring me as much K-State gear as you can. I want to be happy again,''' Martin said. "That's what we did. He's one of us. He always has been and always will be."
More like this story on KUsports.com