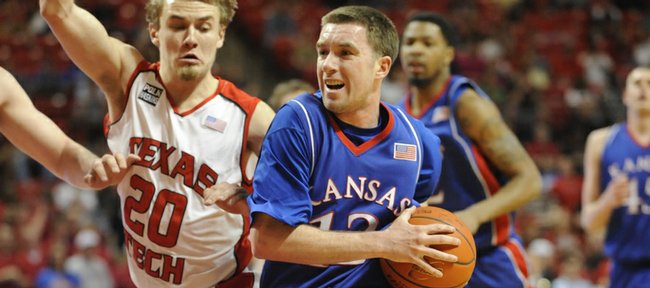 Kansas University junior basketball guard Brady Morningstar has been suspended for the first semester by coach Bill Self.
Self informed Morningstar of the penalty Saturday afternoon, several hours after Morningstar was arrested by the Kansas Highway Patrol on suspicion of driving while intoxicated.
"We are aware of the situation," Self said. "We are also still fact finding. Regardless of the details that concern the reason for him being stopped, he broke team rules that have been much more stringent since last week (following fights between KU basketball and football players).
"Brady was in serious violation of curfew," Self added of Morningstar, who was stopped in the westbound lanes of the Kansas Turnpike at mile marker 205, just east of the East Lawrence interchange. He was arrested and booked into the Douglas County Jail at 3:42 a.m. He was released on $250 bond at 6:01 a.m.
"Because of that and his extremely poor judgment last night, I have decided to suspend him for the first semester from all competition and travel. Brady will remain a member of our team and will participate in all other team functions. We will support him through this, but needless to say I am very disappointed in the sequence of events that took place last night."
Self said it was not a difficult decision to suspend Morningstar, who started 34 of KU's 35 games last season.
"I haven't had much fun the last 10 days or so dealing with incidents you shouldn't have to deal with ... basically a few of our guys exercising poor judgment," Self told the Journal-World. "Of course Brady's judgment last night was very poor for multiple reasons and so it was not a hard decision to do what we did at all.
"I like Brady. I think he is a good person. I think he is a very good player and he will be welcomed back to us second semester if in fact he is able to conduct his business right and handle this in a way it should be handled."
Morningstar will be able to practice, but not be eligible to play in a game until mid-December.
"I think Brady can still have an impact. I told Brady today and he knows this ... he has to figure out some way where this helps his life," Self said. "On the surface, you don't see that being the case, but usually people that are tough and winners, they figure out a way to use negatives to their advantage over time.
"This is certainly not a short-term advantage by any means. I do think he'll do a good job with that. I will not say positively what will be the end result because like I told him today, you have to prove it to yourself, your family, to me, to your teammates, to a lot of people before we are going to reward you to have you out there wearing a Kansas uniform."
He said Morningstar's reaction "is what you would expect it to be. He is very down about what happened. He is very remorseful. He feels like he's let a lot of people down, but on the flip side he had a chance to make much better decisions last night so he wouldn't have to feel this way. I feel bad for him because he's hurting, but I don't feel bad at all about the punishment."
Self said the Jayhawk players were aware that — since the incidents with the football team — "we've had some rules in place that were probably more stringent than what they were prior to the incident last week. Our guys knew the importance of making sure they comply with those regulations and Brady did not do so."
The 6-foot-3 Morningstar averaged 6.5 points and 3.0 rebounds per game last season. He was second on the team in minutes played (30.4) and generally regarded as KU's best perimeter defender.
"I think we've got good players. I think we've got depth," Self said. "Am I disappointed we don't have a full complement of guys to start? Absolutely, but we are playing to win in the end. I don't see how this will deter that. We've got some young guys and an opportunity for them to maybe step in and maybe have a bigger role than what they might have if we had a full complement of guys. Sometimes when the door is open for somebody else, they take advantage of it."
Pep rally a hit
More than 1,000 fans attended a KU basketball pep rally/Bill Self Assists Foundation Fundraiser Saturday afternoon and evening outside Johnny's Tavern and the Salty Iguana at Ridgeview Plaza in Olathe.
"I thought it was a pretty gloomy day today. It's not ... it's a great day," Self said in a speech to fans. "You get here and see a lot of KU faithful, a lot of fans that really unconditionally love their school and teams. I'm very proud of that.
"We had a situation with our football team ... the biggest situation with our football team is we are proud of them," Self added to loud applause. "There have been a lot of reports of this or that ... well, here's the report. We are very happy for their success. I know things have to bounce right, it's a strangely shaped ball, but if it bounces right we could find ourselves in the exact same place we were two years ago (BCS bowl)."
Self also asked the fans for their support in packing the fieldhouse for the Oct. 16 Late Night in the Phog. KU will be on the start of fall break that night.
"Without reservation I can say this is the best basketball arena in the country not only to play at, but with all the fan amenities you will be so proud of in there. You will all be excited about that," he added of new concessions and wider concourses in Allen Fieldhouse.
More like this story on KUsports.com