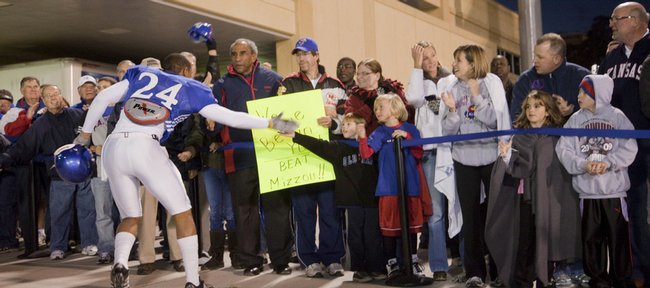 Don Fambrough was not amused.
In the days leading up to the Kansas University football team's loss to No. 3 Texas last week, the former KU coach had noticed the grim nature of the team's practices — "I thought I was at a funeral or something," he said — and, never one to mince words, developed a pretty good idea why that was.

"(Players have) been down in the dumps because of all this commotion going on about what they started up there on the hill," said Fambrough, referring to athletic director Lew Perkins' announcement last week that KU was launching an investigation into football coach Mark Mangino's treatment of players. "That was the dumbest damn thing. Why the hell didn't they wait until after the season? That's what anybody with any damn knowledge of the game of football would do. If you got something to gripe about or something to be upset about, come see me after the season. Not with two games left. That's the dumbest damn thing I ever heard of, and I don't give a damn who hears me say that."
In an effort to counteract the recent drama, Fambrough organized an impromptu pep rally following Wednesday evening's practice at Memorial Stadium, inviting supporters of the program to show up and help provide players a pick-me-up prior to Saturday's Border War matchup at Arrowhead Stadium.
As Fambrough spoke with reporters following the event, Mangino stood a few yards away, visiting with the last of the 150 or so fans who showed up to offer support.
The coach, who has been accused of — among other things — abusing his players orally and pressuring them to play injured, shook hands and smiled big and looked, for the first time in the past 10 days, truly at ease.
"I'm really speechless," he said at one point, asked about the rally's turnout.
The evening was not exactly destined to be a success. Temperatures dipped into the 30s, and Wednesday was, after all, the day before Thanksgiving.

But by 5:20 p.m., fans had lined the walkway between Memorial Stadium and the nearby football complex, cheering boisterously and offering kind words and handshakes as players and coaches trickled past.
The list of attendees, meanwhile, read like a who's who of Kansas alumni. Curtis McClinton, the KU Ring of Honor inductee, was there. Same with former NFL quarterback John Hadl and über-booster Dana Anderson, in from Los Angeles.
"(Fambrough) showed up in my office on Sunday," said Mangino, recounting the story of how the rally came about. "He hasn't been in my office on a Sunday in eight years. He opened the door and peeked in, and he said, 'I got to tell you something: I'm gonna have some fans out here. I think they'll come out. You don't mind if they're looking at practice?' And I said, 'No, I don't mind at all, coach.'"
Then he smiled bigger.
The night, surely, provided a welcome reprieve from the controversy that has engulfed the program in the days since Perkins' investigation went public, and uncertainty about Mangino's future in Lawrence arose.
"It's a great feeling, knowing our season is really not going the way we want it to, and just knowing we still have loyal fans," junior receiver Dezmon Briscoe said. "It's just a blessing."
Anderson, whose name is attached to the recently constructed Anderson Family Football Complex in which the coach's office is located, spoke highly of the things that have been accomplished under Mangino's watch and said he felt for the players who had been affected by the recent drama.

"I'm sorry that this whole thing erupted," said Anderson, who is in the Lawrence area for the week. "I don't know the facts. But I wish it could be resolved and it would go away as soon as possible rather than interfere with the entire program."
One of the last men to depart Wednesday night was McClinton, whose hair has grayed some but otherwise looks every bit the man who earned All-America honors as a KU halfback and won a Super Bowl ring as a member of the Kansas City Chiefs.
As the crowd dispersed, McClinton approached Mangino, and the two spent a few moments engaged in conversation — a couple of old-school football men smiling and chuckling and carrying on about who knows what.
"We all have bad days," McClinton had told a reporter a few minutes earlier. "Give the man a break. Keep Mangino. He's been good for the university, he's been good in making our students graduate.
"Let's get real."
More like this story on KUsports.com