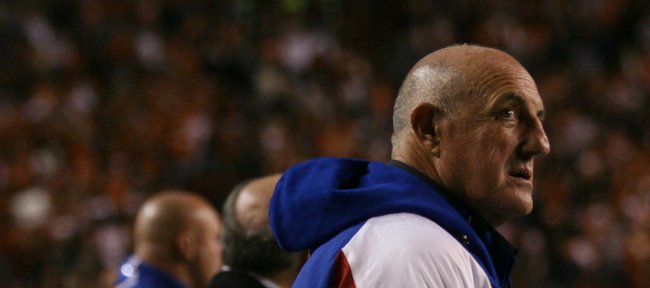 Kansas University football coach Mark Mangino, speaking during Monday morning's Big 12 coaches teleconference, said his communication with athletic director Lew Perkins has been "practically none" since Perkins' announced an investigation into the coach's behavior last Tuesday.
Asked whether he wished there were more communication, Mangino said, "I don't know the difference. I don't know if there should be or shouldn't. You always like communication with everybody, communication with your players, your coaches, your administrators, your support people. All those people. But I'm good. I'm working, and my players are really focused.
"Once again," he added, "your question perhaps should not be directed at me, if you understand what I'm saying."
Mangino, whose team is 5-6 heading into Saturday's regular-season finale against rival Missouri, also said he would have preferred certain aspects of the investigation to be handled differently.
"If somebody's going to have an investigation into something, that's fine," he said. "I don't have a problem with that. You would not like for it to be leaked out before anything has been done, even before the investigation actually starts. From that aspect, you don't like it. But, you know, you live with it."
Mangino also reiterated that it would be unwise to assume anything about his immediate future with the program.

"It hasn't played out yet," he said. "And it's not over."