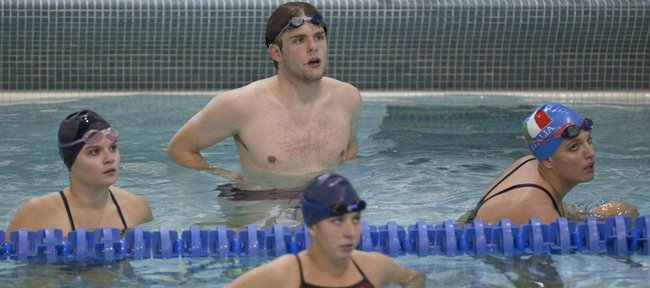 Reader poll
Yes

46%

605 votes

No

49%

648 votes

Not sure

3%

52 votes
1305 total votes.
A former Kansas University swimmer and member of the 1980 Olympic team has filed a Title IX complaint against the university, alleging that the school does not offer adequate competition for men.
The federal education department's Office of Civil Rights will investigate the claim filed by Ron Neugent, who is now a dentist in Wichita.
He said he filed the complaint on Sept. 25, alleging that KU fails the three-pronged test required for Title IX compliance.
Jim Marchiony, KU associate athletic director, said he wouldn't address any of the specific allegations raised in the complaint, but said that the athletics corporation hires a Title IX consultant who has raised no issues relating to compliance.
"We are very, very comfortable with where we are with regards to Title IX and our opportunities that we give to our student-athletes," Marchiony said.
He said that Kansas Athletics would be meeting with officials from the Office of Civil Rights in the coming weeks.
'A lot of swimming interest'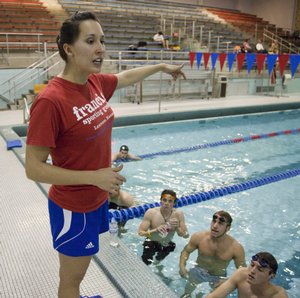 The decision is being watched closely by participants in the KU Swimming Club, including men who have not had the opportunity to participate in varsity sports at KU after the program was cut in 2001.
Dan Johnson, president of the KU Swimming Club, said that he knows that men's swimmers there would be interested in joining a varsity team if the opportunity were offered.
"I think that it would be awesome," he said. "I think that there's a lot of swimming interest in the state of Kansas."
One student, Chacour Koop, transferred from KU to Eastern Illinois University, which has a varsity swimming program, after his freshman year.
Today, he swims on the Eastern Illinois team.
"Your times and your abilities aren't going to improve much" when swimming and competing only on the club level, Koop said. "Plus, team spirit and school spirit are much more visible."
Neugent found, after reading materials released from KU as part of an NCAA self-study, that women participating in sports at KU outnumbered men.
As of 2007-08, Neugent found that 51 fewer men than women participated in KU varsity sports — resulting in a situation at KU where men, rather than women, are an under-represented gender.
Title IX compliance
Erin Buzuvis, an associate professor of law at Western New England College, who studies Title IX issues and monitors cases nationwide for a blog on the topic, said she wasn't aware of any complaint quite like the one that's been filed at KU.
To comply with Title IX, a university must show it meets any one part of a three-part test, Buzuvis said, specifically:
• A university may demonstrate it is providing athletic opportunities for men and women at a rate substantially proportional to the enrollment rates of men and women.
• A school may show a continuing practice of program expansion for an under-represented gender.
• A school can demonstrate that the interest and abilities of the under-represented gender are being fully accommodated.
Neugent said that 4 percent more women than men participate in sports at KU, while enrollment figures remain essentially even.
No men's programs have been added at KU since golf was added 73 years ago, he said, and a petition signed by about 30 students interested in a men's swimming and diving team has been registered with the athletic department, he said.
Using that information, Neugent claimed KU was no longer in compliance with Title IX.
Buzuvis said he may have a case, as she is aware of disparities near 5 percent being called significant enough to merit noncompliance with the law, particularly at larger schools. She said that KU's failure to comply with the second portion of the test may be harder to prove, as the school can demonstrate it has expanded opportunities for men without having to add more sports.
Neugent said that he's pursuing the complaint in the hopes that KU would add sports in men's tennis and swimming and diving to restore equality.
"If our state university is not compliant with that law, it's not right," Neugent said. "If this had been reversed, and females had been discriminated against at KU, I would feel the same way and taken just as strong a stance as I have here."
More like this story on KUsports.com