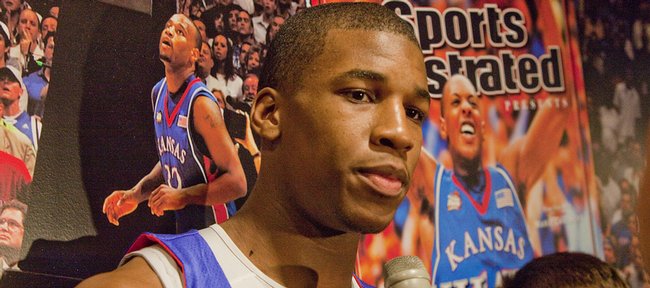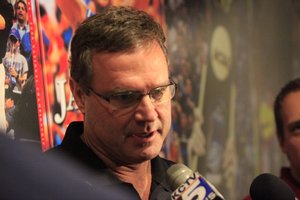 Thomas Robinson, who says "tradition played a big part" in his decision to attend Kansas University, wants to earn his rightful place in KU basketball lore.
"There's history here, great players that passed through here. It makes you want to be a part of that, so in 10 years when I come back, I'll be on this wall hopefully," Robinson, a freshman power forward from Washington, D.C., said Thursday.
He was standing outside the fabled northwest tunnel of Allen Fieldhouse, in front of a montage of highlights from KU's 2008 NCAA championship victory over Memphis.
"Mario's shot is my favorite picture there," Robinson said of Mario Chalmers' three that sent the title game into overtime.
Nobody knows whether the 6-foot-9, 230-pound Robinson will ever sink a game-changing shot — or come up with a difference-making block or rebound — in a championship game for the Jayhawks.
His quest for excellence officially begins today when the Jayhawks take on Hofstra University in a 7 p.m. tip in Allen Fieldhouse. It's the regular-season opener for both teams.
"I'm just anxious to see what it's going to be like, ready to get the season kicked off, ready to start it, ready to play," Robinson said.
He had a stellar exhibition season, scoring six points and grabbing seven boards while dishing three assists against Fort Hays State and following that with 17 points, seven rebounds, three blocks and two steals in Tuesday's 103-45 rout of Pittsburg State.
"I'm not saying I'm used to it," Robinson said of playing before 16,300 fans, "but I don't have the jitterbugs any more."
He has shown no signs of stage fright, already displaying a variety of offensive moves — like the spin move that resulted in a layup against the Gorillas.
"That was D. Manning. That was all D. Manning," Robinson said of KU assistant coach Danny Manning's instruction. "I was surprised," he added of being able to convert off the move. "I was really surprised my feet could move like that."
He smiled when asked if he even knew what a spin move was before meeting Manning.
"Not with my back to the basket, no," Robinson said.
His personality has already endeared himself to KU coach Bill Self, who constantly speaks of Robinson's high energy-level.
"Besides his look — his smile — the thing most attractive thing to me about him is his motor. He tries so hard," said Self, referring to the eager-to-learn Robinson as a "baby colt."
"He's going to make some mistakes, but we'll have to give him a chance to play through some of those mistakes."
More about that smile. ...
"I love his smile. I'd say this about all our freshmen. I recruited Darnell (Jackson) because I liked his smile and he had a nice butt, to be honest with you. We knew that it'd be hard to get around him on the post. Thomas ... I feel about the same way with him and Elijah and Xavier," Self added of fellow freshmen Elijah Johnson and Xavier Henry. "I love those guys' personality. I think they enjoy the game."
Robinson is committed to learning from Manning, KU's all-time leading scorer who led the Jayhawks to the 1988 title and followed that with 15 years in the NBA.
"The moves he's teaching us makes me feel comfortable. Most of the time I have a good chance of scoring," he added of when he is fed the ball inside.
"He doesn't talk to us about his career," Robinson added. "He just helps us, makes us the best we can be. I've seen film. He's a smart player."
Robinson has looked so much at home at practice and games ... a reporter wondered if he's the most game-ready player Self ever recruited.
"No. 'Shady' was. We've not had anybody close to that," Self said of Darrell "Slim Shady" Arthur. "Shady gave Florida 20 or 18 (points) in his third college game. He did it against (Al) Horford and (Joaquim) Noah out of the chute. I think Thomas will definitely be one of the best big guys we recruited, but 'Shady' was at a different level."
Arthur played an key role in KU winning the 2008 crown. Robinson hopes for a similar impact.
"I was told from the get-go in recruitment, whatever I get I have to work for it," Robinson stated. "I just feel like no matter where I'm at when I leave I want people to say I played hard."
And maybe wind up on a wall in the process.
Recruiting
Self, who was clear to not mention any recruits by name, was asked Thursday if he'd be watching ESPNU at 3 p.m. today. That's when Ames, Iowa forward Harrison Barnes will begin a news conference in which he'll choose to attend either KU, North Carolina, Duke, UCLA, Oklahoma or Iowa State.
"I doubt it. Tomorrow is game day," Self said. "I'd be very excited if we get good news from any of the guys we are recruiting, but tomorrow is game day."
Self stressed Thursday he had "no feel" about what any of KU's remaining uncommitted prospects will do.
Barnes' announcement is expected on ESPNU about 3:10 p.m.
Bumps, bruises
C.J. Henry (swollen right knee) doesn't figure to play tonight. "Yesterday he was able to complete half the practice. I don't think that gets a guy ready (playing) one day in two weeks. But he's trying. He's making every attempt (to play)," Self said ... Jeff Withey (stress fracture, left knee) figures to return to practice next week.
Hofstra facts
Hofstra University of the Colonial Athletic Association, is located in Hempstead, N.Y., and has an enrollment of 12,400. Nickname is Pride. Former nickname was the Flying Dutchman, which was changed in 2004. ... School colors are Gold, White and Blue.