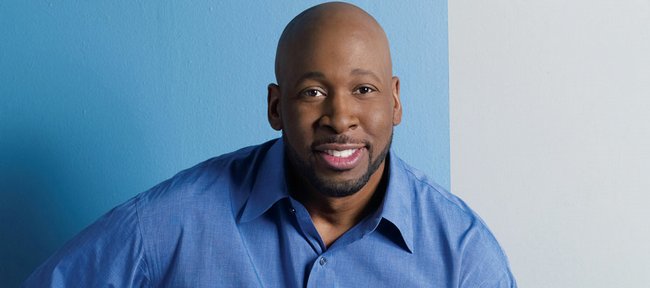 The death of former Oklahoma University basketball phenom Wayman Tisdale hit home Friday.
Kansas University coach Bill Self was an AAU teammate of Tisdale's and Jayhawk assistant coach Danny Manning was an NBA teammate of the three-time AP All-American, who died at the age of 44 following a two-year bout with cancer.
"I'm saddened by the passing of Wayman Tisdale," Manning said. "I had the privilege of being his teammate in Phoenix. I enjoyed being around him, his personality and his character. His smile was very welcoming and inviting.
"He was a friend to many and will be truly missed," Manning added of the 6-foot-9, 240-pound Tulsa native.
Self, who played point guard at Oklahoma State, competed against power forward Tisdale in college.
"It is a sad day. It's incredibly sad," Self said. "Wayman had bounce and energy and zest for life. He was bigger than life, so big and strong. I don't know if I've ever met anybody who could light up a room like he could.
"He was the best player ever to come out of the state of Oklahoma. He changed the whole landscape for basketball in our state, from a fun standpoint and from a production standpoint. We were a football state until Wayman came on the scene," added Self, who hails from Edmond, Okla.
"He was an All-American for three years and would have broken Pistol Pete's (NCAA) scoring record if he'd stayed a fourth year," Self added of Pete Maravich.
Tisdale was the first freshman to be named first-team Associated Press All-American. He's one of just 10 players to be a three-time All-American.
Tisdale — he averaged 25.6 points and 10.1 rebounds during his three seasons with the Sooners — was named Big Eight Conference player of the year each season.
He holds OU career records for points and rebounds. He also owns the school's single-game scoring mark — 61 points against Texas-San Antonio as a sophomore. He was part of Big Eight title teams in 1984 and '85 and turned pro after the 84-85 season, his junior year in Norman.
"He was the most dominant guy I played against," Self said. "He or Danny would be the best player I ever played against. Watching Wayman ... it was like watching LeBron (James) play 25 years ago. He had the same stuff LeBron's got now. His attitude, his energy, how his teammates rally around him. He had that way before anybody else in our area of the country.
"You couldn't guard him. We talk about guys now who can score on the post. There was nobody who could score on the block like that dude."
Self saw Tisdale's brother, William, last week in Tulsa at a fundraiser.
"I saw him (Wayman) last year. It was before he lost his leg, before he had his leg removed (last August)," Self said of Wayman. "I visited with him. We communicated whenever we could. My impression was that Wayman was doing well. But apparently he put on a very good front because he would never want anybody to know that he wasn't. He was just a guy who went through life lighting up everybody's day. He was just a terrific guy. He was an OU guy that Oklahoma State people liked. That is saying a lot."
Flags on OU's campus flew half-staff on Friday.
"On the basketball court, he was the kind of player who transcends time," Oklahoma athletic director Joe Castiglione told the Associated Press. "He was legendary the day he slipped on an Oklahoma Sooners uniform, and he left a legacy almost impossible to emulate."
Former OU coach Billy Tubbs told the Daily Oklahoman he felt he'd lost a son.
"It's a shock," Tubbs said. "I don't know of any athlete at Oklahoma or any place else who was more beloved by the fans who knew him than Wayman Tisdale. He was obviously a great, great player. But Wayman as a person overshadowed that. He just lit up a room and was so positive. He was a great human being. I'll miss everything about him."
Tubbs added ... "We built the program around Wayman, and he was the caliber of player we needed to get it off the ground. He was a highly recruited player that so many people across the nation wanted, and we landed him. Because of that, it enabled us to get other players. It enables Oklahoma to get players today. He was an instrumental factor in building Oklahoma basketball to what it is today."
The Daily Oklahoman indicated Tisdale first learned of the cancer after a fall in his house in February of 2007 that resulted in a broken leg. A cancerous cyst was discovered, bringing an extended period of chemotherapy and treatment and the eventual amputation of his leg last August, a move doctors hoped would put the cancer behind him.
The former Sooner player's death was announced on the Oklahoma Senate floor by Senate Majority Leader Todd Lamb, who led the chamber in prayer. Tisdale is survived by wife Regina, three daughters and a son. Tisdale will be inducted in the college basketball Hall of Fame on Nov. 22 in Kansas City, Mo.
The Associated Press contributed to this report.
More like this story on KUsports.com