Photo Gallery
Jayhawk Invitational 2009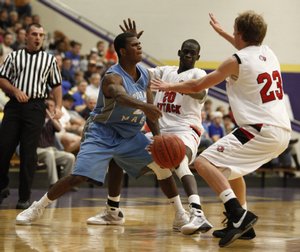 Highly-touted basketball recruits squared off May 1-3 at locations around Lawrence.
There is something Trevor Releford would like you to know.
His name.
It is Trevor. Not "Little Releford" or "Travis' brother." Just Trevor.
"People still call him 'Travis' brother.' He doesn't like it at all," said big brother Travis Releford, a sophomore-to-be on the Kansas University men's basketball team. "That's why he's trying to make a name for himself."
It has been this way for most of 17-year-old Trevor's adolescent life as a hoopster. He has possessed the celebrated Releford last name in Kansas City basketball circles with the forgotten first name.
This is what happens when older brother Travis, blessed with a muscular 6-foot-5, Div. I frame, receives the accolades and big-time college scholarship offers and a spot on the Under-18 United States national basketball team.
When older brother Travis is a two-time high school All-American and a DiRenna Award finalist for best boys basketball player in the Kansas City area. When Travis averages more than 20 points per game over the course of his upperclassman years at Roeland Park Miege. When Travis is going to play basketball for the hometown Kansas Jayhawks.
"Ever since Travis started getting noticed, people said, 'Aw, there goes his little brother,'" Trevor said.
Trevor, the little shrimp with the killer ball-handling ability, was lost in the Releford shuffle. Even when he played varsity as a sophomore point guard two seasons ago at Miege, Travis was the team's superstar senior.
But Travis is 40 minutes away these days, playing in Lawrence for the Jayhawks.
Now, it's Trevor's turn to shine.
Skills 'you can't teach'
Trevor Releford bears little resemblance to Travis' tall and chiseled 200-pound physique on the court. Trevor appears to jog slightly hunched over, is generously listed at 5 feet, 10 inches and roughly 160 pounds and disappears amid the lanky trees in the AAU basketball world.
Trevor wears No. 12 for Roeland Park Miege and his Kansas City Pump N Run AAU team, exactly half of Travis' No. 24.
"People at our school started saying, since I was always the shorter one, that I was half my brothers' height," Trevor said. "So I got 12 and he got 24."
Their games are not the same. Travis has always been the scorer. But Trevor possesses something that even Travis marvels at: Handles that could make the Rock of Gibraltar falter.
"He was always shorter than me and my older brother, but he was a better ball handler than both of us put together," Travis said. "The things he did on the court was some of the stuff that you can't teach."
Trevor developed those skills even before middle school when he, Travis and oldest brother Tracy Jr. would play 2-on-1 games at the Linwood Park court across the street from their house.
"I had to because I couldn't get past anybody," Trevor said.
Travis usually won playing 1-on-2 against Trevor and Tracy Jr., but not without seeing some impressive moves from little Trevor, who also studied tapes of the talented And1 Mixtape Tour ball handlers.
Since that time, Trevor's wizardry with the pill has grown exponentially. It's part of the reason people remained crammed into a back gym at Lawrence High on Saturday during a Pump N Run game at this weekend's Jayhawk Invitational AAU tournament. At any moment, he can explode into the lane for two or dish a lookaway pass to a big man for a score.
"He's a guy we look upon to make a lot of things happen," KC Pump N Run coach L.J. Goolsby said. "When we need to make some things happen, he finishes it off the right way."
Alone in the spotlight
Two things happened this past year that elevated Trevor's game. Travis moved to Lawrence to begin his collegiate basketball career. And Trevor filled out and grew five inches, from 5-5 to 5-10.
He was left to run the show for Roeland Park Miege for the first time this season as the only Releford.
"I think with Travis being away from the situation, it's a lot easier for him," Goolsby said. "He's shown that he can handle it on his own."
As a junior this past season, Trevor led Miege to the Class 5A state championship, where the Stags lost, 54-52, on a buzzer beater against perennial state power Highland Park. Trevor averaged more than 16 points per contest in three games at the state tournament. His team finished with a 23-2 record. For the season, he averaged 18.6 points per game and 6.3 assists, earning a spot on the 5A all-state team.
"I'm not a little Releford," Trevor stressed. "I think I did good by myself this year without Trav, showed everybody I could do it myself."
Trevor's junior season did not go unnoticed by college recruiters. He is receiving interest from Big 12 schools such as Nebraska, Oklahoma, Texas A&M; and Missouri as well as several Missouri Valley schools.
Kansas hasn't come calling. It would be cool to play as a Jayhawk and be with his brother, Trevor says, but that's OK if they aren't interested.
"If I go there, then I'll hear 'Little' for four years," Trevor said.
Lasting impressions
On Friday night, Goolsby places the ball in Trevor's hands with KC Pump N Run's first Jayhawk Invitational tournament game on the line against Team Ramey, a premier squad out of St. Louis.
Unruffled, Trevor smoothly shimmies and swerves into the lane dribbling to his left, drawing a foul on a shot-fake with four seconds left. He calmly makes his second free throw to seal the game, a 69-68 opening-night victory.
The win is sweet for two reasons. KC Pump N Run is attempting to extend its streak of four consecutive 17-and-under team titles at this tournament. Plus, Trevor's game-winner comes in front of Travis, who once played for Pump N' Run and sits in a corner of the Coffin Complex gymnasium at Haskell Indian Nations University.
Travis stays until the end, then exits the gym through a side door. Trevor hangs around to get his picture taken for a recruiting service.
Afterward, Trevor is asked if people now know his name on the Kansas City area basketball scene, if he's no longer referred to as just Trav's little brother.
A smile creeps across Trevor's face.
"Yeah," he said, "they're starting to call me Trevor."
More like this story on KUsports.com