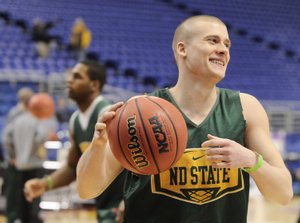 Minneapolis — One point guard came from the same playgrounds of Chicago where so many college basketball superstars battled. Everybody wanted him to sign on the dotted line. The other came from Albert Lea, Minn., where the lake freezes over and it seems as if stress is on a permanent vacation. His only Div. I scholarship offers came from South Dakota State and North Dakota State.
Yet, once they step on the hardwood, Kansas junior Sherron Collins and NDSU fifth-year senior Ben Woodside have more similarities than differences. Both players are 5-foot-11, like to shoot three-pointers and aren't afraid to take it to the hole and shoot over much taller defenders. Collins creates his own shots better and commits more turnovers. Neither is a candidate for Defensive Player of the Year honors.
Asked for his impressions of Collins during Thursday's press conference, Bison coach Saul Phillips said, "The guy he reminds me of the most is Woodside. They do have similar games in a lot of ways."
The national spotlight found Collins long before he pulled a Kansas jersey on. It shined on Woodside for the first time in December, when he scored 60 points in a 112-111 triple overtime loss to Stephen F. Austin, a team that came into that game ranked second in the nation in scoring defense (49.3). The more exposure Woodside gets, the more people like what they see.
If Woodside is nervous about his first NCAA Tournament experience, he masks it well. Everything about the way he conducted interviews and moved about the Metrodome court during an early afternoon shoot-around screamed loose and confident. He is the leading scorer in the tournament field with 22.8 points per game and he averages 6.3 assists. And he's been waiting for this moment since former NDSU coach Tim Miles (now at Colorado State) visited him in his living room.
"He set his keys down and said you have the keys to this program," Woodside said. "I'm a very competitive kid. ... I wanted to put NDSU on the national map. Throughout hard work and all of our team's accomplishments, we've put NDSU on the ultimate map. I think that's what coach Miles wanted us to do, to be recognized and for all of us to become the best basketball players we could."
Woodside, who has accuracy rates of .427 from three-point country and .842 from the stripe, also is noted for finishing drives with floaters in the lane. He has a knack for drawing fouls and made 30 of 35 from the line on his way to 60 points.
A black belt in karate during his youth, Woodside smiled when that was brought up Thursday.
"I don't get into scuffles, so it's not like I had to use my black belt," he said, revealing another difference from Collins.
Woodside directs a team that averages 11.3 turnovers. Plus, the Bison shoot .412 from long distance. On top of that, the combination of NDSU's maturity and ability to relax and enjoy the experience makes the Bison a dangerous opponent for the dangerous 11:30 a.m. tipoff time.
"Overall, I think there's more pressure on the bigger school," Woodside said. "I don't think there is much pressure on us at all."
Kansas 83, North Dakota State 70.
More like this story on KUsports.com