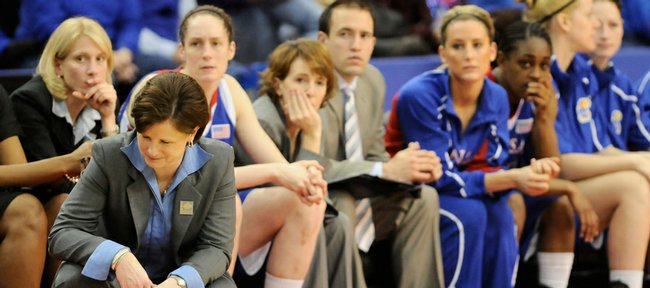 Oklahoma City — Oklahoma senior center Courtney Paris brought recent national attention to women's college basketball with a scholarship-money-back guarantee if the Sooners don't win the national title.
On Thursday morning/afternoon, Paris showed the stuff that makes her so confident in leading her team to a 76-59 victory against Kansas University to advance to the women's basketball Big 12 Tournament semifinals at Cox Center.
Even though she sat out the final 11:41, Paris totaled 27 points, 14 rebounds and six blocked shots in bouncing Kansas from the tournament and onto a most precarious spot on the NCAA Tournament bubble.
"The way Kansas has played in the last three weeks of the season, they have given themselves a shot," Oklahoma coach Sherri Coale said. "They are in the conversation."
The Jayhawks seem to enter most conversations among women's basketball bracketologists — yes, they exist — at the point when near misses are discussed.
Coale sat in on a mock tournament selection committee meeting and learned a thing or two about how teams are counted in and out. Kansas (18-13) finished its season winning five of seven with quality victories against nationally ranked Baylor and Iowa State.
"It will be a big part of the discussion, I can promise you that," Coale said of KU's strong finish. "How teams play down the stretch is important. Who they are playing, when they are playing well. The committee will look at this game, even though Kansas lost. And they will have the little eye test, you know. Well, this player is pretty good, and this player is pretty good. Now, to back all that up, it's going have to be an RPI number and the strength of schedule, and there has to be some numerical backing for that."
KU coach Bonnie Henrickson said she figured after Thursday's loss that her team would finish "somewhere in the 40s" in RPI.
"I think for us, in a league that is so strong, I think your conference affiliation, but what we have done down the stretch, too, I think gives us an opportunity to be at the table," Henrickson said.
In the likely event the Jayhawks are excluded from the NCAA Tournament field, they will extend their season in the WNIT.
A shocking upset over the Sooners almost certainly would have been enough to earn an at-large bid for Kansas, and for a while it looked possible.
KU scored the first four points of the second half, and Sade Morris' jumper cut the Oklahoma lead to 36-34 with 18:32 left. Danielle Robinson's jumper capped an 8-0 run to give OU a 51-38 lead, and Kansas never could cut it to single digits. A 14-2 run gave the Sooners (28-3) their biggest lead, 72-49.
Danielle McCray, despite getting double-teamed every time she caught the ball on the wing, led Kansas with 22 points, and she also dished five assists. She played all 40 minutes.
"McCray earned every point she got," Coale said. "I thought she was fantastic, and I told her so after the game. We didn't give her easy baskets."
KU's inability to do much scoring near the basket because of Paris' intimidating presence enabled Oklahoma to apply all that pressure on McCray on the perimeter.
Neither sophomore Krysten Boogaard nor freshman Aishah Sutherland (10 points and five rebounds off the bench) had the bulk to slow down Paris. When a reporter asked McCray what advice she gave Sutherland to try to help her defend Paris, Henrickson interjected with a one-liner: "Gain 80 pounds in a hurry."