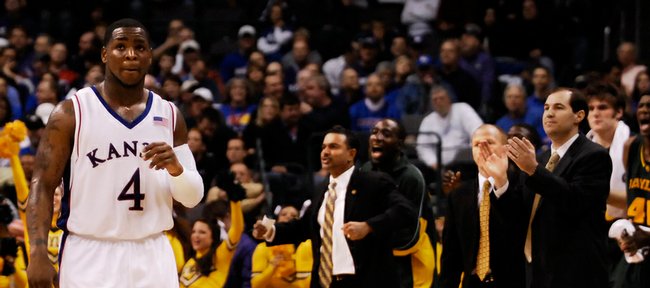 There's still hope for Kansas University basketball fans who hope to watch the Jayhawks play one or two NCAA Tournament games in Kansas City, Mo., next week.
One prominent "bracketologist" — ESPN's Joe Lunardi — as of Friday night had the Jayhawks placed as a No. 2 seed in K.C.'s Sprint Center, even after Thursday's Big 12 quarterfinal loss to Baylor. He had Oklahoma headed to Minneapolis as a No. 3 seed and Missouri off to Miami as a No. 4 seed.
Of course, bracket projections change minute to minute this time of year, with Lunardi free to change his mind at any time — so one might early and often check his brackets at ESPN.com.
"A No. 2 or 3 seed in Kansas City," Lunardi said, asked his opinion of KU's tournament fate in his Friday chat on ESPN.com.
"Why the love for Kansas over a team like Washington?" he was asked by a fan.
"Because Kansas is better and has WAY better wins," Lunardi stated.
Meanwhile, CBSsportsline.com and collegerpi.com on Friday both had KU as a No. 3 seed heading to Minneapolis, with Oklahoma and Memphis earning 2 seeds in K.C.
"That's the great thing about the NCAA Tournament ... wherever you land, it's going to be tough," KU sophomore guard Tyrel Reed said. "We're going to try to get better from a couple days of practice and try to get out of this funk."
KU has dropped two of its last three games heading into Selection Sunday.
The Jayhawks took their 71-64 loss to Baylor especially hard.
"It's definitely going to be tough watching all the other tournaments going on knowing we're home, sitting down, not doing anything," sophomore guard Brady Morningstar said. "It's just an embarrassment to our program and our school how we let a lot of people down."
Embarrassment might be too strong a word, considering the Jayhawks, who lost all five starters off last year's title team, still possess a 25-7 record with a regular-season title to their credit.
"It's tough to wait (for Sunday) because we're not playing. We all wanted to be playing. Things happen," junior Sherron Collins said.
"It all comes down to what we do from here, guys saying, 'This is tough. We can't let this happen again,''' sophomore Cole Aldrich said. "If it happens again, we're going home for good."
• Three explosions in row: KU's proud defense has been burned by one individual player in its last three games.
Guard LaceDarius Dunn scored 24 points (six of 11 threes) on Thursday; forward Damion James had 26 points in KU's 83-73 victory over Texas on March 7; and Alan Voskuil scored 35 points off 9-of-14 three-point shooting in Texas Tech's 84-65 victory over KU on March 4.
"I thought Damion James killed us Saturday and Voskuil obviously in Lubbock," KU coach Bill Self said. "But we knew how to guard Dunn and did not guard him the way he should be defended. He is a good shooter and good player. We let him get comfortable. It's very, very discouraging. It's something you tried to hang your hat on (defense), and something we did a very poor job of."
• They'll bounce back: Self doesn't think it'll be hard to prepare the team mentally for the NCAAs.
"We're not very tough if we can't come back from this," Self said of the first-round loss. "You shouldn't base your entire psyche or confidence level on one game. I think we probably got some confidence over time. But, I mean, we did a bad job (vs. Baylor) as a group so we had some individuals not play very well."
More like this story on KUsports.com